Belfast Movies and Shakers November 11, 2021
Kenneth Branagh vividly recreates his childhood and the dramatic events at the age of 9 that changed his life forever. This heartwarming story is a tribute to his hard-working father and devoted mother who reluctantly moved from friends and family because of the religious war in Belfast, Northern Ireland. Blood was running in the streets when they finally decided to leave their quaint middle class neighborhood for the safety of England.  
Writer/producer/director Branagh worked with Production Designer Jim Clay, and Director of Photography, Harris Zambarloukos (both worked with Branagh on Death on the Nile and Murder on the Orient Express). He also uses music from that time liking songs of Van Morrison's with soulful sax to accompany the film. You'll hear Warm Love and Bright Side of the Road among other songs from the legendary musician and songwriter.
Shot during COVID, the cinematography was in black and white capturing well the feel of late 1960's Belfast when Buddy (Jude Hill) was growing up with younger brother Will (Lewis McAskie- Here Before). Buddy loves going to see movies drooling over Grace Kelly with Gary Cooper in High Noon, The Sound of Music, The Great Escape. No wonder where Branagh got bit by the bug to present stories on stage and screen?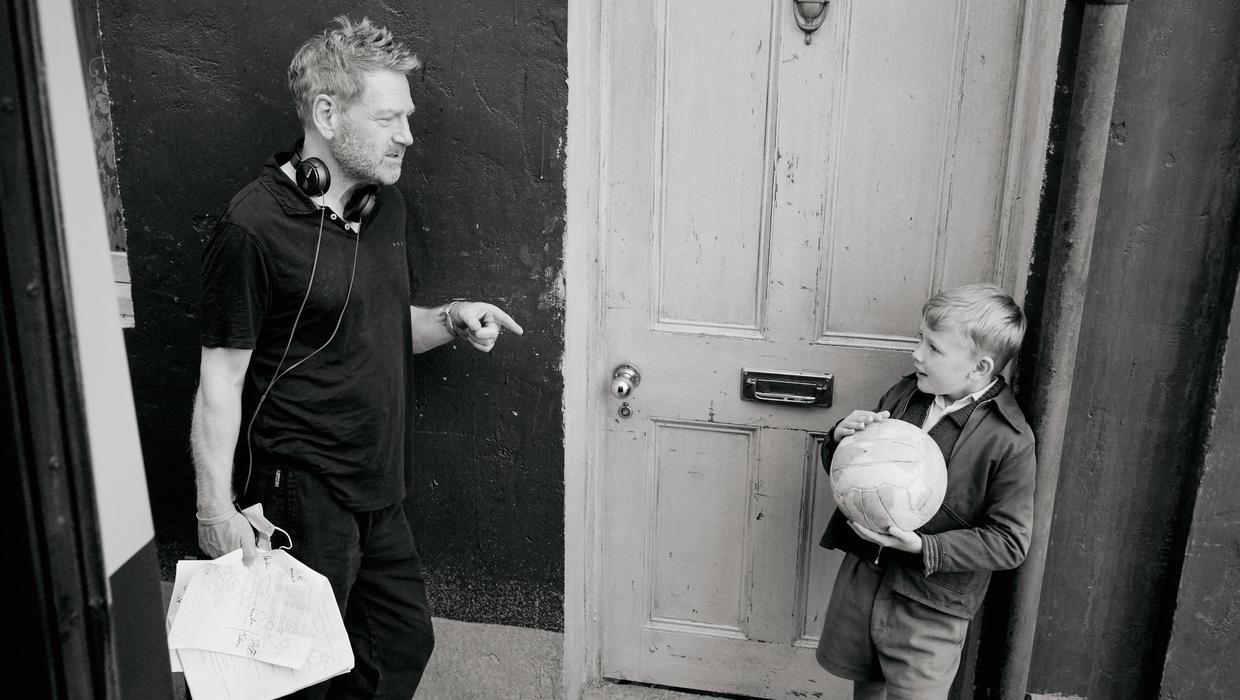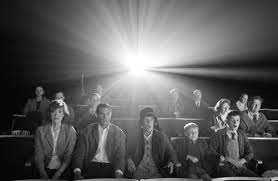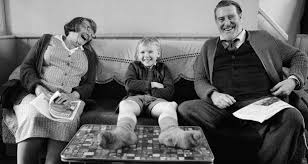 Handsome Pa (Jamie Dornan-Fifty Shades of Gray, ) and his beautiful wife, Ma (Caitriona Balfe – Outlander, Ford v Ferrari) are a young, loving couple just trying to make ends meet. It's getting tense in Belfast and as a treat, Ma and Pa take the kids to see Chitty, Chitty, Bang, Bang where the camera pans from them watching the car flying up and down, then back to show Pa, Ma, Buddy and Will dipping right along with them. Branagh adds to the joy of this moment by putting the original vibrant color of the Disney film on the screen. It's a fun family scene that makes it even more tragic when Pa finally has to tear himself away from his family for long stretches to find work to feed his family. 
Ma holds down the fort with sharp-as-a-tack grandparents (Ciarán Hinds and Judi Dench) who provide tender loving care and plenty of stories, advice and wisecracks for comic relief. You won't recognize Dench. She looks entirely different in this role and plays it crusty as ever. She's the truth-teller in the family.
Jude Hill is another fine child actor whose reactions are as realistic as they come. As Buddy, he is horrified seeing violence in the streets that have always been his playground and safe space. His face shows various degrees of subtle confusion about the friction between the Protestants and Catholics. Once it becomes violent, everyone runs to fetch their kids to bring them in for safety. But the violence keeps getting worse. Whenever Grandpa is minding Buddy, he lets him go outside, but with the caveat, "If you can't be good, be careful." Interesting that Branagh does not get political taking any sides. He handles it pretty much as a bystander affected by it, but not using his art as a soap-box.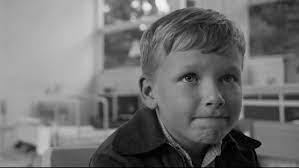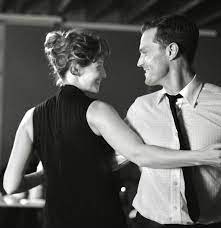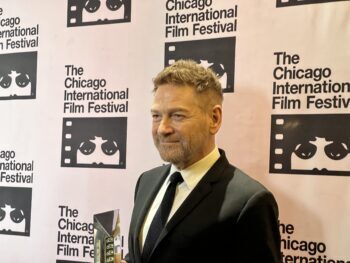 The other scene that gives relief to the violence that is mounting is when Pa is up on the bandstand busting out singing "Everlasting Love" to his beautiful wife rocking to the music with a big smile for her love. Branagh told us during the Q & A at the Chicago international Film Festival that his mother loved to dance and had nothing but respect and good memories of his parents and their relationship. He also relayed that his brother and sister approved of his casting choices for their parents. And, by the way, Dornan is still singing that song. He sang it again at the film's premiere.  
When people heard the name Belfast, it used to conjure up intolerance and violence. Although "The Troubles" changed Branagh's life, this film handles how such events, even like the current pandemic, can bring families closer together. Even though the famous actor never appears on screen, Branagh's presence infuses every scene as his 9-year-old self in this personal, painful but sweet family journey. 
Focus Features    1 hour 38 minutes    PG-13
In Theaters Only
The post Belfast first appeared on Movies and Shakers.
from Movies and Shakers https://ift.tt/3DnFwsJ