Last Night in Soho Movies and Shakers October 29, 2021
Edgar Wright displays vivid imagination with time travel and mirrors for this #MeToo thriller that sends a young girl off to university  in London for an education with disturbing surprises. Wright's premise and imaginative  direction bouncing between two eras grabs your curiosity, but becomes a bit contrived, stumbling by the end. 
Eloise or Ellie, (Thomasin McKenzie – Leave No Trace, Jo Jo Rabbit,) dreams of being a fashion designer and loves the retro trappings of the '60's. She must find a room of her own when college roommate, Jocasta, (Synnove Karlsen) proves to be a snobby, party-throwing bully. 
Eloise meets elderly landlady Ms. Collins (Diana Rigg – Avengers Game of Thrones- spunky and in total control in her last performance). She's reminiscent of Ellie's grandmother back in Cornwall. Her new landlady lays down the rules about no men allowed on the premises past 8pm. No problem…yet. Ellie finds one friend who cares in fellow classmate John (Michael Ajao).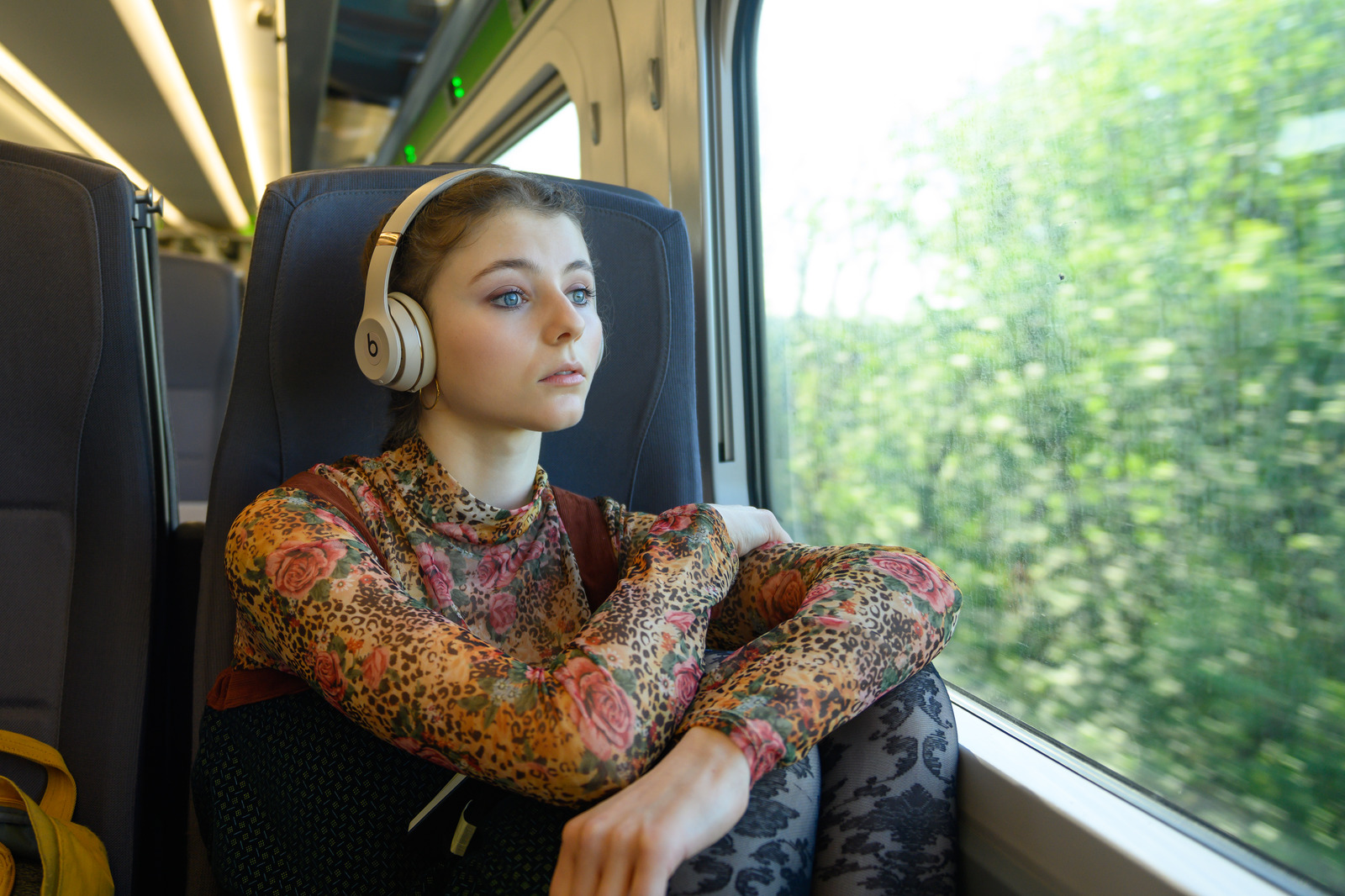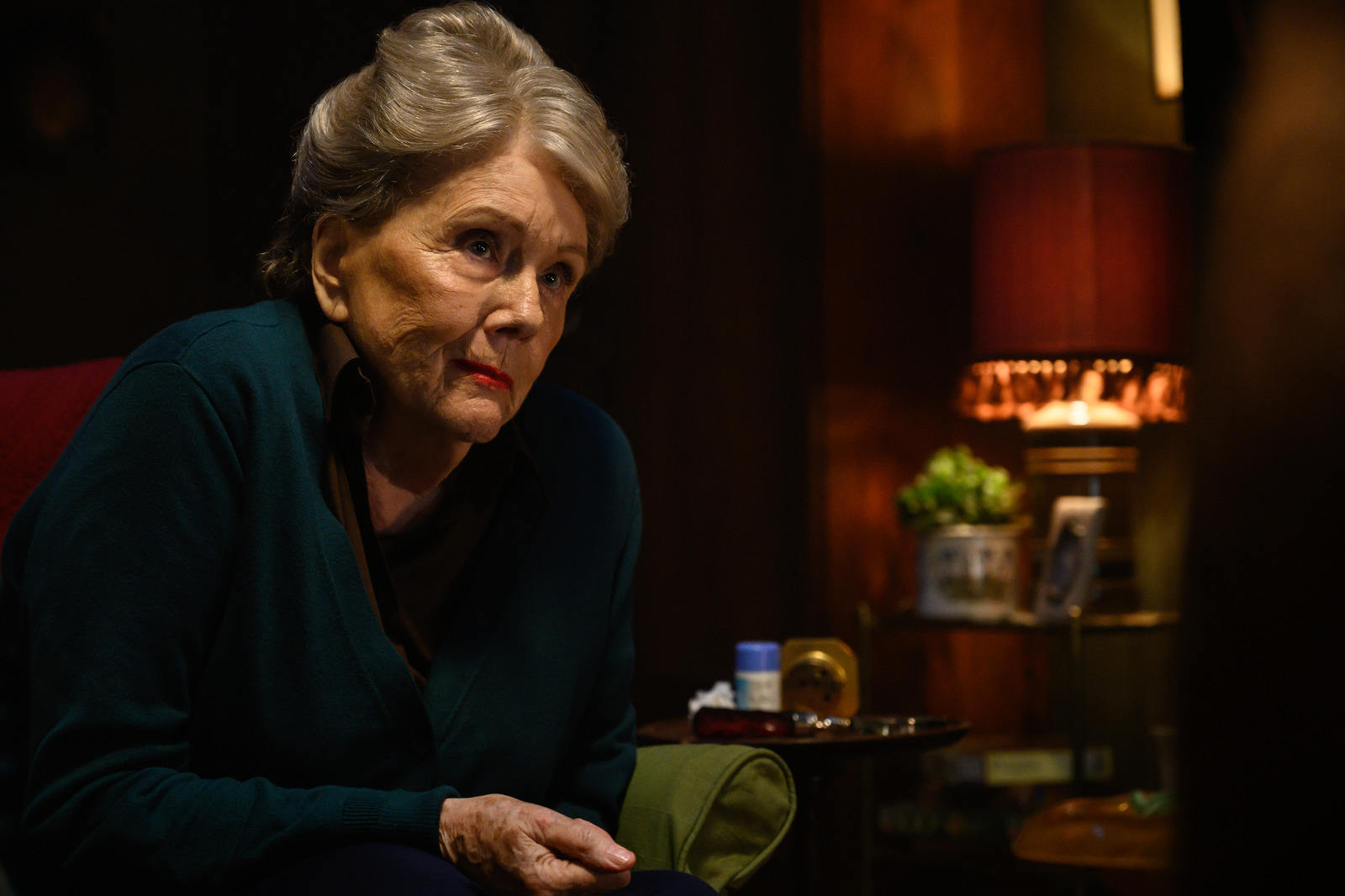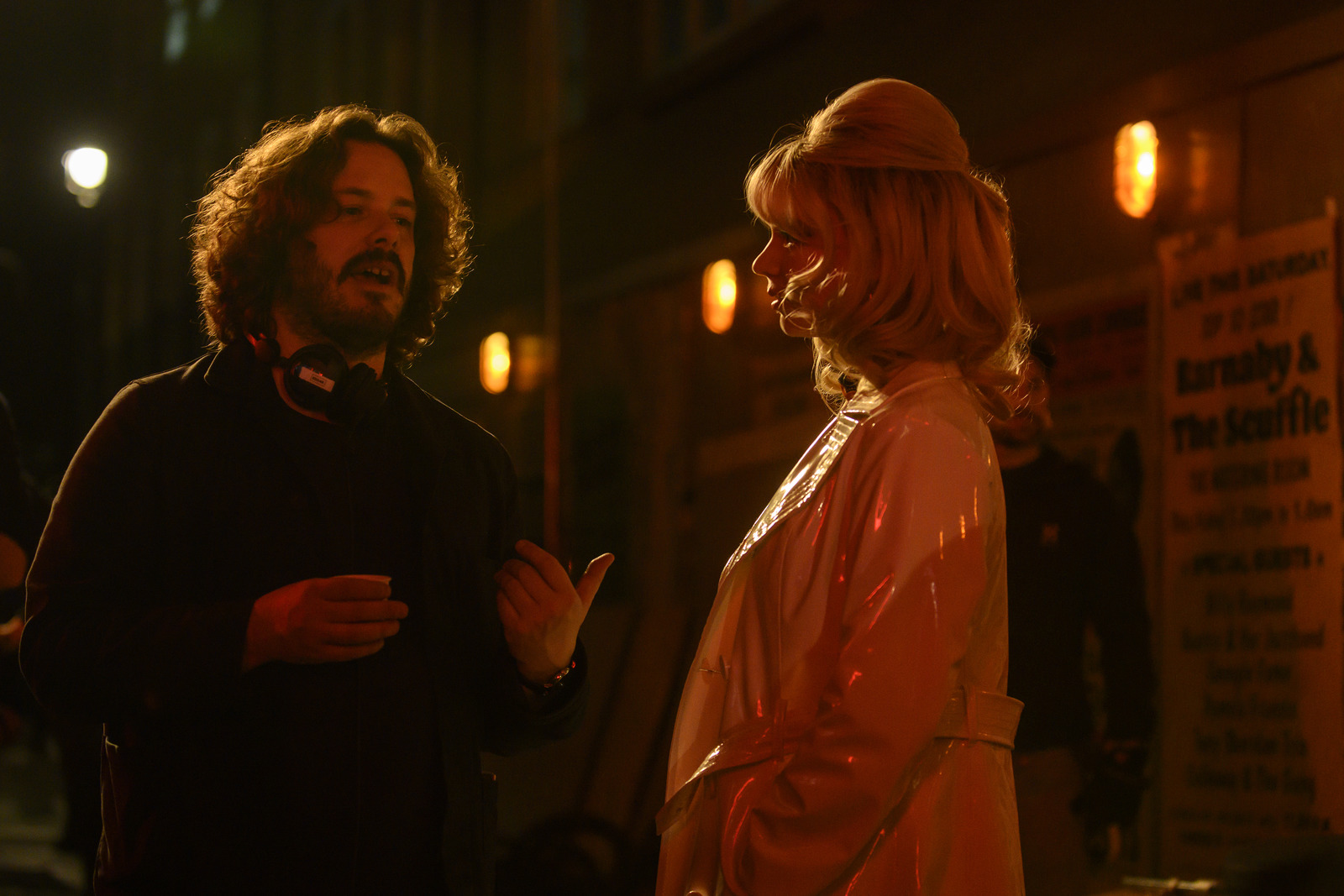 Eloise begins having dreams and hallucinations of the woman she thinks she aspires to be; a woman quite the opposite of herself and of a different era. She is exported "Downtown" like the Petula Clark song of the 1960's following Sandie (Anya Taylor-Joy – The Queen's Gambit, Emma) soaking up the singer/actress/star wannabe's every move. Taylor-Joy is stiff and sullen as Ellie's idol. But this is who the young fan aspires to be and starts designing clothes to match Sandie's style, even dying her own hair blonde like the sexy siren. 
We were not impressed with the wardrobe for that era. Trapeze and Chemise dresses were the norm, but we think those and other fashions of that time could have been ore interesting. 
Wright and cinematographer Chung-hoon Chung (Zombieland: Double Tap) devise interesting camera techniques to construct the double images of Eloise following Sandie's exact movements. They are double images which is very effective, especially in the scene walking down curved stairs against a mirrored wall.
As Eloise becomes more and more charmed by the dream sequences of London with oversaturated color and neon featuring Piccadilly nightlife, Sandie meets Jack, ( Matt Smith – The Crown, Dr.Who) the man she thinks will catapult her to stardom. Instead he beds her and proceeds to have other men pay to do the same. Sleazy Jack also becomes abusive to Sandie.
It all takes place in Ellie's room that's now the site of her recurring nightmares. Wright shows the parade of ghostly men undressing as shadowy, double exposed, gray frightening figures. Terence Stamp appears frequently as a nameless character who ominously warns Ellie, foreshadowing the danger to come. He's a silver-haired gentleman who hangs out in the pub.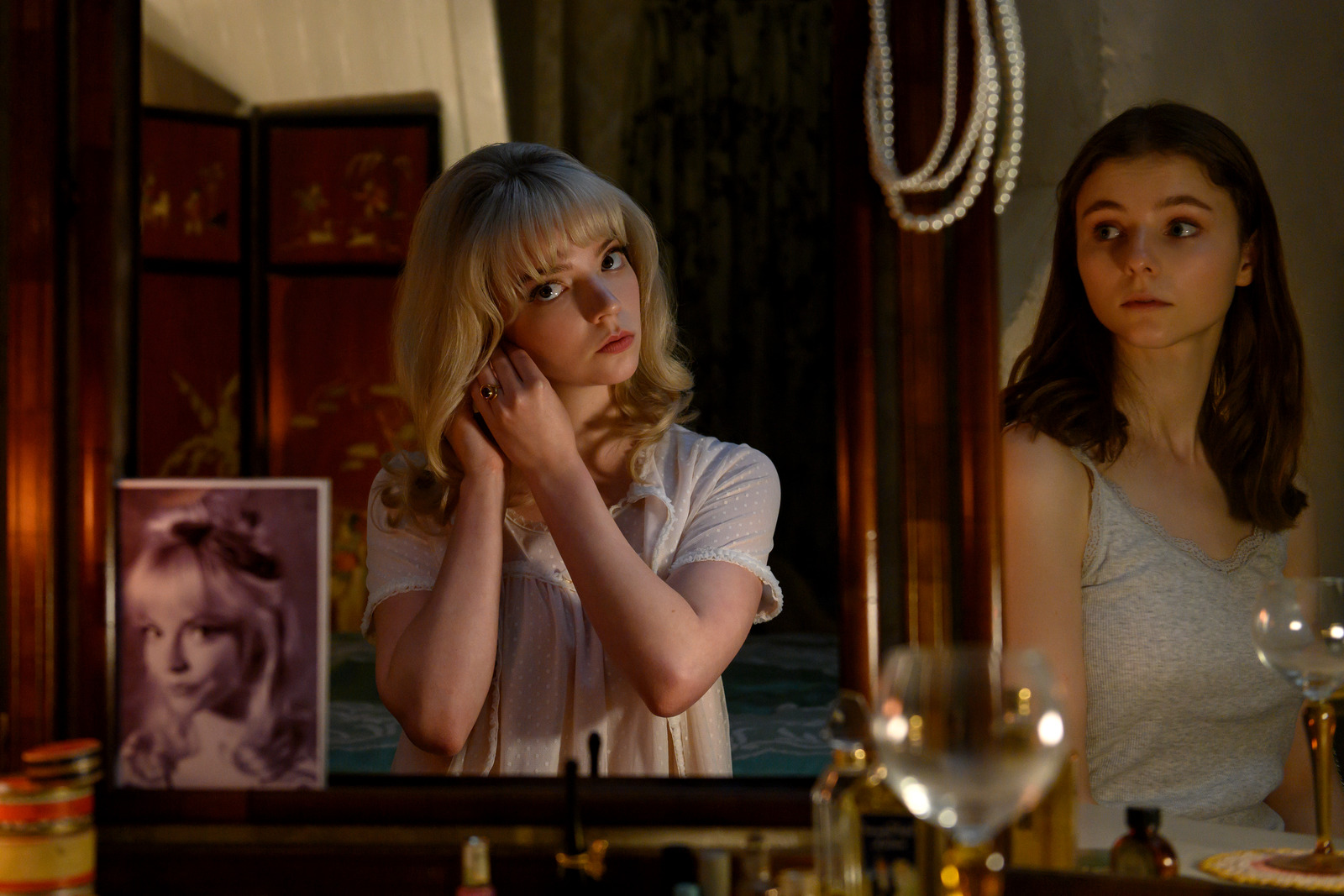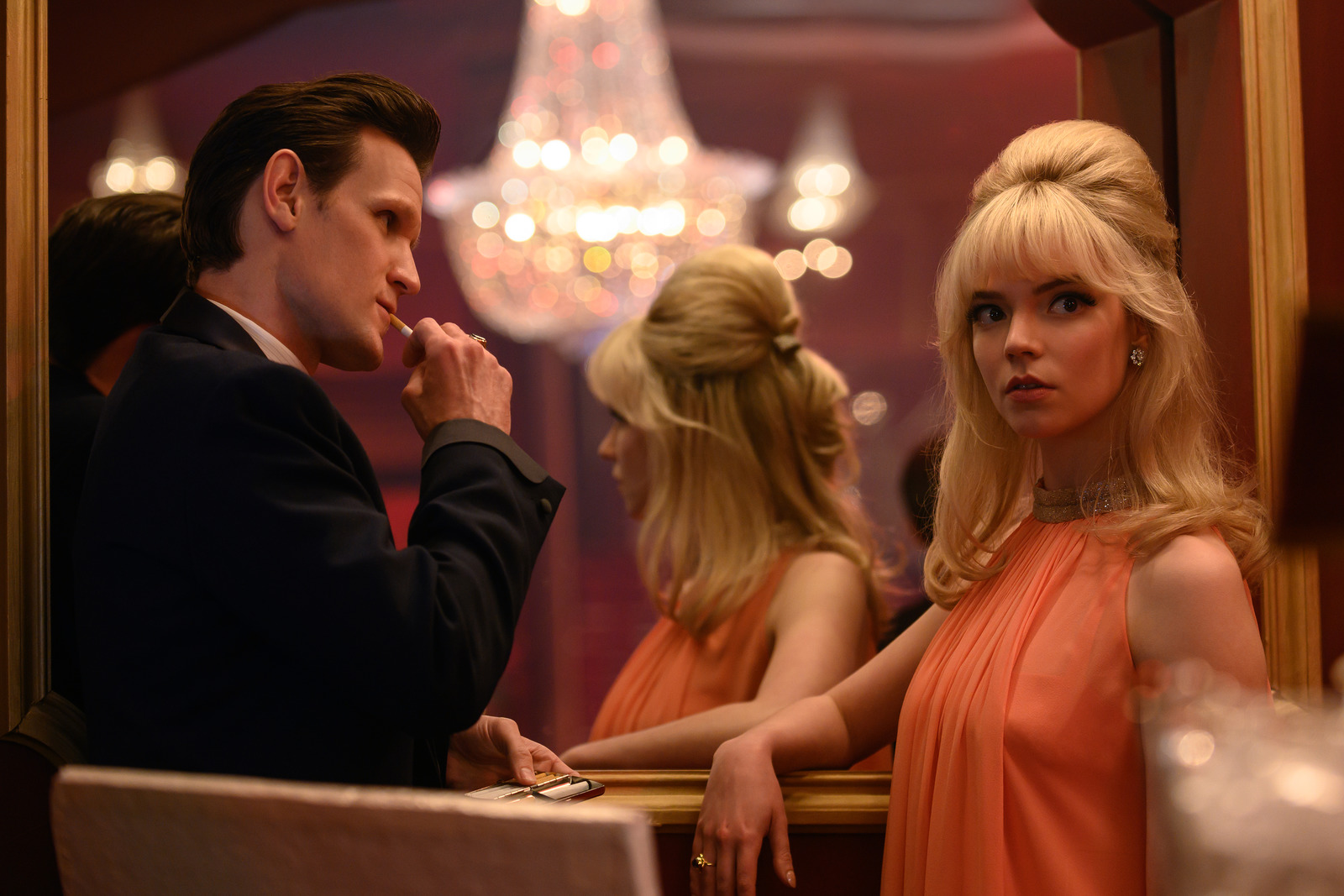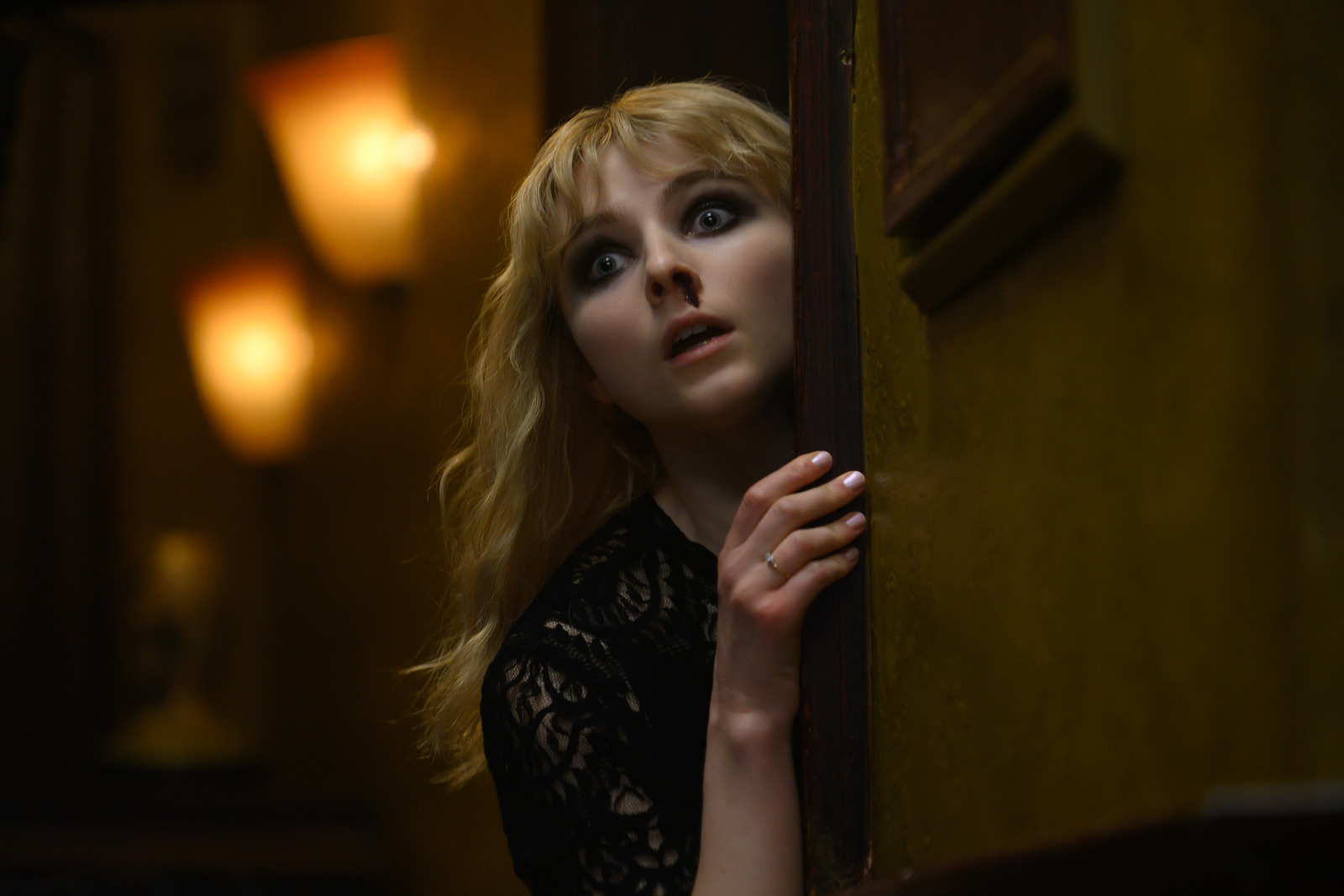 The final plot twists don't provide a satisfying conclusion to what is mainly a horror story. There are too many contrived coincidences that lead to a fiery climax. And why did Wright feel the need to end with a sappy twist? 
This was a perfect role for Thomasin McKenzie who has grown so much as an actress. She is beautiful and engaging as the pure, waif-like Ellie who has to grow up fast in the big city. And thank you, Edgar Wright, for casting Diana Rigg who is amazing as ever in such a meaty role for her last foray in front of the camera. 
Wright also puts a lot of great 60's tunes to enjoy in the soundtrack, but in this story, the lyrics of Petula Clark's "Downtown" take a decidedly sad turn. There are creepy scenes and a couple of gasp worthy moments in this incongruous story set where you were supposed to be able to "…forget all your troubles, forget all your cares." Wright, once again, succeeds in putting his creativity to the test, but we don't think it's among his best. 
Focus Features     1 hour 56 minutes         R
In Theaters Now
The post Last Night in Soho first appeared on Movies and Shakers.
from Movies and Shakers https://ift.tt/3nH5j8n