The French Dispatch Movies and Shakers October 22, 2021
Wes Anderson is back, this time taking his unique brand of avant-garde comedy even further. There is so much to digest in his ode to great expat journalists whose work in the mid 20th century flourished in The New Yorker Magazine. 
Anderson has assembled a huge cast to portray composite characters making up the editors, writers, artists, intellectuals, even a chef, whose work the director worshipped. They include James Baldwin, James Thurber, A.J. Liebling, photographer, Bill Cunningham, revolutionary, Mavis Gallant, art critic Rosamund Bernier, to name a few. He uses intricate detail like in The Grand Budapest Hotel to create the appearance and demeanor of every eccentric and colorful character.  
The meticulous detail in each scene, the over saturated color, mixing in black and white, and even animation, makes this a quintessential Wes Anderson experience. Anderson regulars like Owen Wilson, Edward Norton, and Bill Murray know how to feel the beat that Anderson puts into a script. And one of the pluses of seeing his films is to see how all of his actors play along with his scheme. 
The Film is divided into chapters that are articles making up this on screen edition of the magazine. Anderson loves short stories and had always wanted to use these as a structure for the film. Each chapter has its own cast of characters who are either the subject or the writers of what would be published in the magazine. You get to see the creation in progress.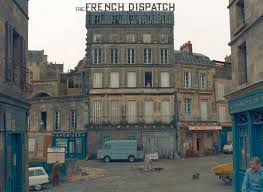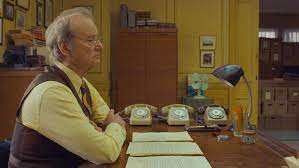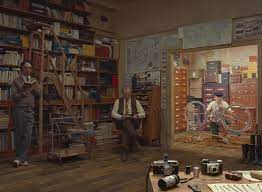 Bill Murray plays the revered, wise boss and editor, Arthur Howitzer, Jr, who rides herd over the writers and their submissions. Anderson based him on the first editor of the real magazine, Harold Ross. And what a collection they are. Angelica Huston opens the film with narration to set the stage. Owen Wilson gives a brief bike tour of the fictional Ennui-sur Blasé, home of The French Dispatch office. Anderson actually transformed the real French city of Angoulême for the magazine's home base. 
Tilda Swinton opens with her article. She's the outrageous art critic in orange chiffon with matching pouffy hair and toothy smiles. She narrates, but is really lecturing from a stage to tell her story. It's as if she's doing a gossip column a la Hedda Hopper of the art world. She tells of Moses Rosenthaler, a volatile, growling, convicted murderer who turns artist. Moses uses his prison guard, Léa Seydoux, as his nude model/muse for his masterpiece. It attracts an art dealer. (Adrien Brody). Their interaction is bizarre, manic, quite disturbing, yet funny when reactions get out of hand.
Every revolutionary has a manifesto and Timothée Chalamet as Zeferelli is a wild child. Even his hair is wild. He's being followed for a story by Lucinda Krementz (Frances McDormand). Talk about being in bed with your subject, she enjoys this research. It's all about an uprising at the University of Paris with demonstrations and strikes because males are forbidden from entering the girls dormitory. One of our favorite posters reads "I'm a Marxist—of the Groucho persuasion." McDormand is always great, but she seemed to play it a little too nonchalant for this characterization. 
In the next chapter, you see actor Jeffrey Wright as you've never seen him before. He appears somewhat awkward in a period suit with slicked down hair, minus the actor's familiar facial hair. Writing a story about the chef, Lt.  Nescaffier (Stephen Park) Wright gets lost trying to find "The Private Dining Room of the Police Commissioner." He is trying to help solve a crime as complicated as any  of the chef's recipes. Watch out for the chef's secret sauce in this one. But this is quite the  tasty tale.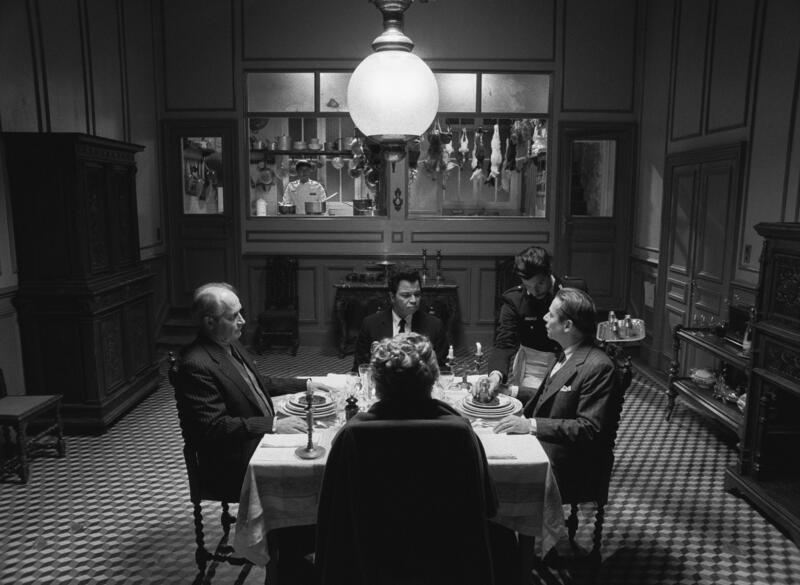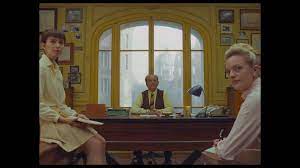 Anderson's past films were about family, childhood, politics, but this film is obviously filled something more. The director obviously plays out his passion for the great writers who contributed to The New Yorker. This film is a tribute showing how eloquently they expressed their view of everything from revolution, love, art, and even crime. 
There are so many characters and so much visually to take in, we found ourselves missing some of the comedic lines that became throwaways. Anderson fills the frame with so much going on that you might need to see it more than once to catch the nuances and the chestnuts hidden in plain sight. It's a little uneven, but as a sendoff to these legendary writers along with Anderson's love of language and painstaking presentation, the French Dispatch delivers.
Searchlight Pictures       1 hour 48 minutes  R 
In Theaters Only
The post The French Dispatch first appeared on Movies and Shakers.
from Movies and Shakers https://ift.tt/3vDncbK