The Last Duel Movies and Shakers October 15, 2021
This tale for truth and honor by combat is as beautiful as it is brutal. This is an action thriller that gets more difficult to watch in Director Ridley Scott's presentation of three versions of the same event a la Rashomon. Essentially this becomes a Medieval #MeToo moment. Each of the three main characters (Matt Damon, Adam Driver and Jodie Comer) act out their perspective of the rape of the other man's wife and her dangerous choice not to remain silent. It may seem repetitious at times, seeing the same horrific event from different perspectives, but the nuances prove the point. 
This is the first collaboration between Matt Damon and Ben Affleck since Good Will Hunting in 1997. Interesting that two men and a woman contributed to the screenplay that presents the tale. Damon, Affleck and Nicole Holofcener co-wrote the long, but captivating, script. They each took a chapter with Holofcener writing the searing one from the woman's perspective. It's based on real events depicted in the book by Eric Jager in what culminates in a bloody trial by combat that actually occurred in France in1836. This was France's last recorded duel to the death.
The film opens on a most serious scene. Two men are about to face off in a jousting match while a woman, with a terrified look on her face, nervously looks on. But before we can see who wins, Scott goes back in time to start their story from the beginning, before it came to this. Cinematographer Dariusz Woolski, who has worked with Scott and Damon before, (The Martian), captures both the color-saturated battles, managing to keep focus on Damon and Driver in the fog of war, and intimate closeups on Comer. 
This is a very different ride for Damon. The usually svelt actor appears stocky, gruff and a bit rough around the edges with a big scar on his face. He plays a knight, Sir Jean de Carrouges, who is a well-respected warrior on the battlefield.  Adam Driver is Jacques Le Gris, a comrade-in-arms to de Carrouges who is also good in battle, but he has a much more refined persona. He's intelligent, sure of himself and a party animal, who likes the ladies.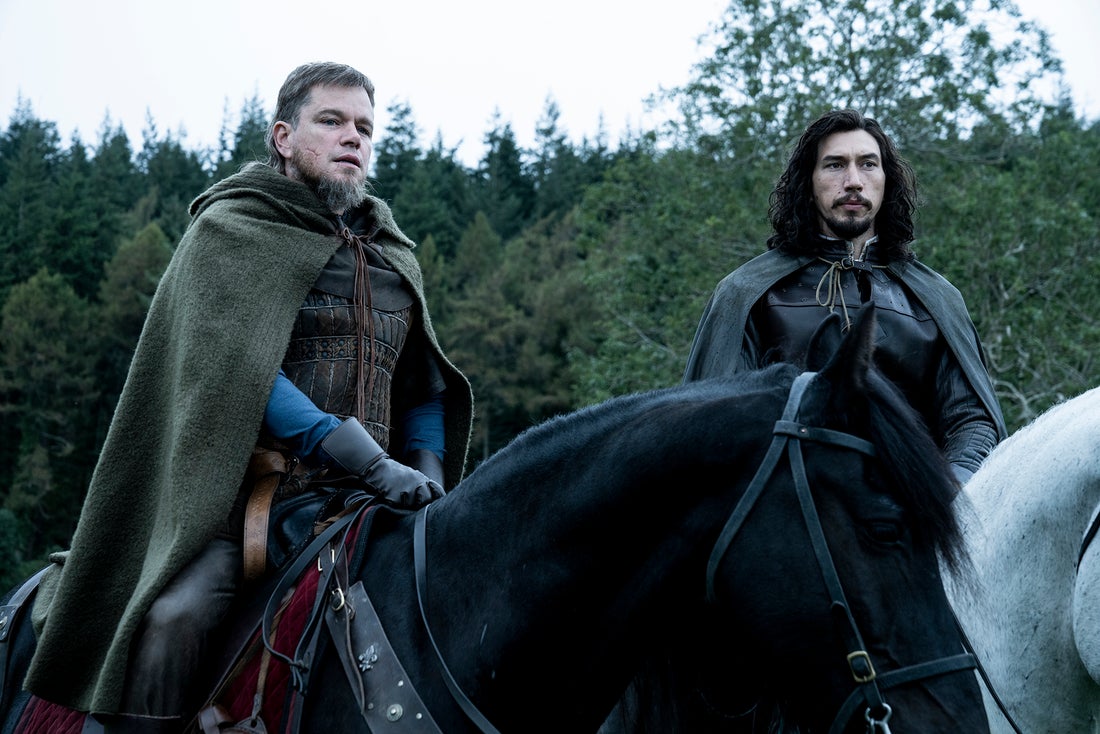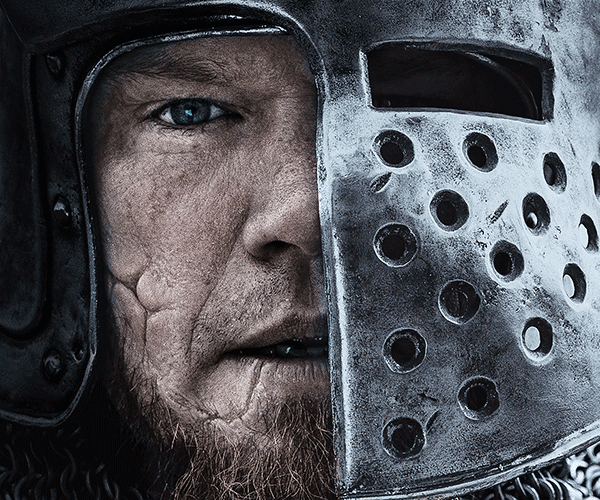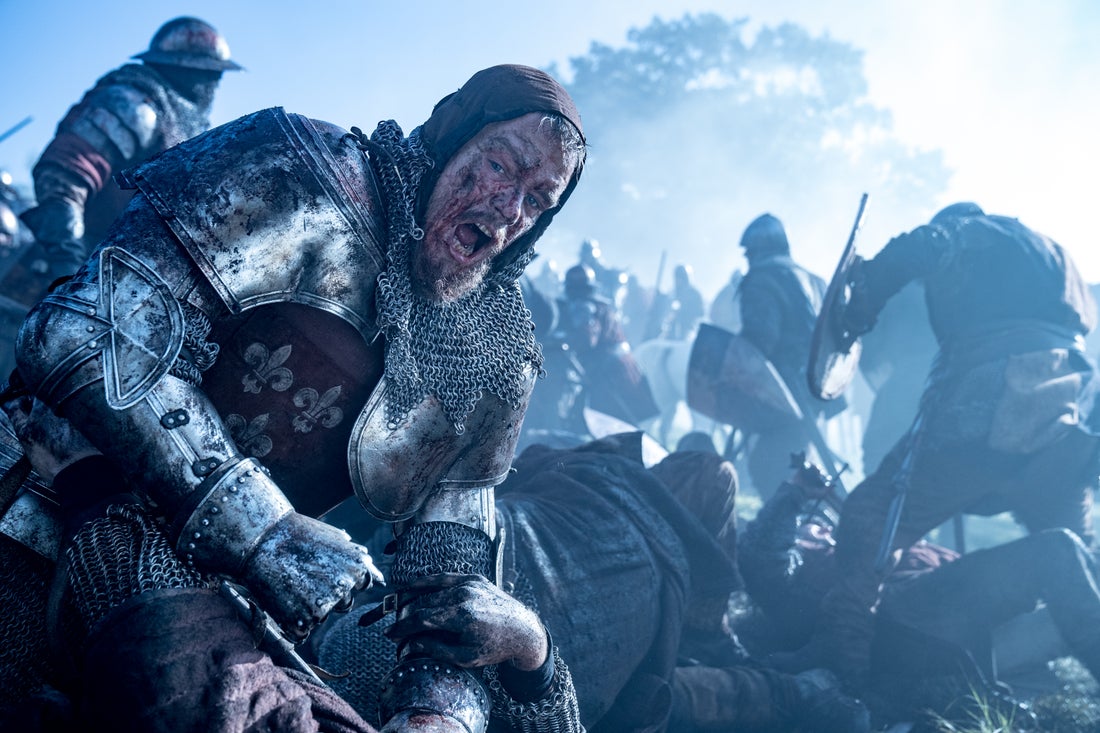 Affleck plays a prominent, but not lead role. His blond hair and goatee, and his inconsistent dialect at times were too contemporary for this film. As the Count, he is the cousin of the King and overseer of the province. The Count uses both positions to enrich himself and take of those who are loyal to him. He takes care of LeGris, much to the consternation of de Carrouges. 
In the first chapter we get to learn more about de Carrouges and his attitudes toward the The Count's buddy, Le Gris. We get to see how both men react to each other on the battlefield and off. They are competitive; even more so when they are fighting for the same parcel of land. De Carrouges believes he's entitled to it, but Le Gris deals for it. There is tension as they become enemies. But friendship isn't all they end up vying for. 
The land de Carrouges wanted was supposed to be part of a dowry contract for marrying Marguerite (Jodie Comer in a role a far cry from Free Guy), the daughter of an indebted nobleman. She is just a pawn in this arrangement as women had no say at that time. She is betrothed to de Carrouges. Beautiful, lovely, educated, but reserved. De Carrouges' mother isn't impressed and makes life difficult for the young bride. The need is to procreate, but he is not the most tender lover. He's distracted by his macho role fighting for land and for his country to be an attentive husband.
In the second chapter, we get the perspective of Le Gris, the nobleman who starts to warm up to de Carrouges. They begin to respect each other for their ability in battle, even protecting each other. When De Carrouges and Marguerite are invited to a King's reception,Le Gris turns on the charm for Marguerite and thinks he's in love with her and that she seems to enjoy his attention. When de Carrouges is called away from his home, Le Gris forces his way into woo Marguerite. Her mother-in-law has conveniently taken all of the help away, despite orders from her son not to leave Marguerite alone. Le Gris aggressively pursues and rapes Marguerite, but makes it seem as if she didn't put up much of a fight.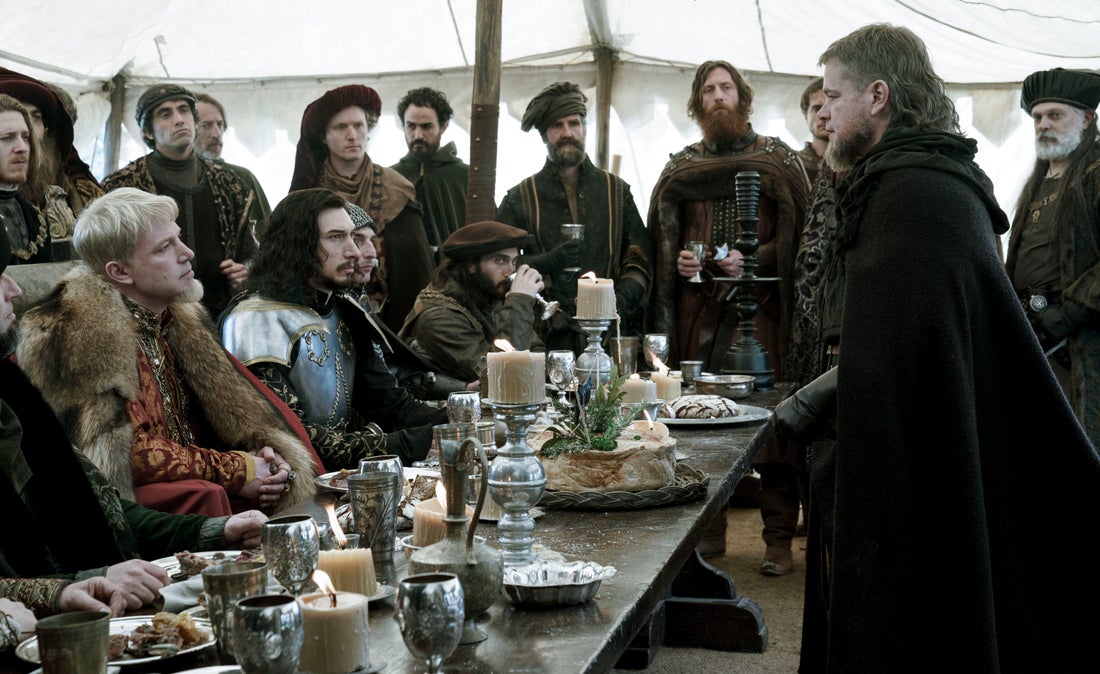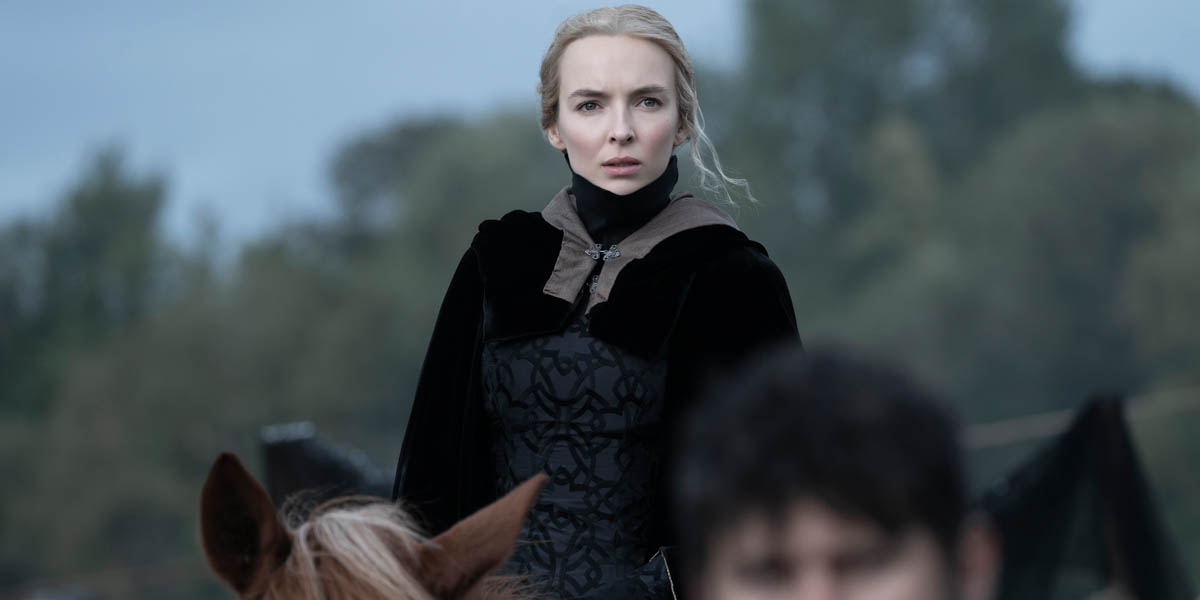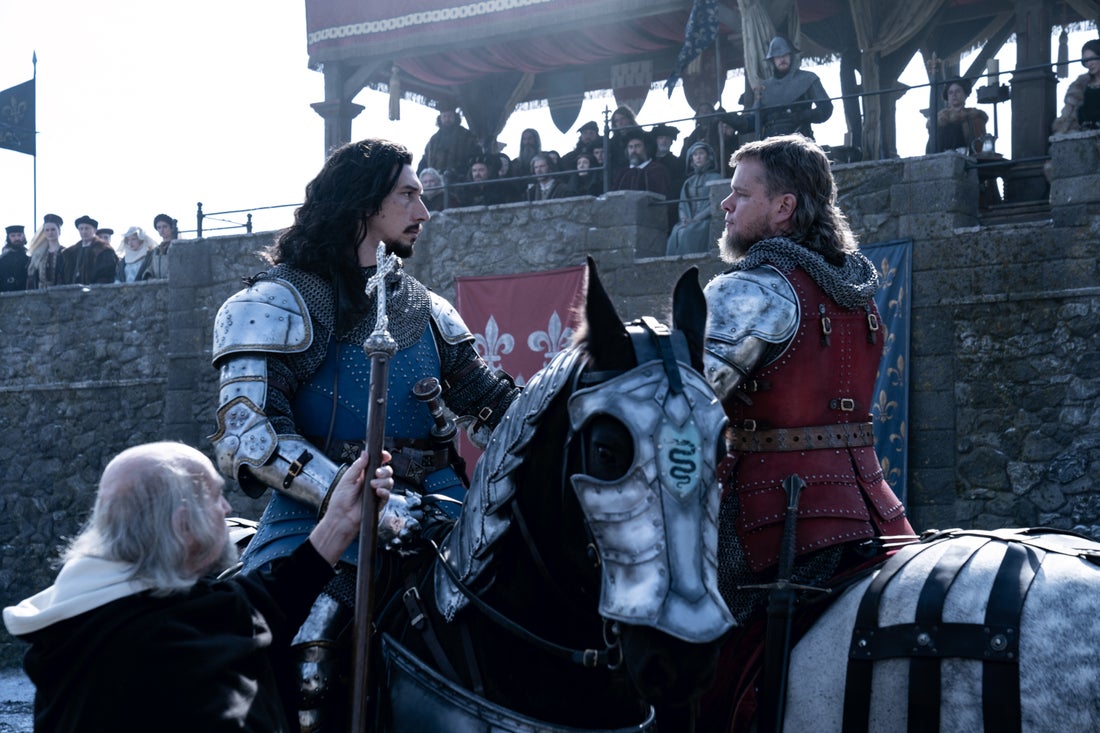 Chapter 3 is through Marguerite's eyes. When La Carrouges returns, Marguerite is destroyed and emotionally recounts the rape along with her protests in horrific detail. Scott makes this version of the rape even more vicious and disturbing. The scene is chilling. There is no nudity, but Driver's acting with such intentional brutality with Comer portraying utter fear, shock, and struggling with her grief is upsetting.
Marguerite, accused of lying, is adamant about it being the absolute truth. Comer steps up in the scene. She is almost paralyzed, staring off through tears, making clear Marguerite's resolution to fight for herself. Believing her, he challenges Le Gris to a duel which were not being done anymore in the 1300's. But because of the seriousness of the offense, and de Carrouges' determination to defend his wife's honor, the King agrees to the duel as a way to get to the truth. 
Scott bookends the film with the duel. He builds tension detailing preparations in front of an audience including the King and Marguerite, in shackles. Scott slowly presents suiting up the two men and their horses with weapons and armor. He then revs it up as they ride to destroy each other. Each pass causes more tension and blood spilled and reaction from the crowd and Marguerite. Her face contorts at every pass, afraid, knowing that if her husband loses, she will not only lose him, but her own life.
The film builds to an ultimate and gory climax. Does this violence really bring out trust in the truth or is it simply another act of male aggression, not unlike what we see everyday for women who are attacked and have to prove their case. Ridley Scott's direction of the script with committed performances by Damon, Driver, and Comer make this medieval #MeToo moment compelling and current. 
20th Century Studios        2 hours 32 minutes        R
The post The Last Duel first appeared on Movies and Shakers.
from Movies and Shakers https://ift.tt/2XlKwhD