Mass Movies and Shakers October 16, 2021
This film is a master class in acting. More theater than a film, two sets of parents meet, talk and listen concerning the pain of losing their sons in a school shooting. You can't help but feel how helpless and hopeless they feel still trying to recover 6 years later. Each parent gets to say their piece yearning for peace.
Gail and Jay (Martha Plimpton and Jason Isaacs) are the parents of a boy who was killed. Linda and Richard (Ann Dowd and Reed Birney) are the parents of the boy responsible for the mass shooting. They meet at a church which creates a double entendre for a place where there is normally a mass to talk about a mass shooting. It's four people seated around a table spilling their guts to each other. 
This is Fran Kranz's first feature film as writer/director. He's a Yale graduate who's been acting since he was a child, first on TV series, then in film and on Broadway(Cabin in the Woods, Journey Quest, Death of a Salesman) As transition, Kranz cuts in the shot of a fence with an orange ribbon tied on it flowing slowly in the wind. It is obviously a familiar left over symbol of the tragedy.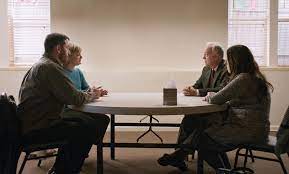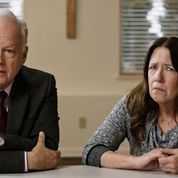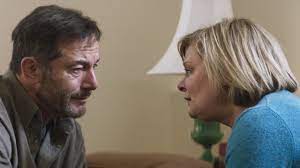 Kranz creates a very intimate look at what a devastating event can do to a family. The parents, at first nervous and reluctant, share details of their boys. The film builds as they discuss the details of how they relive the day, including the gory details. 
The camera focuses on the face of one parent at a time, telling their own recollection of what happened that day and how the guilt of not being able to be there to stop or protect their sons has created a living hell for all of them. 
They are all amazing to watch as the camera locks tight on their faces, digging deep to places in their hearts they've tried to avoid because of all the pain and guilt, wondering where they went wrong. 
Ann Dowd and Martha Plimpton are exceptional as Linda and Gail. Dowd's face twists into complete grief, trying to be compassionate, yet missing her son so much. It's evident she's still trying to figure out why and where she went wrong as a mother. Her ups and downs talking happily and then sadly of her son are so dramatically evident on her face. Apparently, this has torn her relationship with Richard apart and they are no longer living as a married couple. 
Plimpton goes through the biggest change in this gut wrenching session. She is still bitter and you can see the hate she has for the couple who raised the son that killed her boy. Plimpton looks like she's about to explode exercising amazing restraint until later in the discussion when she finally lets loose crying uncontrollably. She says "If I forgave you, I'd lose him."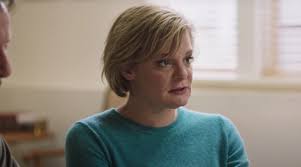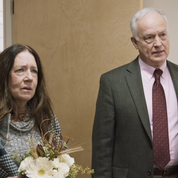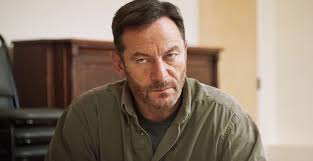 But that takes nothing away from Jason Isaacs with his piercing blue eyes registering his resentment for how his son died not even knowing his killer who let him lay dying for six, long minutes. Reed Birney becomes somewhat of a referee trying to hold Linda at bay when she gets too emotional, but you can see that the incident took a toll on him and on their marriage. 
This meeting was proposed as a possible way to move on, but Kranz shows how hard that can be, no matter how long it's been. They say the worst thing that can happen to a parent is to have to bury a child. But it is especially hard to heal when they are die senselessly. Kranz does an excellent job giving these four incredible actors such intimate dramatic material to reveal what has sadly become almost an everyday occurrence.
Bleecker Street           1 hour 50 minutes          PG-13
The post Mass first appeared on Movies and Shakers.
from Movies and Shakers https://ift.tt/3DT86C6