Dune Movies and Shakers October 15, 2021
This updated, fresh, fully conceptualized adaptation of Frank Herbert's bestseller is a swashbuckling futuristic interplanetary epic. Writer/Director Denis Villeneuve finally brings a long pandemic delayed version of a very complicated tale that leaves the audience hanging. Villeneuve puts his big screen talent to great use in stylized costumes and settings on a huge scale.
There is a cast of thousands working in difficult locations engaging in thunderous intergalactic CGI battles. John Spaihts and Eric Roth co-wrote the screenplay with Villeneuve. Production Designer, Patrice Vermette, had plenty to work with in this enormous undertaking. And this is one more Hans Zimmer triumph bringing intensity with pounding drums and loud flourishes to accompany the action sequences. 
Paul Atreides, (Timothée Chalamet) is the central character. Born into royalty. Paul learns he was born with a purpose he does not fully realize himself. "A great man doesn't seek to lead, he is called for it." And this film is Paul answering the call. But he will have to overcome fear to succeed. 
Paul is the son of The Duke Leto Atreides, (Oscar Isaac) the ruler of his planet and Lady Jessica Atreides, (Rebecca Ferguson), his concubine. Paul is being trained by Gurney Halleck (Josh Brolin) to be a warrior. Gurney is a friend but tough and twice the size of his pupil. Even though Paul appears somewhat frail, Chalamet shows he can handle the fight choreography and pack a punch. Gurney is Paul's protector. Providing more friendship and protection for Paul and his family is muscle-bound Duncan Idaho (Jason Momoa), who gets to show off his strength when it's needed.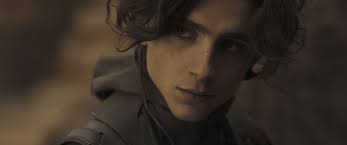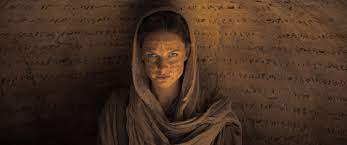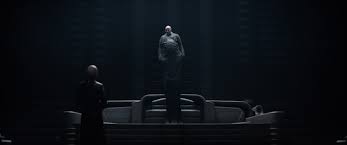 Jessica takes Paul to a soothsayer (Charlotte Rampling) who puts him to the test to see if he is the one destined to be their leader. Despite Chalamet's slight build, he shows great promise in this action role. When he has to display his ability with fight choreography, he acquits himself well. 
There is palace intrigue when the Emperor double deals with the huge, weird, grotesque, bloated floating bald villain, the Baron Vladimir Harkonnen (Stellan Skarsgård). Hair, makeup and prosthetic designer, Donald Mowat told us a special crew took 5 days to put together the Baron's trappings which had Skarsgard in makeup for 6 hours to prep for his scenes. He is literally the heavy in this film, and especially disgusting when he emerges from an oily tub of goo. Dave Bautista (Guardians of the Galaxy) plays the Baron's nephew and chief henchman who gleefully does out pain on his uncle's enemies. 
The Emperor orders the Duke and his family to oversee the mining operation of the melange to bring production of the cinnamon-like spice up to speed. It is the most sought after commodity in the galaxy for survival. Arrakis presented other challenges not only for the cast and crew but for Villeneuve. They shot that part of the film in Jordan. Australian cinematographer Greig Fraser (Rogue One, Zero Dark Thirty) had his work cut out for him with the huge vistas, the scale of the buildings and capturing those emotional closeups of the characters along with the hand-to-hand combat. Visual Effects Supervisor, Paul Lambert makes scary the monstrous sand worms that slither and explode through the surface on Dune.
The battles are over who will control the spice. The indigenous people who live there are called the Frenem. They just want to live their lives on their land which has been taken away from them. It's a familiar trope in history as well as in these times. Paul keeps having dreams about one of the Frenem in particular named Chani, (Zendaya). Stilgar (Javier Bardem) is the leader of the Frenem. Being exposed to the spice causes their eyes to glow a royal blue. This was added as a special effect as contacts don't work well around blowing sand.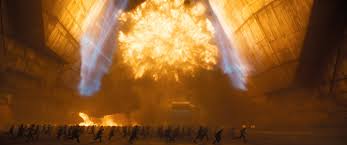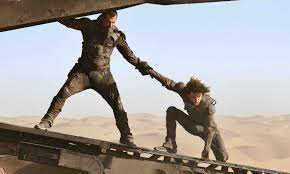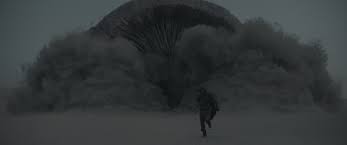 Paul has to step up as battles between the Baron and his Hakonnen army fight with Atreides. Mother and son have to flee for their lives. Paul (Chalamet) grows in stature as a man and hero. Ferguson has so many elegantly, regal looks in this film. Her face sometimes appears freckled, or clear and fair, and even tattooed in the film. She is passionate in her performance. She as Lady Jessica and Isaac as the Duke are believable as a romantic couple. At one point the Duke even says "I should have married you." Chalamet proves as an actor that he can play a hero and a heartthrob. 
As a stand alone movie, this was a more than adequate space action adventure. With all its characters, this story is so complicated, it might make you think Villeneuve added a little too much spice. There simply is no ending. Zendaya even telegraphs as much at the end. We felt a little cheated after sitting through what amounts to a two and half hour tease for a possible series. So keep your sandals handy. Safe bet you'll be back in the desert in the future, presumably trudging through Dune 2. 
Warner Bros            2 hours 35 minutes       PG-13 
The post Dune first appeared on Movies and Shakers.
from Movies and Shakers https://ift.tt/3DIsaH2