No Time To Die Movies and Shakers October 6, 2021
Daniel Craig's 7th and last turn as "Bond,…James Bond," is more serious and long, but a fitting emotional send off for this chapter of the franchise.  Apprehensive of the 2 hour and 45 minute running time, we weren't sure we would be too much of a good thing, but Craig's performances surpasses what he's given to work with. 
Craig, himself, said it was time for him to pack it in because he's older and the physically taxing athleticism for Director Cary Joji Fukunaga to execute the breathtaking action scenes would be using more stunt doubles. Credit goes to the director for executing gasp-worthy scenes choreographed with intricate precision, particularly in the first half of the film and again, sticking with another Bond playbook apocalyptic ending. 
The first half hour shows scenes with a young girl in a remote hideaway with her mother who passed-out drunk. Her encounter with a murderous stranger wearing a Phantom of the Opera-esque mask sets her story in motion. Years later, Bond is in a car driving casually in through a small, picturesque Italian town with a beautiful woman at his side. No surprise there. They appear to be in love, on an intimate mission to reveal secrets to each other. Suddenly, they are being attacked and chased by a hoard of gunmen. 
The best action of the movie is during Bond's frantic chase trying to escape on foot, jumping over bridges and buildings, intensified by Hans Zimmer's heart pounding score. Bond jumps into that loaded and fully equipped weapon of an Aston Martin and with his love, Madeleine Swann (Léa Seydoux) in the car, they stop dead, surrounded like sitting ducks. They are barraged with from machine gun fire from every angle when Bond unleashes the power of the his trusty mechanical metal sidekick's firepower. It's half an hour into the film before you sigh in relief and hear the iconic blast of horns of the 007 Bond theme.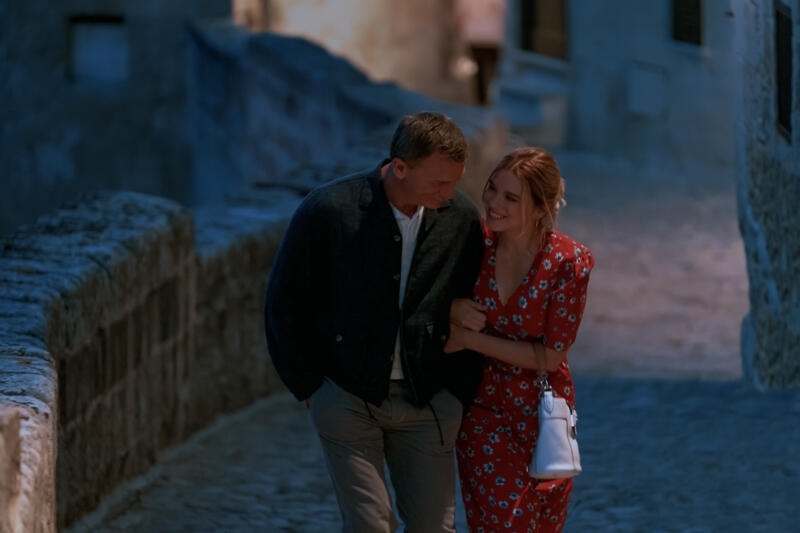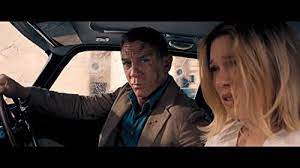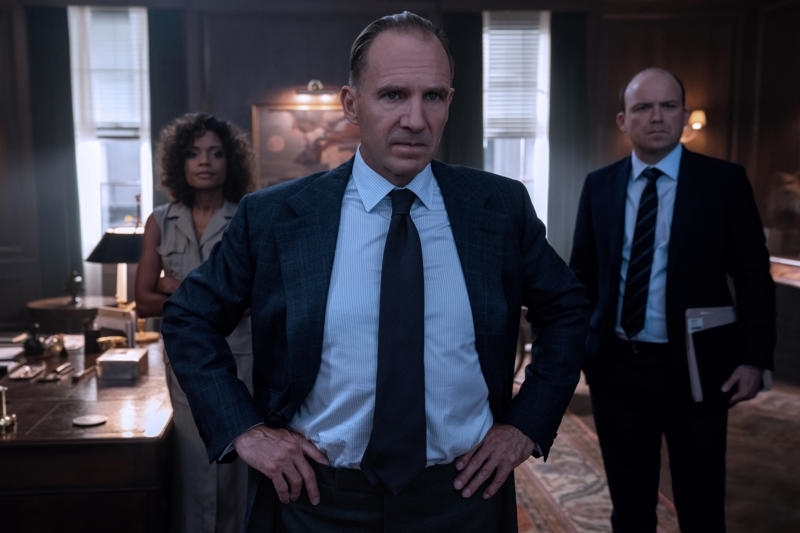 Writer/Director Cary Joji Fukunaga wrote the story and screenplay. Here, Bond is not as sarcastic, sexy, or funny, but only when he delivers the line of introduction we've all been waiting for. Bond is drawn back in to work for M16 and resuming his contentious relationship with cantankerous old boss, M (Ralph Fiennes), only to find out that his agent 007 number has been reassigned to female agent, Nomi,(Lashana Lynch). Bond is back and so is Eve Moneypenney (Naomie Harris – Venom: Let There Be Carnage) as M's assistant and so is gadget guru Q (Ben Whishaw) who surprisingly sneaks in a reference to his own sexuality. 
Once back in action, Bond, once again, is sent all over the world. Cinematographer Linus Sandgren (La La Land, American Hustle) captures the scenic locations and the high-speed action with style. There are several threads running through this lengthy, sometimes confusing, thriller where Bond's is tracking down lethal villains to keep them from completing their disastrous plan to gain global control.
Old Friend, Felix Letter (Jeffrey Wright), returning arch villain Ernst Stavro Blofeld (Christoph Waltz), grinning CIA Operative Logan Ash (Billy Magnussen) make quick appearances. These characters just play functional roles in the plot to provide more intrigue and action. When Bond goes to Cuba at Felix's request to help rescue a kidnapped scientist, he gets into a battle at a swanky mansion fighting alongside the beautiful, adorable, and lethal Cuba Paloma (Ana De Armas). We wish De Armas had had a bigger role in the film. She's a spark, fun to watch, gorgeous and a breath of fresh air in her fight scenes, capable of much more. 
The film builds up to the biggest villain Bond has to face, Lyutsifer Safin (Rami Malek). And what a face he has. He has history with Madeleine and targets her daughter, Mathilde (Lisa-Dorah Sonnet) for revenge. With all the great child actors we've seen lately, we don't think Fukunaga got much out of her. She never showed enough emotion, even when she was supposed to be freaked out by the ugliest villain in the story threatening to use the ultimate in lethal technology. More battles ensue.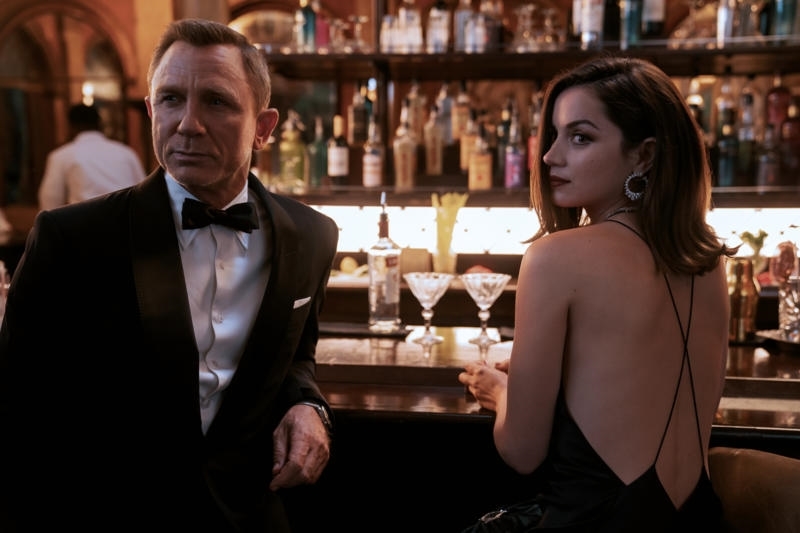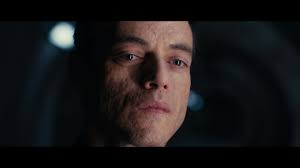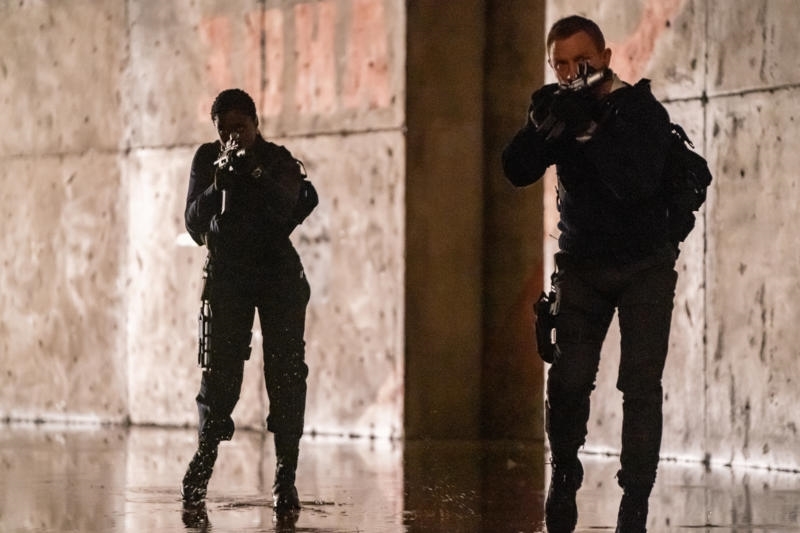 But by the end of the movie, the relationship between Bond and Madeleine becomes heartbreakingly sweet. Fukunaga definitely gets a better handle on romance than any other relationship in the film. This Bond installment and Craig's performance is much more serious and emotional than any previous in the 25 films of the series. Starting with Casino Royale through to No Time to Die, Daniel Craig brought Bond into the modern era. 
Now, conjecture begins for who the next 007 could be. Will there be a more diverse Bond? Could it be a woman? Will the tone go back to being more smart ass and light-hearted? There's no doubt that Daniel Craig eclipsed the Bonds of the past and left his own indelible mark. But 007's reputation and license to kill is destined to live on. 
MGM/United Artists        2 hours 45 minutes      PG-13
In Theaters Only
The post No Time To Die first appeared on Movies and Shakers.
from Movies and Shakers https://ift.tt/3uKl95g