The Card Counter Movies and Shakers September 12, 2021
Paul Schrader writes and directs another male driven drama about guilt, redemption, and brutal revenge reminiscent of film noir. Oscar Isaac plays a professional gambler with a dark past, and an intense, cool, detached presence. He reminded us of a combination of Bogart, Frederick March, Richard Conte and other actors in the detective dramas of the 40's. 
The first part of the film deals with his adept knowledge of gambling, learned while serving time in prison for his work as an interrogator/torturer at the Abu Ghraib prison during the Iraq War. He is haunted by that experience and as a result, he goes to extreme measures to isolate and cleanse his environment going from casino to casino. Isaac is immaculate in his dress, also at keeping every strand of his hair perfectly coiffed.
Schrader keeps the tension going, enhancing flashbacks of the horrifying brutality inflicted on Iraqis with disturbing but creative fish-eye-lens follow shots and camera zooms. It's hard to watch, but, just like Schrader's other scripts, (Raging Bull and Taxi), even harder to look away.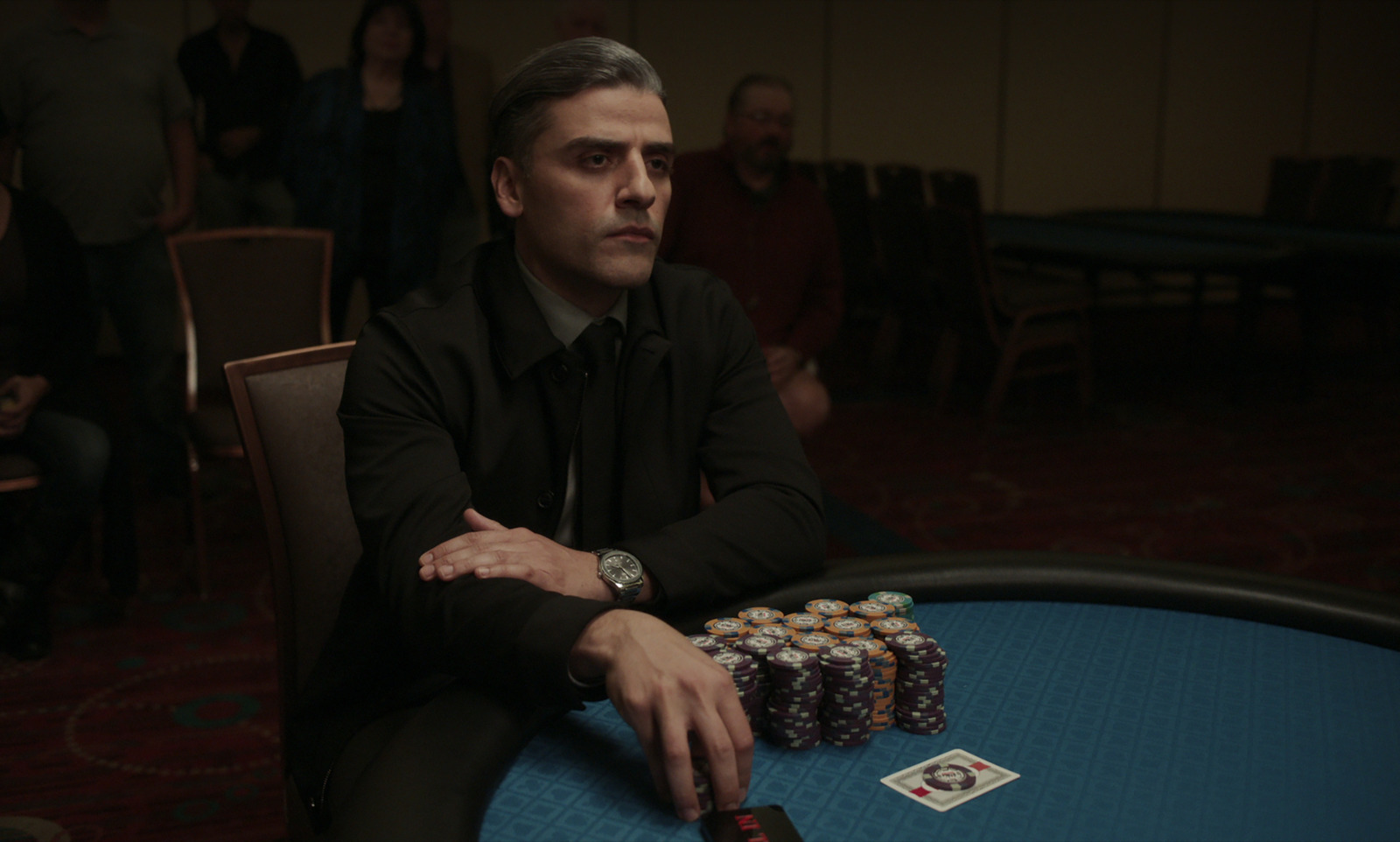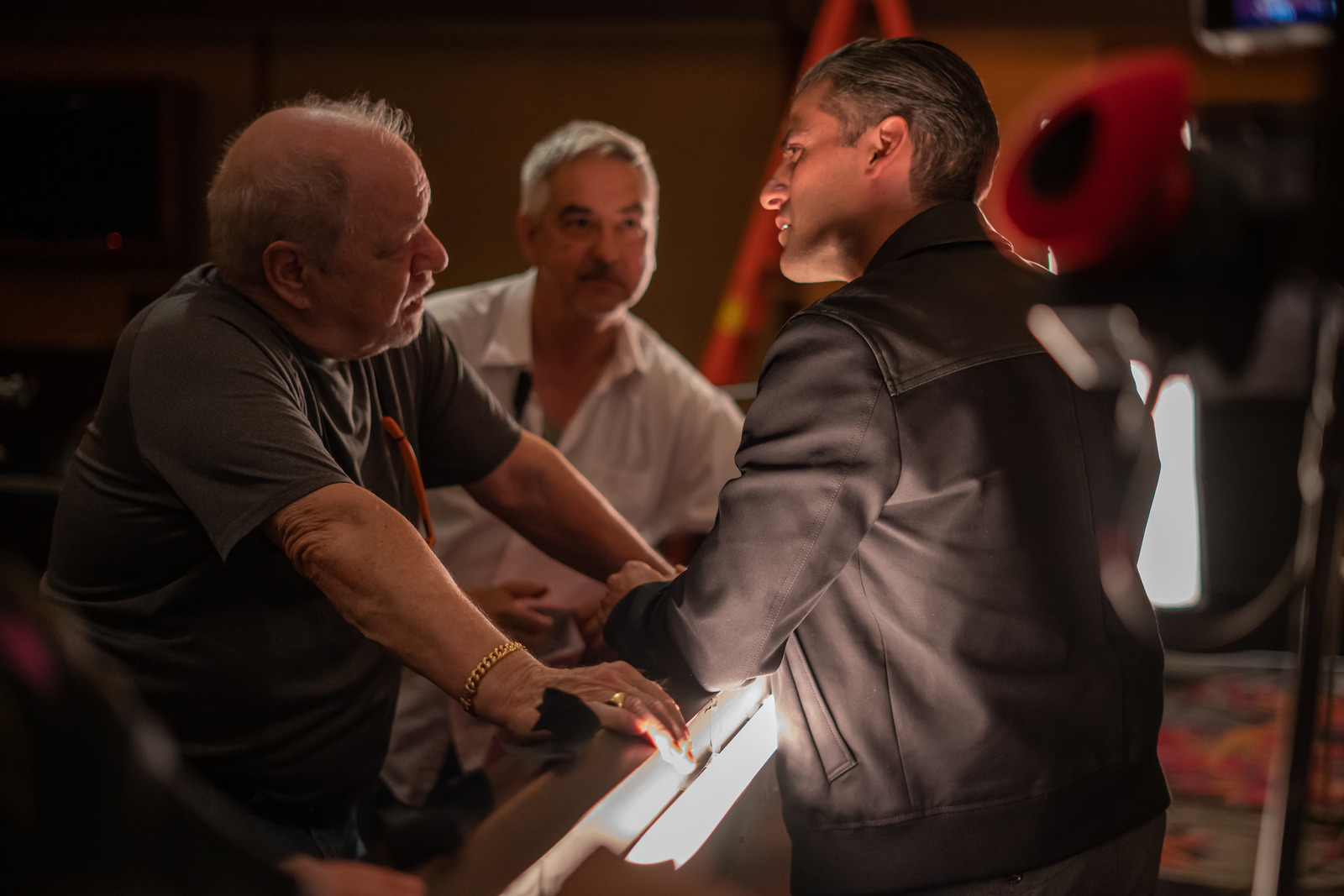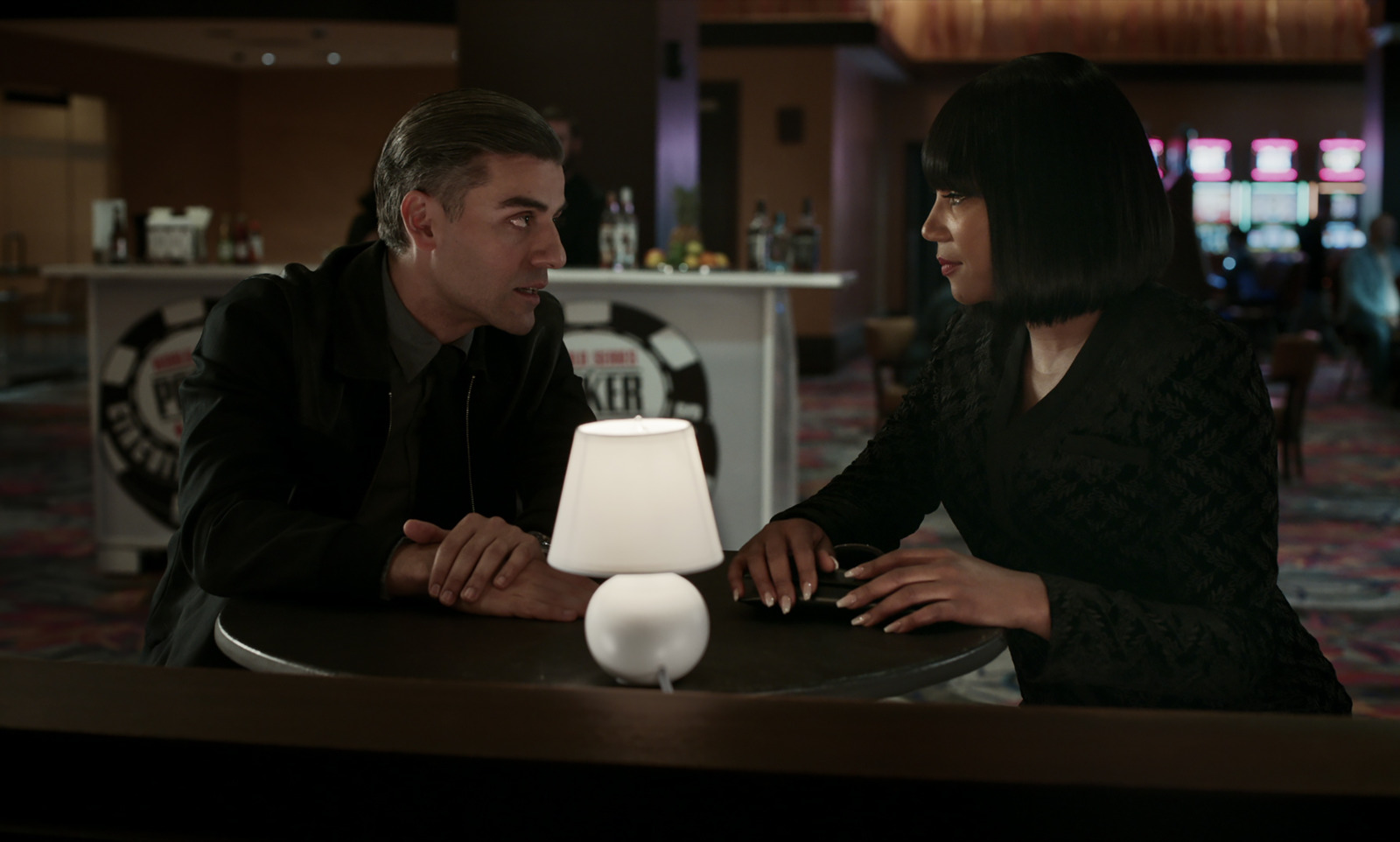 The first part of the film is a combination of narration by Oscar Isaac displaying his gambling technique. Schrader has him give fascinating insight into the mechanics for beating the house, down to card values and probability. He's just trying to stay under the radar with no interest in scoring big until La Linda (Tiffany Haddish) tries to lure him into becoming part of her stable of poker players backed by investors to go for winning the World Series of Poker. Schrader used poker commentator/comedian, Joe Stapleton as an advisor to accurate play at the tables. 
He has no interest until approached by the young Cirk (Tye Sheridan) who constantly emphasizes that it's pronounced Kirk but with a "C." Isaac is wary of the boy, but sees how needy he is and takes him under his wing. Cirk has a tragic story of his own. Tell sees a bit of himself in the boy. They travel together from casino to casino, and Isaac, who calls himself William Tell, teams with La Linda so he can win money to save Cirk from following in his footsteps. Isaac's character and Cirk have something in common. They have a real hate for Major John Gordo who called the shots in Iraq. Schrader makes him a totally one dimensional character, completely cold, unrepentant and just too easy to hate.
Brutal images abound in description as well as in visuals, especially when Isaac tries to pressure Cirk to follow his orders and do the right thing. This is one of the better roles we've seen Tye Sheridan tackle. At one point, you can actually feel the terror in his eyes.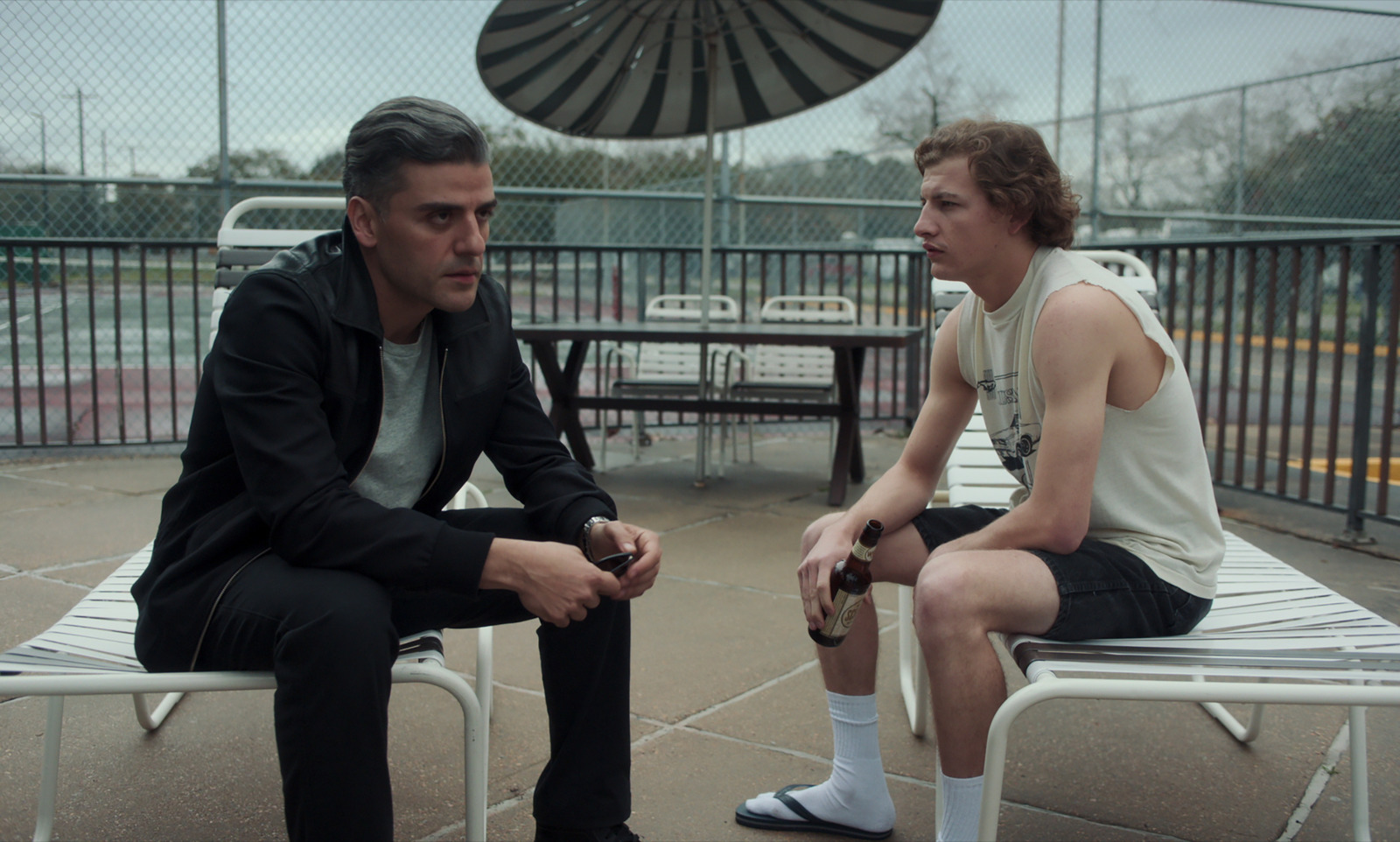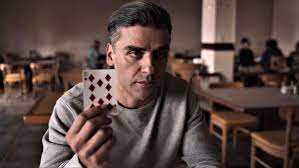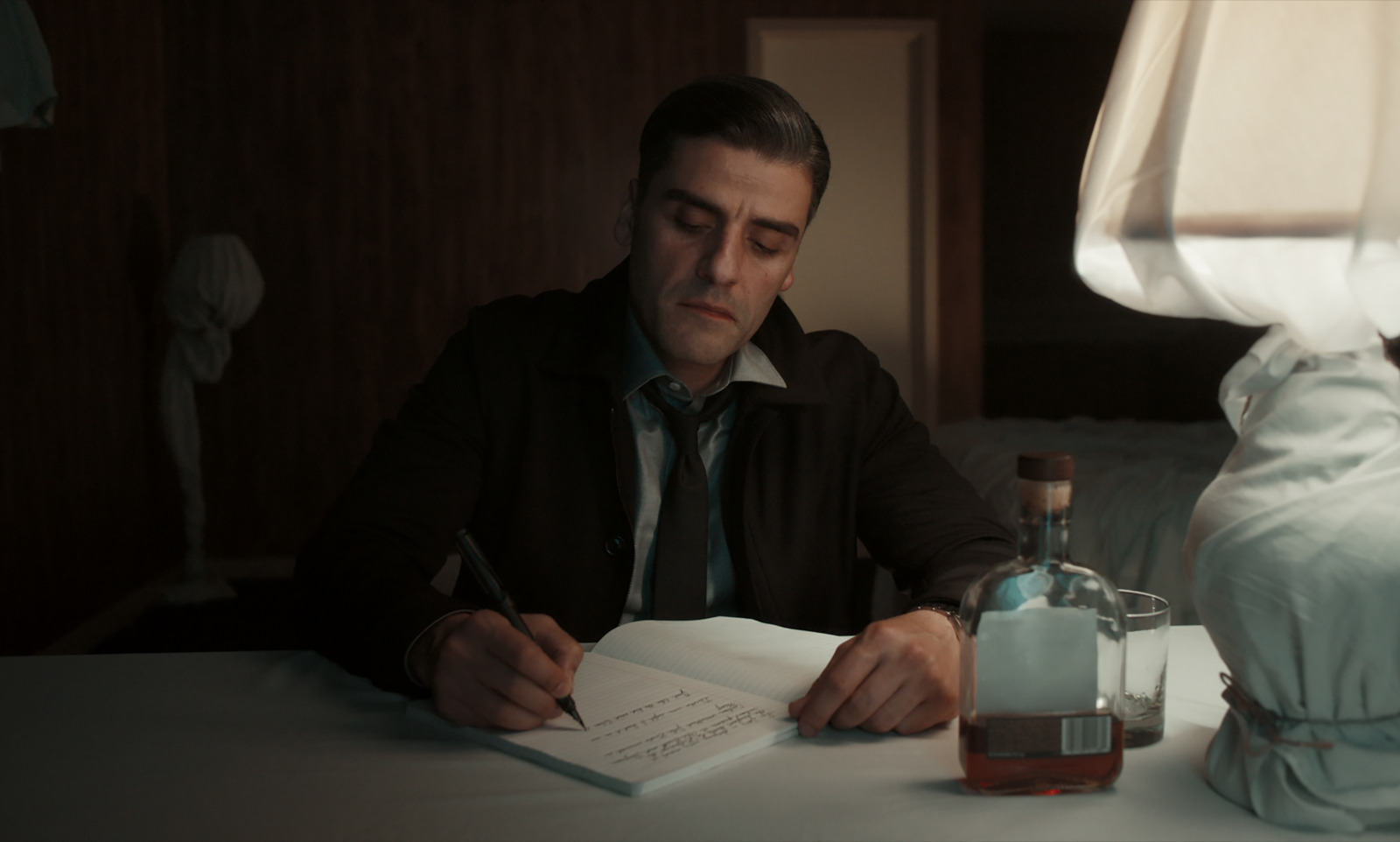 We found Haddish to be the weak link in this film. There just wasn't any emotion nor chemistry between she and Isaac. Being released the weekend of 911 made seeing this film even more difficult to watch. Schrader is still a master when it comes to tense drama, but clearly does better with male actors than females, and Oscar Isaac is his Ace-in-the-Hole in this film. 
Focus Features 1 hour 51 minutes        R
In Theaters now
The post The Card Counter first appeared on Movies and Shakers.
from Movies and Shakers https://ift.tt/2XoRNx9