Cinderella Movies and Shakers September 2, 2021
This remake mashup of time periods and language style as a pop musical could have been a jumbled mess, but surprisingly it's not. Writer/Director Kay Cannon is already well known to have a deft hand with music and comedy. She wrote all three Pitch Perfect movies and has won awards for her work on 30 Rock. 
The fun in Cinderella comes from the contemporary feminist attitude projected as Ella (Camila Cabello), even though the story takes place in a royal kingdom dating back at least a few centuries. The first clue that there will be a lot of familiar music throughout is when Cabello's Cinderella is introduced in a splashy production number with the townspeople in colorful costumes. She and Idina Mendzel, as the wicked stepmother, play off each other singing to Janet Jackson's driving "Rhythm Nation"/"You Gotta Be" in juxtaposition expressing their views of life.
There is a ton of familiar music throughout including "Material Girl" "Let's Get Loud," "Am I Wrong" and a featured set piece to Earth Wind & Fire's "Shining Star" performed by Billy Porter taking an unconventional turn as the town crier. He later turns into the amazing Fab G, Cinderella's savior in another nod to diversity and inclusion.
Ultimately this film rises or falls on the performance of the central character and Cabello's never-say-die optimism and pop-star performance of her songs successfully sets a contemporary tone in opposition to Idina Menzel's show biz, Broadway delivery of her big number "Dream Girl." Director Cannon also gives some context to the Stepmother's backstory which allows Menzel to not be a totally evil character. Dislikable, yes. But not totally obnoxious. Besides, her voice is something to contend with.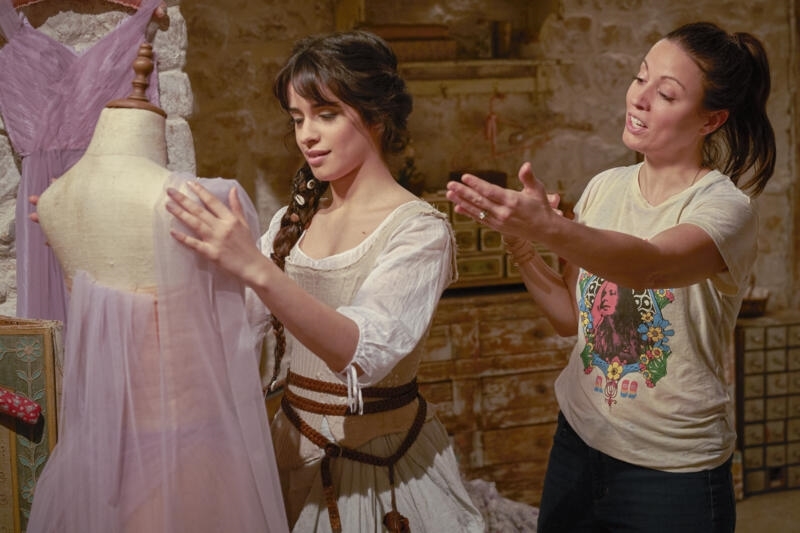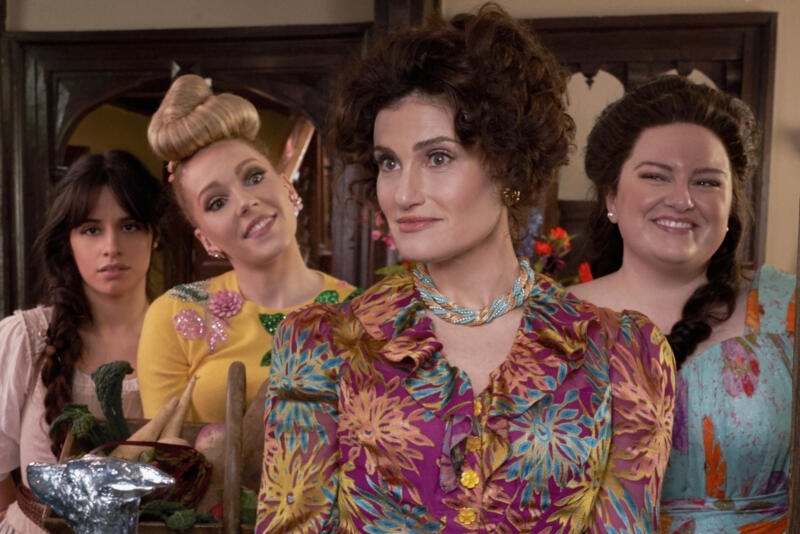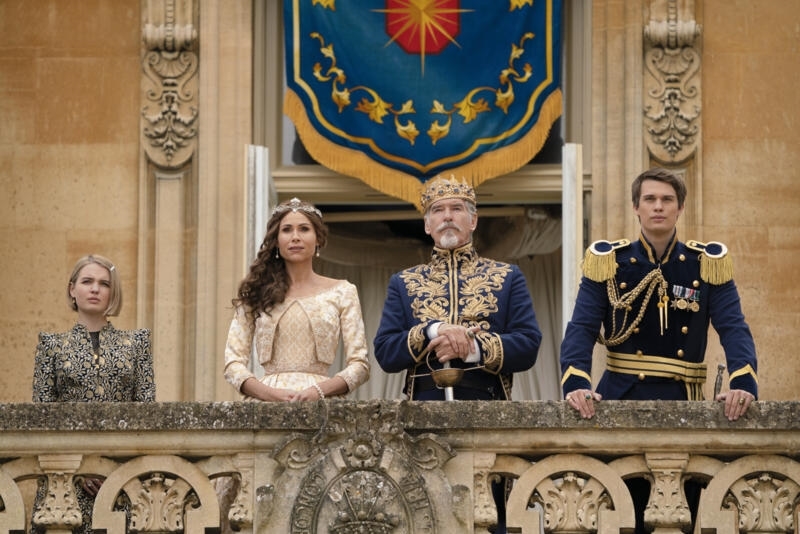 As Ella (short for Cinderella), she not only dreams of escaping the drudgery of her life as a scullery maid to stepmother (Idina Menzel) and her two obnoxious preening daughters (Maddie Baillio and Charlotte Spencer) whose only goal is life as the wife of a protective husband.  Ella wants a life of work and purpose designing dresses in a business of her own. Cabello grows into the role as the story progresses, showing off her talents as a triple threat; singing, dancing, acting, and add songwriting "Million to One" for the film.
Cinderella's Prince Charming is not cut from the same cloth either. Nicholas Galitzine's Prince Robert isn't interested in being a king in the same mold as his father King Rowan (Pierce Brosnan). Brosnan's monarch is a typically, old fashioned, heavy-handed dictator ruling his family much like the rest of his subjects. It takes some tough love from his level-headed Queen (Minnie Driver) to finally bring Rowan up to date. Driver is beautiful and youthful as ever. She's absolutely stunning having fun with this role. Her singing is impressive, too. Brosnan seems to love being a cartoonish king, barking out commands. But his serious attempts to carry a tune are a cacophony of sharps and flats.
When the King orders a ball to find his son a suitable wife, Cannon pulls out the stops. From the crisply designed, colorful costuming of Ellen Mirojnick to the highly saturated color palette of cinematographer Henry Braham, this Cinderella has attitude to go along with its musical chops. 
Ella the forward-thinking conservationist saves a caterpillar that turns into a beautiful butterfly which becomes the magical Fairy Godperson in gold lame played with exuberance by Billy Porter. He knows how to make things happen, including the glass slippers. it's cute when Ella has trouble walking and pleads for FabG to make a size adjustment.
In the Disney Cinderella universe her only friends are three mice buddies. Here, they're played entirely for the laughs by James Acaster, James Cordon and Romesh Ranganathan. And laughs they do get, especially sharing their differences between mouse and human anatomy.
Once at the ball, the show stopper is the lineup of the prospective ladies showing off with contemporary choreography as they swish their ball gowns to the "Whatta Man / Seven Nation Army" to entice the Prince. It's hilarious and punctuated with a hard rock move by the female cellist. Watch for it.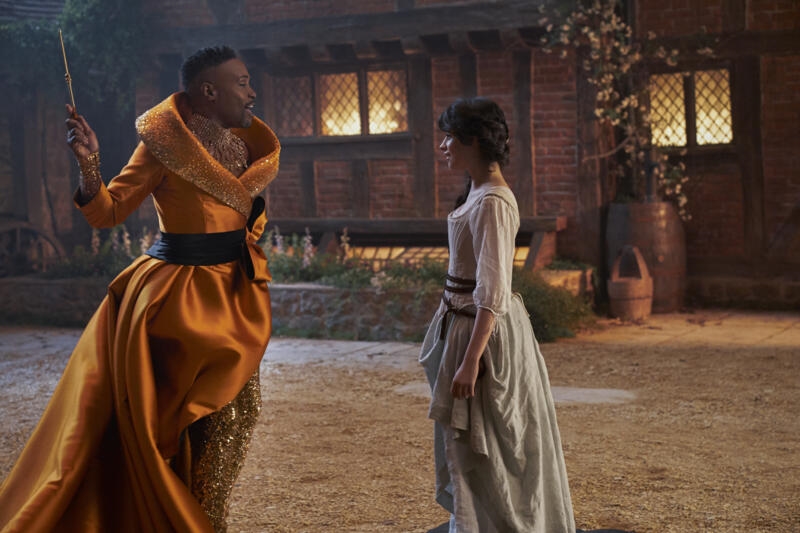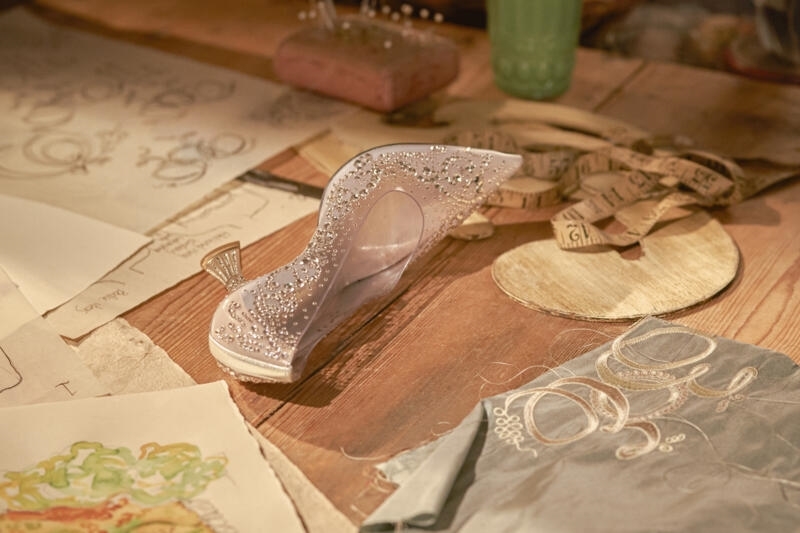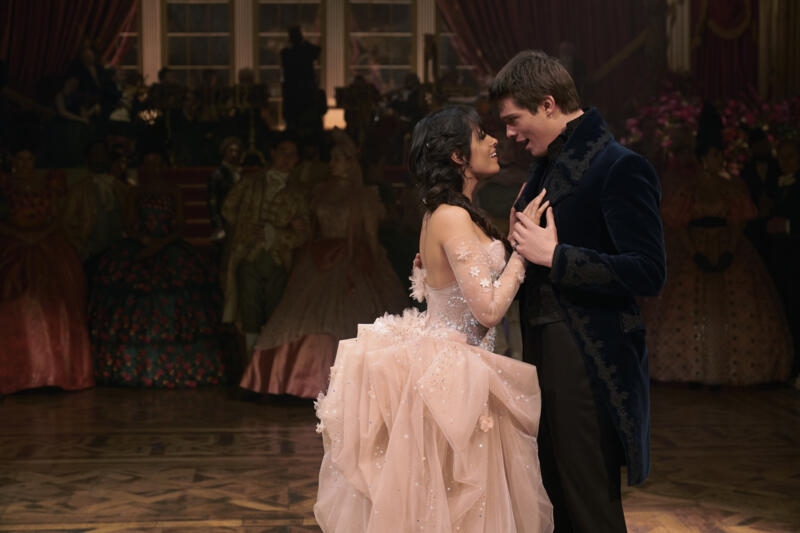 Galitzine is one of the weaker links in this cast. He looks the part, but his singing is a bit thin and Director Cannon uses judicious editing to cover his lack of dance skills dancing with Ella at the peak moment at the ball. He fills the bill and has a good voice but just can't hold his own against the female leads.
The biggest addition and refreshing change to the tale comes in the form of Prince Robert's sister, Gwen (Tallulah Greive). She is the most thoroughly modern female in the bunch. She is considered a bit of a laughingstock by her father, the King, espousing ideas of creating an upwardly mobile society that gives all people equal rights while protecting the environment. Clearly Kay Cannon is speaking her own mind directly to the audience through Gwen. Right on.
This version of Cinderella is beautifully directed and orchestrated with pop songs re-purposed to fit the story as well as Ella fits into the glass slipper.  Kate Cannon rocks this Cinderella with so many creative elements, it's as charming as a prince.
Amazon Studios      1 Hour 53 Minutes       PG
In select theaters and on Amazon Prime Video
The post Cinderella first appeared on Movies and Shakers.
from Movies and Shakers https://ift.tt/3BwVdMC