Shang-Chi and the Legend of the Ten Rings Movies and Shakers August 29, 2021
Marvel's first Asian superhero led action-fest has exceptional storytelling, nuanced characters, spectacular choreography and special effects. Yes, it's sometimes over packed with CGI and pounding fight scenes, but Writer/Director Destin Daniel Cretton with co-writers David Callahan and Andrew Lanham weave comedy along with action in this multi-faceted tale. Simi Lu is impressive showing off his acting chops, martial arts moves and more than a dash of humor to  make his role as a superhero believable. The tone is much like in other MCU films, such as in Thor: Ragnorak and Ironman.  Even though the underlying themes of this film include family, loss and grief, this is no tearjerker.
That tone changes from the get-go with good buddy millennial slackers, Katy (Awkwafina) and Shang-Chi (Simi Liu) as laid back car hikers at San Francisco's swanky Fairmont Hotel. Awkwafina takes one customer's hot car out for a joy ride. But soon it all turns into a Bullitt+ chase scene up and down and all around the huge hills of the city when Shang-Chi goes after her stunt after stunt at high speed, they end up on a bus where he gets jumped by a bunch of assassins. Slacker no more, Shang-Chi turns into a martial arts machine in a battle royal that rivals any action-packed opening sequence. And Awkwafina gets to vamp as an inexperienced bus driver speeding up, down and around the hills and obstacles in her way.
What we like about this origin film is that it presents details about the characters and then builds on them to provide backstory for the hero and the villain. The reasons for their motivations are made evident in flashback. Shang-Chi's father, Wenwu  (aka, "The Mandarin" played by Hong Kong superstar, Tony Leung) is a powerful man who has been orchestrating evil machinations for generations. He is able to control his enemies because he possesses the legendary magical ten rings.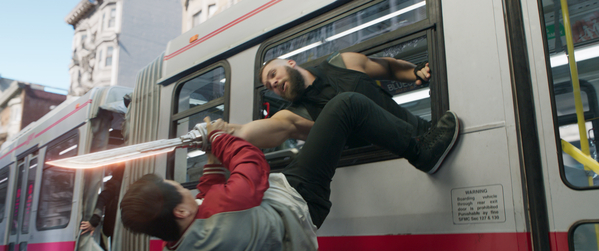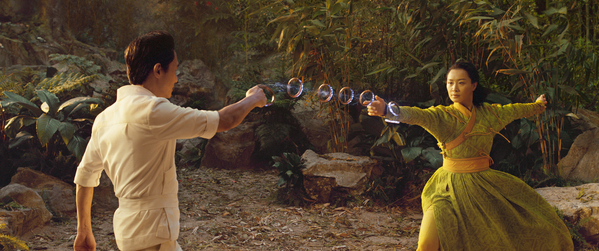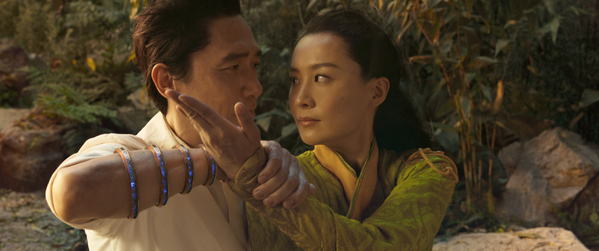 Leung is one of the best Marvel villains in recent history. He is so good staring right into the camera playing this stone-hearted killer. But he is also shown to be capable of great love.  Wenwu is ruthless, but his attitude changes when he meets his match in the beautiful, but equally powerful, Jiang Li, (Fala Chen) as she shows in her ability to fight against him to defend her mystical village, Ta Lao. 
Their love story is told in a stunningly beautiful romantic sequence that sets this film apart from other comic book fist fests. They start a family, with son Shang Chi and his little sister, Xialing (Meng'er Zhang). Wenwu wants his son to be strong putting him through merciless training. Sister Xialing aches to be trained equally, but the accepted misogyny of her culture holds her back.
Wenwu wants Shang-Chi to follow in his footsteps in China, but his son has other plans that take him to San Francisco. He and Katy become long time chums but she knows nothing of his backstory until she sees his acrobatic athleticism on that action-packed bus ride. Awkwafina provides an adequate amount of comic relief and friendship, but this role doesn't let her stretch her talent.
When Shang-chi receives a strange message from home, he feels the need to go there and Katy tags along. When they arrive China, she points out that his fight on the bus, caught on a smartphone, made him an international social media star. That leads to a beat down in a fight club match that is hilarious and gives Shang-Chi a chance for comedy trying to show off his martial arts moves.
Michelle Yeoh as Jiang Nan, the sister of Shang Chi's mother, is another strong female. She is the guardian of the mystical city of Ta Lao and takes nephew Shang Chi under her wing to prepare for the tests that are surely coming. Yeoh is absolutely stunning in the film and the truth teller trying to protect Shang Chi and Ta Lao.
Cinematographer Bill Pope (The Matrix, Baby Driver) obviously knows how to shoot action and the sequence bouncing around  scaffolding on the side of a skyscraper will leave you aghast. Colors become more vibrant and the lighting more pronounced as the movie progresses. The climactic scenes go over the top as the effects kick into overdrive. It leads to spectacular warfare with not one, but two dragons looking like Game of Thrones on steroids.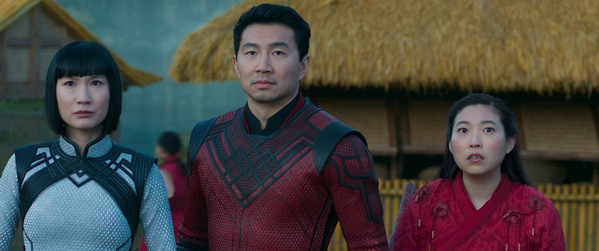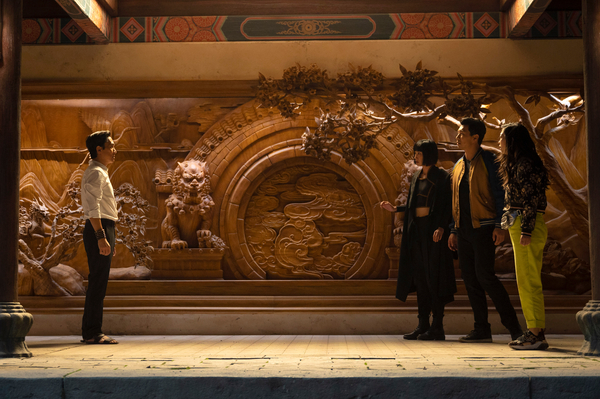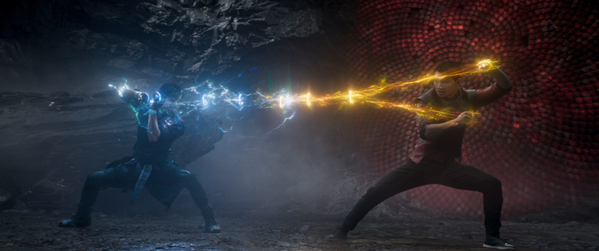 The film starts to lose traction when the movie veers into a typical 3rd act of the Marvel movies. Director Cretton creates this mega spectacle martial arts battle, dragons and all, at the expense of the storytelling that's been so well developed to this point. 
Fortunately, the story gets back on track at the very end. And wait for the post credit clips for some fun cameos which leave breadcrumbs to tease what's coming in this new Asian branch of the Marvel family. This a welcome addition to the MCU. It's well-cast and well-played. As with Black Panther, credit goes to Marvel for elevating another lesser known character, which opens the door for those who never saw themselves as superheroes on the big screen, until now. 
Marvel Studios/Walt Disney Pictures    2 hours 12 minutes      PG-13
Streaming on Disney Plus and in theaters September 3rd.
The post Shang-Chi and the Legend of the Ten Rings first appeared on Movies and Shakers.
from Movies and Shakers https://ift.tt/3gHoWdR