Candyman Movies and Shakers August 26, 2021
Once again Jordan Peele (US, Get Out) uses his love for the horror film genre to drive home messages of social, economic and racial inequality. This supernatural slasher film is smart, slick and unsettling from the opening credits in mirror image, eerily accompanied by "The Candyman" song. Yes they are backwards and as the film progresses, you'll be looking at a myriad of mirrors which become the center of horrifying reality as the story unfolds.
Nia DaCosta (The Marvels, Little Woods) is the director to put this fourth version (one original and 2 spin offs) of the Candyman on film. Peele and DaCosta, along with Win Rosenfeld, wrote the script and there is some pointed dialogue, with good timing, that makes an impression. They also use shadow puppet animation for exposition to tell backstory. It is intricately structured to spin this bloody terrifying tale. 
The Candyman is an imposing figure who is easily summoned to wreak bloodshed with his hook for a hand and swarms of bees circling him once someone says Candyman 5 times into a mirror. And there are a lot of mirrors in this movie. They use the trope from the Black Lives Matter movement, over and over, "Say his Name" which got a visceral reaction from the audience at our screening.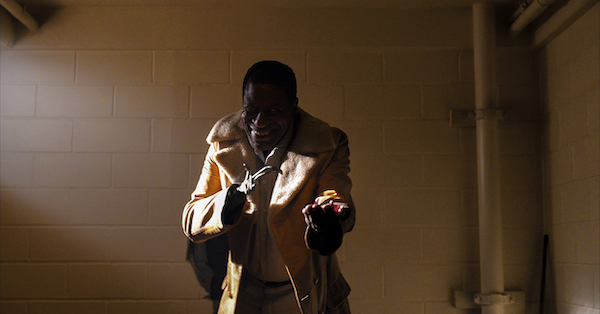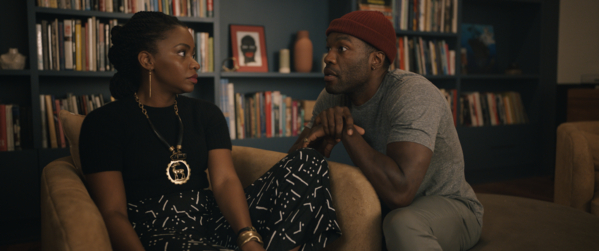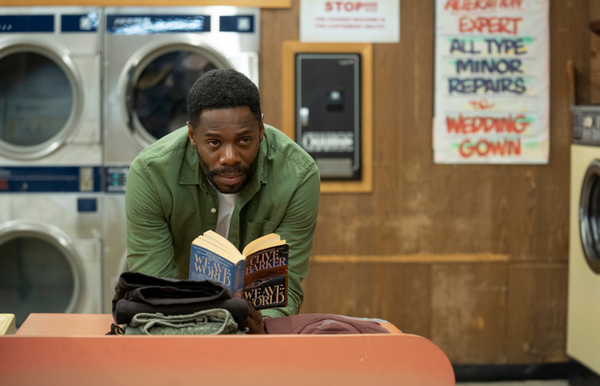 It starts in 1977 with a young boy at the laundry room in the Cabrini Green project encountering the Candyman. This scene lays the groundwork for the story. But Candyman lore goes back generations. Jordan Peele was such a fan of the original film that he casts the first actor, Tony Todd, to play The Candyman in this film. 
Anthony McCoy (Yaha Abdul-Mateen II –The Trial of the Chicago 7) grew up in Bronzeville in Chicago, but lived in the low income Cabrini Green projects with his single mother when he was very young. He learns about the legend of the Candyman from old timer William Burke (Colman Domingo) who lived in the Cabrini Green projects where violence was an every day occurrence until the towers were torn down. That's where the legend of the Candyman as a ghost wreaking havoc still lives.  
Anthony  is a struggling artist who needs some inspiration to get his career back on track and he's curious about the legend. He is now enjoying the pleasures of living with his girlfriend, Brianna (Teyonah Parris-WandaVision, If Beale Street Could Talk) in his gentrified neighborhood built over the rubble of the vertical ghetto that was the Cabrini Green Projects. 
When he learns of the legend, he goes to Cabrini Green to take pictures of the church still there imbued with murals. (Back in the day, we did a magazine story about that church for the Sun-Times interviewing the well-known Chicago muralist, Bill Walker) 
Abdul-Mateen infuses his character with a contemporary sensibility. Further research about the Candyman leads to a gradual obsession with creating art depicting the horror in his own work. DaCosta directs Abdul-Mateen with a subtle touch as It gets the best of the artist until all hell breaks loose. Brianna tries to downplay the ghost story, as does her gay brother, Troy (Nathan Stewart-Jarrett), and his husband, but with humor. Anthony's not buying it. Brianna gets his work added to an exhibition which ends up getting macabre attention. But the owner of the gallery and his girlfriend pay the price after closing when they decide to invoke the Candyman's name.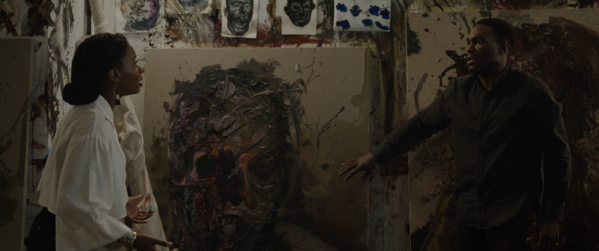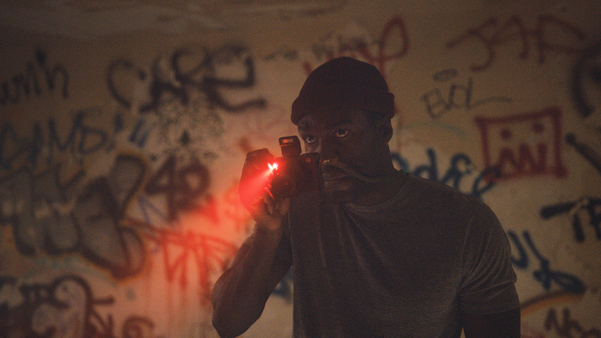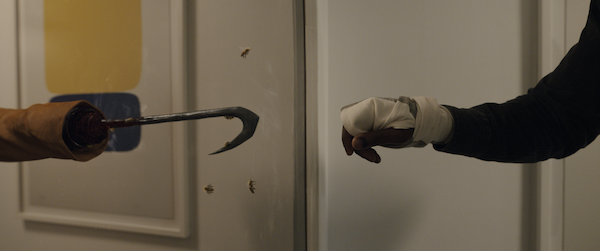 Art critic Findley Stephens (Rebecca Spence) who's dismissive of his work, has a most unusual occurrence after discussing Anthony's art with him at her Marina City apartment. The pull back from the iconic circular cone cob designed building seeing what's happening to her centered on her apartment window is artistically and esthetically horrifying. What makes it stick even more is the audio track silence. Anthony becomes obsessed and Brianna freaks out. You will, too, and may find yourself ready to yell out a warning! 
Director Nia DaCosta pulls convincing performances out of the huge cast. Yaha Abdul-Mateen II's gradual descent into madness coupled with Teyonah Parris' role as the realist make an outrageous premise more believable. Once again, Jordan Peele creates a significant horror film that  mixes social, economic and racial issues, this time rising from the ruins of Cabrini Green. Peele reveals anything but a sweet Candyman. 
Universal Pictures/MGM        1 Hour 31 Minutes               R
In Theaters Now
The post Candyman first appeared on Movies and Shakers.
from Movies and Shakers https://ift.tt/3gBs1fv