Free Guy Movies and Shakers August 12, 2021
It's "Game On" for this  feel-good, fun comedic romp with heart that combines live action with the virtual world of video games and gamers. Main character, Guy (Ryan Reynolds) is a kind of "Pinocchio," but instead of a wooden puppet brought to life, he is lines of programming code and pixels. Something changes that puts him on a path to becoming a real, sentient person on a hero's quest.
Reynolds plays an NPC (non-playable character) in a violent video game called "Free City." Guy wears a blue shirt, works in a bank and every day, and with nose to the glass, wishes his goldfish (yes, named Goldie) a good morning. He then goes off to work where his bank will be robbed. 
The robbers are the avatars of the real-world players. They all wear sunglasses which means Guy, and everyone in his lower caste, must not have any interaction. The intersection of real-action and CGI is seamless and exciting. The World that Guy inhabits is colorfully saturated and full of lethal criminals, monsters and machines that are all part of his "normal life."
But when Guy lays eyes on a hot, biker chick, wearing sunglasses and leather pants, named Molotovgirl (Comer), something clicks. He breaks his regular routine, even daring to order a cappuccino, not his usual cream, two sugars from the local barista. This leads to more acts of independence from Guy, (AKA Blue Shirt Guy), a leading role in the game itself. He slowly  becomes a star to real-life players of the game worldwide.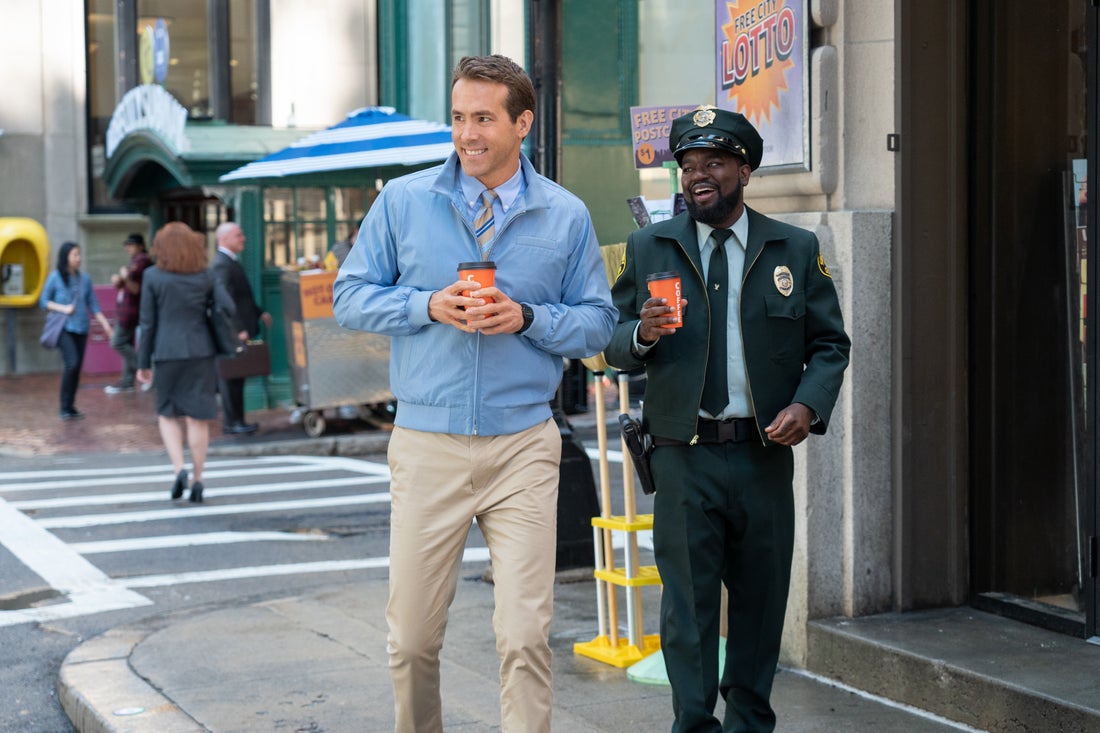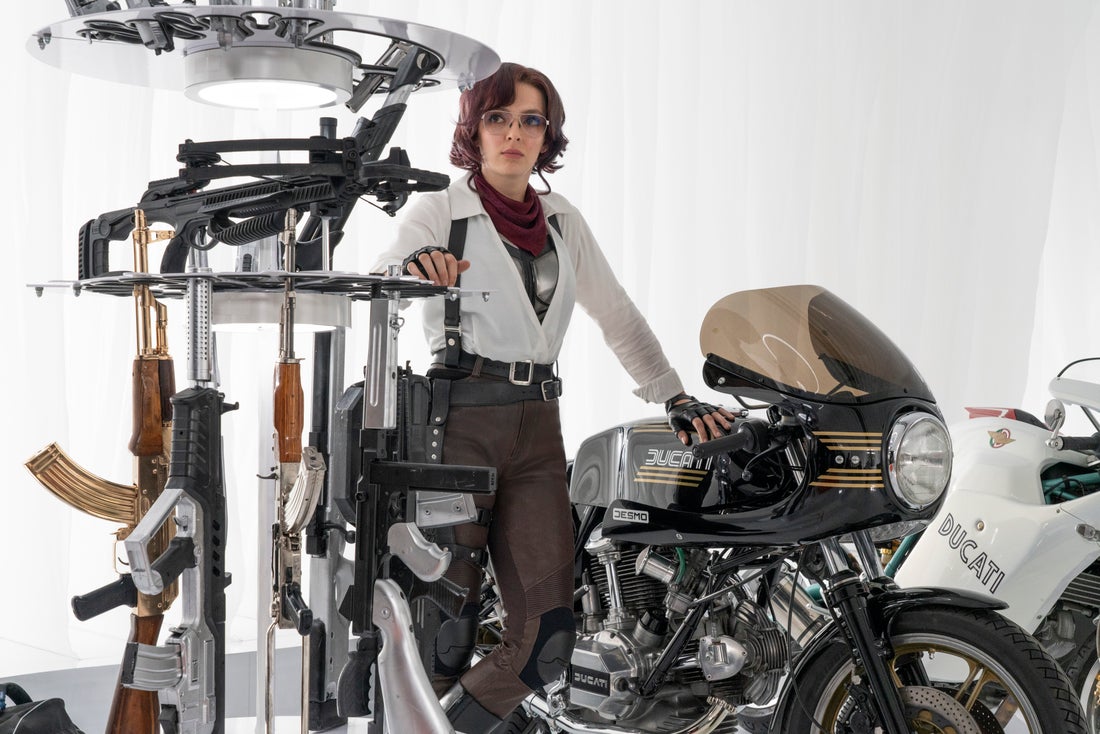 Reynolds knows how to deliver a line and make just the right expression to go along with it. The script by Matt Lieberman and Zay Penn introduces elements of big business greed and ethics along with the satire and laughs. Get ready for some blatant product placement of items and characters from other franchises that pop up in the video game which evoke cheerful mocking and elicit some intense reaction.
Ryan Reynolds and Jodie Comer successfully commit to making their relationship inside their virtual, CGI world feel authentic. They're backed by gorgeous eye-catching artwork and camera shots that solidify the belief that the non-existent pieces of code we're seeing are truly on a mission for humanity. Comer joins the list of strong female leads this summer. Her Millie is a physical powerhouse as her game persona of Molotov Girl. She goes head-to-head with all manner of challenges, using her brains and braun to keep trying to save Guy and her virtual world.
Outside the game in the real world, there's a parallel story involving the origins of the game and code stolen from the actual creators. Mille (also played by Comer, (who is the player operating Molotovgirl), and Keys (Joe Kerry from Stranger Things) work for the boorish, thieving owner of the giant video game company, Soonami Studios,  Antwan (Taika Waititi). 
Waititi is a wild man in this film. He goes ballistic directing his employees to eradicate Guy from the game to clear the path for him to release a new, even more cash generating and lethal sequel game named "Free City: Carnage." How lucrative? Factoid. The video game world is a much bigger business than the movie market worldwide.
There are times when these two narratives become somewhat jumbled and it takes a few moments to figure out which story we're following, Director Shawn Levy (Night at the Museum films) maintains a brisk, but not frantic pace. Even in exposition scenes, the constant movement and colorful coded artwork keeps the audience leaning in to see what's coming. Shot in Boston, Levy spruces up the cityscape for the scenes taking place in the game and leaves it looking more like its gritty self in the real-world shots.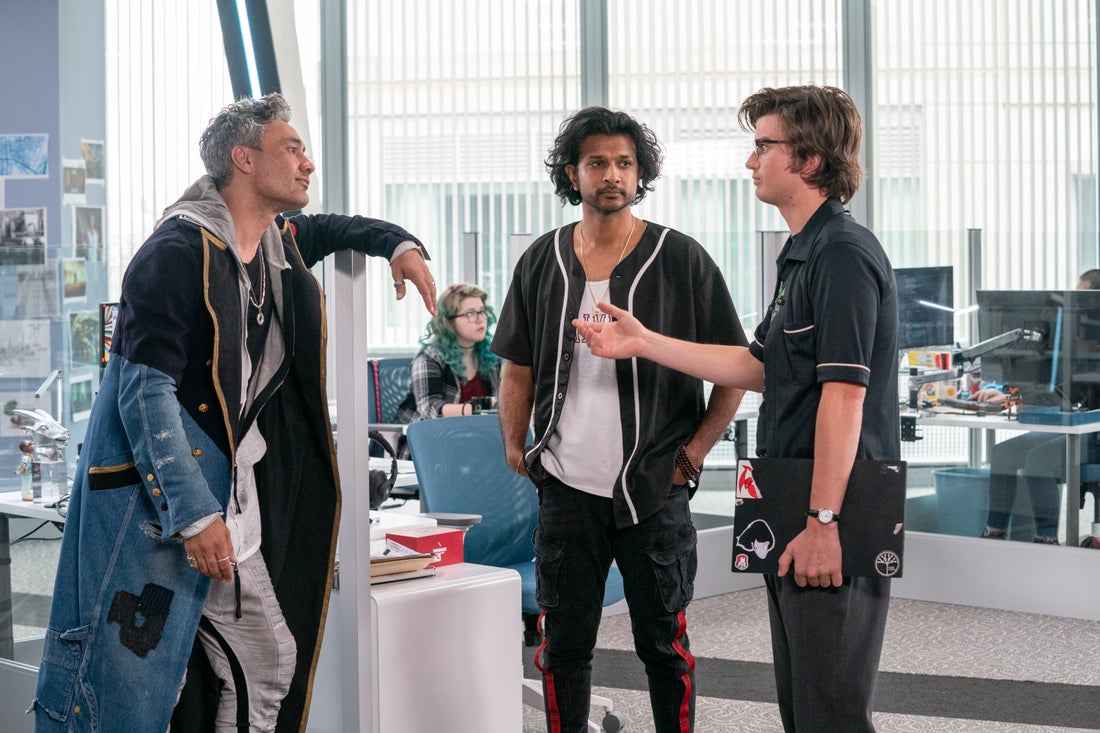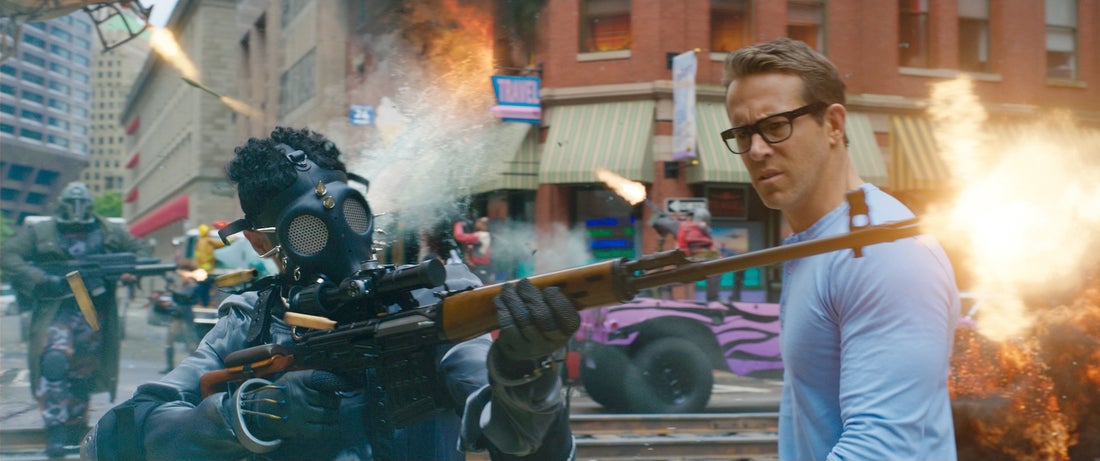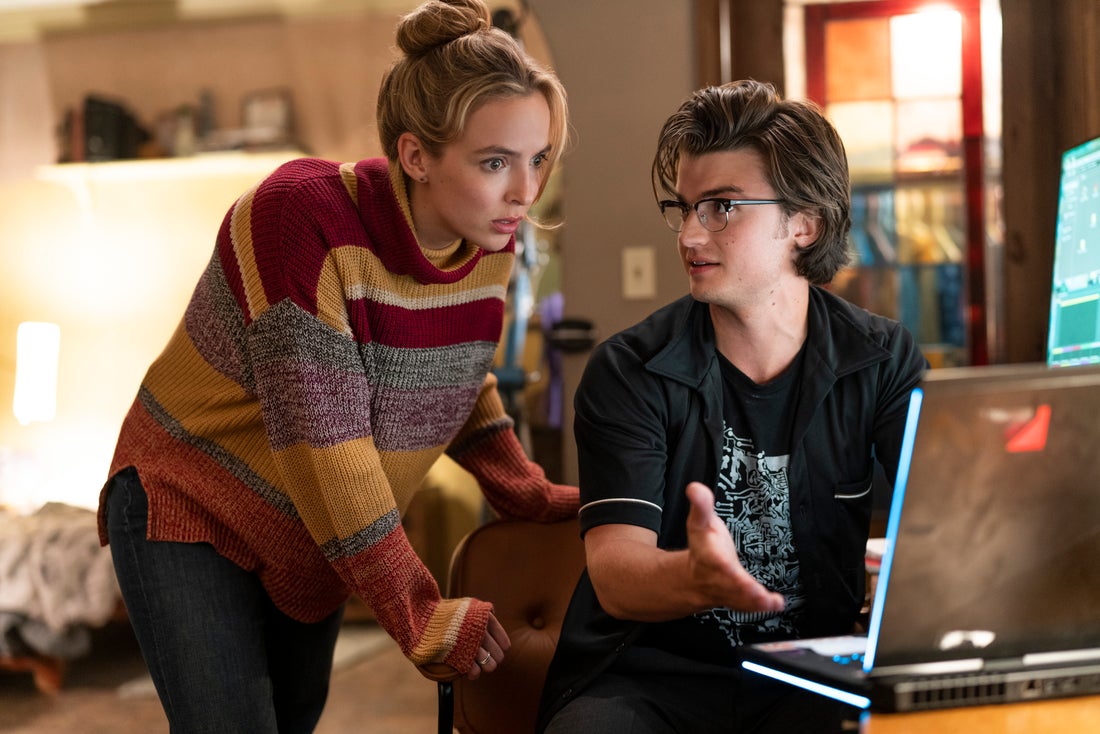 Reynolds gets to play a good-natured guileless Guy in this role, as opposed to the snarky, sarcastic personas we've come to expect from him in all his Deadpool movies. It would have been nice, however, to see him go through a bit more of an awakening process as he gains more human qualities. Seeing him deal with the anguish of essentially being trapped inside a game much like Jim Carrey's journey in The Truman Show might have provided more touching moments. 
Even if you're not a gamer, you can appreciate the humor, the characters and this fun, feel-good story. But gamers will be more familiar with the technical terms and aspects of game creation, like AR (augmented reality), what coding looks like, AI (artificial intelligence), and the importance of servers. 
This definitely ranks as one of this season's must-see summer movies. It's challenging and more fun than we expected, from start to game over. Best of all, after you buy a ticket to this one, there's no need for an in-game purchase. Except for your popcorn. 
20th Century Studios      1 Hour 45 Minutes                PG-13
In Theaters only Friday
The post Free Guy first appeared on Movies and Shakers.
from Movies and Shakers https://ift.tt/3jQxboA