CODA Movies and Shakers August 12, 2021
Dramatic, heartwarming and funny, this film shows the struggles of a hard-working Child of Deaf Adults (CODA) who just wants to sing. Writer/Director Sian Heder assembles an extraordinary cast of professional deaf actors along with hearing actress Emilia Jones in a stellar, layered performance. There is chemistry, pathos and humor throughout. Jones and Heder both had to learn American Sign Language. 
Ruby Rossi (Jones) has been the interpreter for the family her whole life getting up at 3am to work alongside her dad, Frank (Troy Kotsur) and brother, Leo (Daniel Durant) on their fishing boat in Gloucester, Massachusetts. Then she bikes to get to school on time, where she is teased for smelling like fish, especially humiliated when her crush, Miles, is nearby. 
She is even more embarrassed when Dad, Mom (Marlee Matlin) and brother Dan pick her up from school blasting hip hop on the radio so loud, the car rocks. Dad really likes feeling the base. That scene alone takes the edge off and you begin to see the warmth of this family. They do not take themselves too seriously except when they're working.
The comedy is raucous and raw, especially when Ruby has to interpret doctor's orders to her parents' for abstinence due to jock itch. That scene is hilarious. It is handled very well under Heder's direction and played out by Kotsur and Matlin who are absolutely adorable together. Heder praises Kotsur's sense of humor and his ability to improvise. He comes up with some doozies.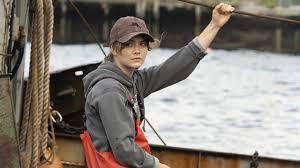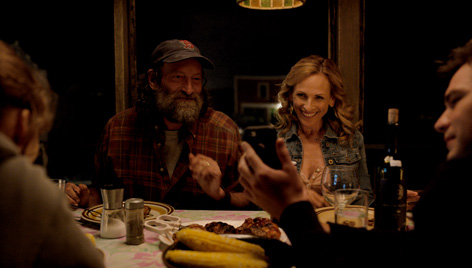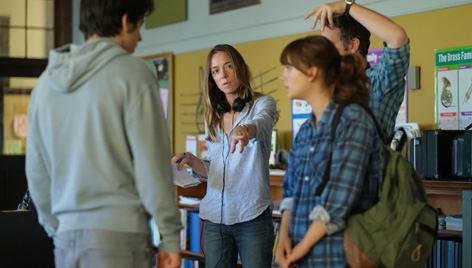 We saw the film virtual at Sundance this year, where it won 4 awards and couldn't wait for it to be released. It's a remake of the French film, La Famille Bélier, the producers of which approached Heder to do a remake. It was a tall order. Directing is hard enough, but she says even more of a challenge when you have to learn another language to communicate with your cast. 
The script dialogue (about 40%) is delivered in sign language and for the first time ever in the United States, it is being shown everywhere with captions on the screen. We saw the film again in Chicago with an audience of hearing impaired adults from several organizations which was a very special experience. Nothing was lost in translation, neither the drama, nor the jokes.
Matlin, Kotsur and Durant are convincing as a close family. These are seasoned actors who have worked together before at the Deaf West Theater in LA. Heder gets such natural reactions from everyone in the cast. They draw you into Ruby's story. She loves her family and want to help them through the uphill battle they are fighting to keep their business and make ends meet, but all she really wants to do is sing which she knows they just won't understand. Besides they need her.  
Out of frustration picking an elective at school, she signs up for choir. Enter Choir director with attitude, Bernardo Villalobos (Eugenio Derbez) who scares the stage fright out of his pupils. When he finally hears Ruby sing like she means it, and well, he decides to help her audition for Berklee School of Music, one of the finest in the land. He is stern but encouraging, but it becomes even more of a challenge because she can't tell her parents, who still expect her to help with their fishing business. 
To make matters even more complicated, Mr. V, choir director has assigned a duet with her crush for the upcoming concert that has to be rehearsed on their own time. That presents another embarrassing situation for Ruby when Miles comes over to practice and her parents are engaged, without talking, in a loud physical activity. The comedy in this scene is handled very well.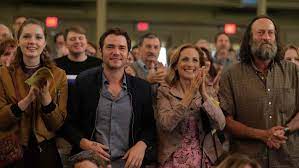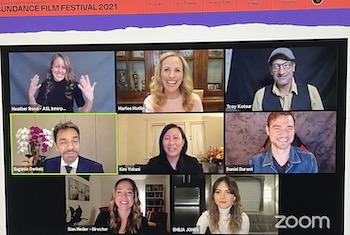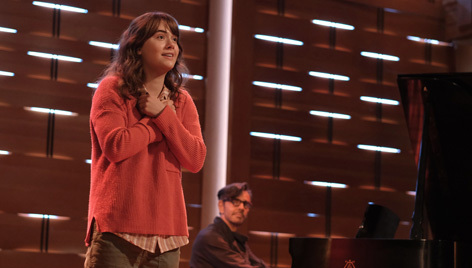 Heder gives both parents their due in individual scenes with Ruby. Matlin's mother/daughter talk is tender talking frankly about her fears of having a hearing daughter. Kotsur's scene on the tailgate of his pickup truck actually recreates a scene he had with his own daughter, putting his hands on her neck to feel her sing. It is a tender moment. 
Even though they can't hear her voice, Mom, Dad and brother Dan go to see her sing at her school concert, and they realize, looking around the room, how much others are enjoying listening to Ruby sing and how happy she is singing her duet with Miles. It's a game changer and the film continues to show how much they are learning about each other.  
This is an exceptional and enlightening film, so well crafted by Director Heder, with this talented, professional and authentic cast. Her character development makes you really care about every one of them. For a family that's so quiet, this film shows a family that shouts love. 
Apple TV+       1 hour and 51 minutes    PG-13
In Select Theaters and on Apple TV +
The post CODA first appeared on Movies and Shakers.
from Movies and Shakers https://ift.tt/3AETNPE