The 2021 Fantasia Film Festival kicks off this week and it is a festival I am very excited to be covering once again. Last year was my first time covering the festival and I had a great time with it. The festival is full of diverse films from all around the world, focusing mostly on horror, thrillers, and science fiction films. This year's festival, which is taking place in person and virtually, promises to be just as good as last year. Here are some of the most exciting and interesting movies playing at this year's Fantasia Film Festival.
ALIEN ON STAGE
What's It About: A very amateur dramatics group of Dorset Bus Drivers spent a year creating a serious stage adaptation of the sci-fi, horror film, Alien. With wobbly sets, awkward acting, and special effects requiring more luck than judgment. (per IMDb)
Why I'm Excited: Alien on Stage is a movie I first heard about at this year's SXSW Film Festival, where it got some really nice buzz. It also played at this year's Tribeca Film Festival and gained even more great buzz. I covered both SXSW and Tribeca this year, yet haven't seen this one.
BROADCAST SIGNAL INTRUSION
What's It About: In the late 90s, a video archivist unearths a series of sinister pirate broadcasts and becomes obsessed with uncovering the dark conspiracy behind them. (per IMDb)
Why I'm Excited: I already had the pleasure of seeing this movie at this year's SXSW Film Festival and I really dug it. It has a cool paranoia vibe, an interesting story, and an excellent lead performance from Harry Shum Jr. My review from SXSW can be found here.
BULL
What's It About: Bull mysteriously returns home after a 10-year absence to seek revenge on those who double-crossed him all those years ago. (per IMDb)
Why I'm Excited: I love a good revenge thriller and this one sounds like a true bruiser from writer/director Paul Andrew Williams.
CATCH THE FAIR ONE
What's It About: A former champion boxer embarks on the fight of her life when she goes in search of her missing sister. (per IMDb)
Why I'm Excited: I saw Catch the Fair One at this year's Tribeca Film Festival and it was not only the best movie I saw during Tribeca but one of the best movies I have seen in 2021. This is a tough, brutal, thrilling crime film that features a remarkable performance from Kali Reis (who also co-wrote the script). My review out of Tribeca can be found here.
KAKEGURI 2: ULTIMATE RUSSIAN ROULETTE
What's It About: A school appears peaceful from a distance, but a fierce gambling battle takes place once again with Yumeko Jabami involved. (per IMDb)
Why I'm Excited: I saw the first Kakegurui at last year's Fantasia Film Festival and it was one of my favorite movies of the festival. I cannot wait for another bright, delirious, high-energy film about this school of gambling.
KING KNIGHT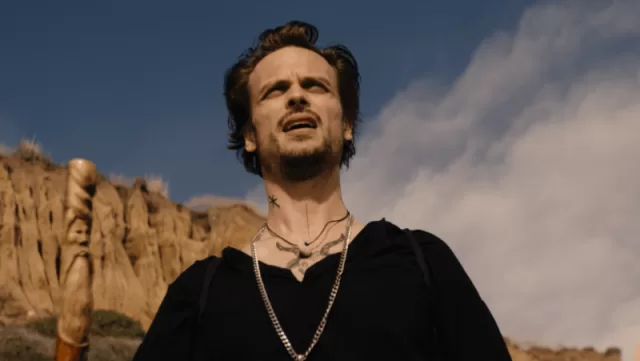 What's It About: The High Priest of a modern-day coven finds his life thrown into turmoil and ventures out on a journey of self-discovery. (per IMDb)
Why I'm Excited: King Knight boasts an excellent cast of the likes of Matthew Gray Glaber, Angela Sarafyan, Andy Milonakis, and the great Barbara Crampton, among others, and it's from director Richard Bates Jr., whose films Excision and Trash Fire were bizarre and twister and ones that I enjoyed. Can't wait to see what Bates Jr. does with a comedy.
THE LAST THING MARY SAW
What's It About: Winter, 1843. A young woman is under investigation following the mysterious death of her family's matriarch. Her recollection of the events sheds new light on the ageless forces behind the tragedy.
Why I'm Excited: I love period horror films and this one sounds like it has the vibe of something like The VVitch. It also stars Isabelle Fuhrman who has already given a great performance this year in The Novice. Could she be in line for another great one? I sure hope so.
PRISONERS OF THE GHOSTLAND
What's It About: A notorious criminal must break an evil curse in order to rescue an abducted girl who has mysteriously disappeared. (per IMDb)
Why I'm Excited: I caught this one at this year's Sundance Film Festival and it was awesome in every way I wanted it to be. Nicolas Cage gives a magnetic performance in director Sion Sono's insane, gorgeous movie that features samurai, gangsters, and ghosts. My review out of Sundance can be found here.
THE SADNESS
What's It About: After a year of combating a pandemic with relatively benign symptoms, a frustrated nation finally lets its guard down. This is when the virus spontaneously mutates, giving rise to a mind-altering plague. The streets erupt into violence and depravity, as those infected are driven to enact the cruelest and ghastly things they can think of. Murder, torture, rape, and mutilation are only the beginning. A young couple is pushed to the limits of sanity as they try to reunite amid the chaos. (per IMDb)
Why I'm Excited: The Fantasia program calls this movie, "a relentlessly shocking horror rollercoaster" that is "an assaulting new landmark in both extreme cinema and the zombie subgenre." That all sounds quite interesting in what could be the more deranged COVID movie made to date.
STRAWBERRY MANSION
What's It About: In a future where the government records dreams and taxes them, a dream auditor gets caught up in the dreams of an aging eccentric. (per IMDb)
Why I'm Excited: Another one I saw at Sundance and one of my favorites of the festival. This is an incredibly unique and weird vision but is telling a smart and emotional story. It looks gorgeous and features some really good performances. You won't see a film like this one in 2021.
Follow Kevflix on Twitter and Instagram, @kevflix, and on Facebook by searching Kevflix.
The post 2021 Fantasia Film Festival: 10 Movies To Be Excited About appeared first on Kevflix.
from Kevflix https://ift.tt/2Vzb6Tx
via IFTTT