The Green Knight Movies and Shakers August 1, 2021
Based on the classic epic poem about one man's quest for honor, this film is complicated, sensual and thought-provoking.  Writer/Director David Lowery (A Ghost Story) creates a dream-like quality for the film with exquisite visuals to create an ethereal aura. It's a story that has haunted him since he was in college. Reading the 14th century poem again, he was inspired to add his own interpretation on film. Working again with Cinematographer Andrew Droz Palermo (A Ghost Story) who obviously knew how to interpret the optics and ambiance Lowery wanted. This joins so many works about King Arthur and the Round Table. 
It starts with the young Gawain (Dev Patel) after a night of debauchery with his prostitute paramour, Essel (Alicia Vikander). He heads to the court of his uncle, King Arthur (Sean Harris) and his Queen (Kate Dickie) on Christmas Day. The King dotes on Gawein who has yet to perform a test of valor.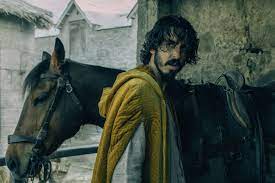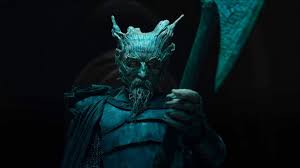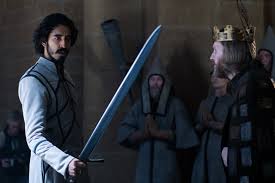 During the audience at court, the Green Knight (Ralph Ineson), appearing as an imposing wood and floral body, resembling something of a shadowy, dark green Groot. The Green Knight presents a lethal deal that gives Gawain the opportunity to step up. He allows Gawain to lop off the Knight's head, but with the pledge to go on a year-long quest to find him so he can do the same to Gawain. Tête for tête. 
It's shocking to watch Gawain perform the violent act and see the Green Knight then pick up his head and casually saunter on his way. When no one else speaks up, Gawain accepts the challenge and proceeds to prepare for his journey. His mother, (Sarita Choudhury), fearful for her son. gives him a green girdle which has magical protective qualities. From there, it a long road encountering all kinds of robbers and villains presenting situations where Gawain could prove that he's honorable and virtuous, but he fails every time. 
Patel took on the role because he likened it to an actor's journey, full of ambition and often coming up short. Lowery liked Patel because he wanted an actor that the audience could keep rooting for, even when he kept making bad decisions, struggling with his moral compass. Patel plays with a pathetic, but sympathetic demeanor for much of the movie. Lowery liked the actor's sensitivity which lends well to the character he plays.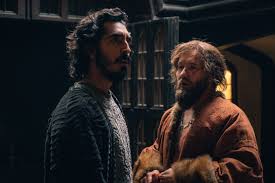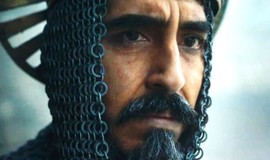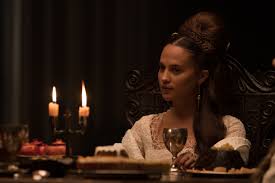 Gawain is welcomed the Lord of a castle, (Joel Edgerton) and his wife, the beautiful Lady (Alicia Vikander in dual roles) who seduces him in a very steamy scene. Vikander is smart and sexy in both roles. Interesting that Edgerton actually played Gawain in another film about King Arthur in 2004 with Clive Owen as King Arthur and Keira Knightly as Guinevere. But the film had a much different tone.
After many trials along the way, Gawain finally reaches The Green Knight on Christmas. Lowery presents a series of silent, quick cuts showing Gawain a series of events in the life that might await him depending on what he does at the moment of truth. It is this realization of what the future could be that sets in motion the climax of the young man's tale. Lowery was right. Patel shows his talent, physically and emotionally, to take on this challenging role. Lowery presents suffering, violence, and sex in a haunting morality tale wrapped in an aesthetically elegant package.
A24      2 hours and 10 minutes     R
In Theaters Now
The post The Green Knight first appeared on Movies and Shakers.
from Movies and Shakers https://ift.tt/3ihujBv