Jungle Cruise Movies and Shakers July 30, 2021
This may not be the best Disney film, but, even though at over 2 hours long, it keeps moving. Emily Blunt and Dwayne Johnson get to be silly playing off each other in this mildly amusing screen version of the hokey Disney Parks ride. Director Jaume Collet-Serra makes this somewhat of a hybrid reminiscent of Indiana Jones and The Mummy, with Blunt's character performing Buster Keaton type acrobatics from the start. And it seems as if Disney had a checklist of issues they wanted to include in this film to make it contemporary, even though it's set in the World War I era. 
Blunt is no magical Mary Poppins, but she's still a strong, smart female as scientific researcher, Dr. Lily Houghton. She proves to be extraordinarily  resourceful. She and her stunt double got a workout. Lily and her ostentatiously openly gay brother, MacGregor, want to follow their late father's map of the Amazon on a supernatural quest to find the legendary Tree of Life. It has magical medicinal leaves that could cure all of mankind's afflictions.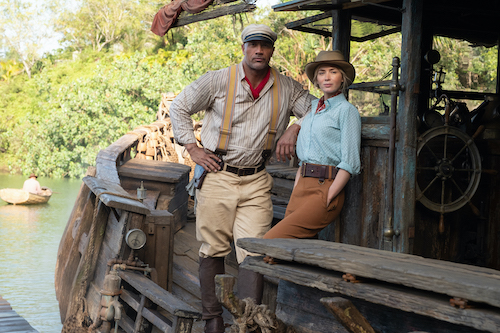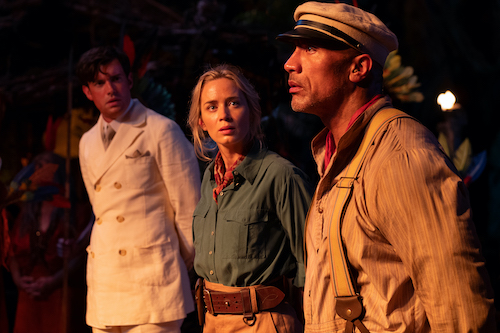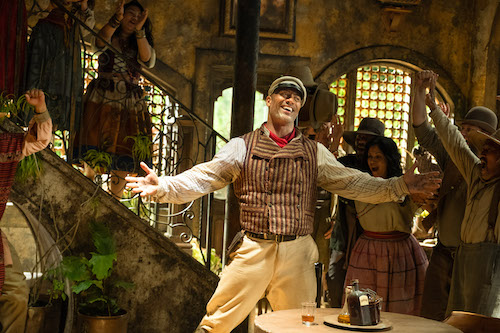 As her brother is trying to convince London's elite, all male, scientific society to support their adventure, Lily surreptitiously goes into their archives to steal the legendary arrowhead that is the key to their adventure.  Prince Joachim, (Jesse Plemons – Judas and the Black Messiah, Game Night), the villain of the story, is there for the same purpose and the chase is on. Of course Lily has to go through a series physical antics like hanging off a building to keep the arrowhead away from the Prince. Plemons' Prince is a delight decked out in his flashy, ostentatious military costumes and a broad, cartoon German accent that hits hilarious notes. 
Johnson (Captain Frank "Skipper" Wolff, is the slippery, punny-funny tour guide with the broken down boat the sister and brother hire. He is already in debt to the meany King-of-the-Dock boat owner, Nilo (Paul Giamatti). Johnson is devil-may-care getting in and out of trouble. His patter is always entertaining, especially with that big, bright, friendly smile. He exudes that big, happy presence. 
Frank hires out to Lily and MacGregor, not knowing their real motive. Of course, they run into all kinds of harrowing situations and threatening animals. While the characters are fun, this film is all about the CGI and effects. From leopards to swarms of bees and hissing snakes to massive sets and explosions Director Jaume Collet-Serra leans on the eye-candy. We found the over-abundance of the slithering, swarming creatures might prove very scary for kids.There might be warnings that some of the stunts, like jumping off rock walls or trying to transfer air underwater won't give kids ideas. There are plenty of scary images of not so attractive dead people, too.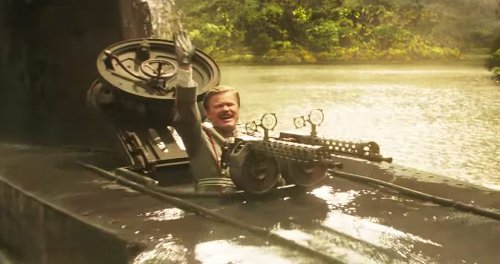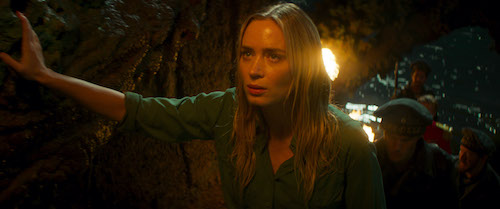 Writers Michael Green, Glenn Ficarra and John Requa give Blunt and Johnson plenty of snappy dialogue almost reminiscent of Spencer Tracey and Katherine Hepburn. It is rapid fire for the first half of the movie, sometimes barely understandable, but slows down as the action takes over. And every time you think that Lily, MacGregor and the Skipper are about to be done in, it revs up again. There is one dart scene where Jaume Collet-Serra uses slo mo very effectively and think that it could have been used more in the film to enhance the pacing. Cinematographer Flavio Martinez Labiano had plenty to work with. Going over rapids, underwater, in the jungle, and big caves, make this a family film with plenty to see and hear. The explosions and blaring score are expected aspects of a Saturday matinee action-adventure. 
Blunt is cute and Johnson is fun. If Disney is trying to lure families back to the Parks for the Jungle Cruise ride, they better step it up and update the attraction. Despite some flaws in pacing and grotesque images, it's still fun family fare. And you don't have to wait an hour and a half in line for a dose of adventure. 
Walt Disney Pictures     2 hours and 7 minutes       PG-13
In theaters and Disney+
The post Jungle Cruise first appeared on Movies and Shakers.
from Movies and Shakers https://ift.tt/2V4FTHz