McCartney 3, 2, 1 Movies and Shakers July 19, 2021
Picture yourself sitting in the studio with The Beatles listening to their recordings but with running commentary from Paul explaining how they came about and who contributed what for their songs. Producer Rick Rubin interviews the 79-year-old McCartney as they listen, isolating tracks as Paul talks, pretend plays piano, guitar, even drums and sometimes sings along. They literally dissect the songs and each instrument as you're hearing them.
Shot in black and white in an austere gray room with low lighting, Rubin was one of the Executive Producers with McCartney working with Director Zachary Heinzerling. The mood is set as he and Paul mostly stand around a small sound board and fade tracks up and down with old style sliders to isolate the vocals and instruments. The interaction is casual and fun as Paul remembers working with John, George and Ringo. He reminisces his 50 years of music history freely admitting that they "Didn't try to come up with memorable songs, but songs they could remember" to perform them. Paul highlights the talents of John and George, but says the band really took shape when Ringo came aboard. 
McCartney reveals a plethora of secrets about inspiration leading to the creative ways they came up with their songs. Wait till you hear the real story behind "Lucy in the Sky with Diamonds." It has nothing to do with drugs. He talks about their famous 1968 trip to India studying with the Maharishi that inspired the Sgt. Pepper album. Paul reveals that "Dear Prudence" was a real person, but you'll be surprised to find out who she was. He also admits that funny situations or frequent malapropisms from Ringo sparked song names like "Hard Day's Night" and "Nowhere Man."



Paul's musical beginnings are fascinating. His father would play piano for family music night sing-a-longs. When his father's arthritis made it too hard, Paul took over. That was his first instrument. When the guys who all lived and went to school in Liverpool first got a band together, they needed a base player. John and George played rhythm and solo guitar, so  Paul took up the slack learning to play bass. All of the Beatles played several instruments but none of them knew how to read or write music! It all started with a 3-finger chord they played up and down the scale that became the basis for many songs. 
There are so many little human tidbits along the way. Paul talks a lot in the 3rd part of the series about the blues and Rock'n'Roll bands that influenced them including Little Richard, Jimi Hendrix, Bob Dylan, Roy Orbison and more. They'd listen to them and go see them when they had the chance.
The name Sir George Martin comes up often. He was a producer, arranger, composer, conductor, musician and audio engineer whose expertise helped shape the Beatles' sound, but gave them the freedom to experiment. Paul talks about working in studios where they could pick up other instruments to play around with, also speeding up or slowing down parts of songs to craft new sounds. Paul talks about being in a studio where Robert Moog, inventor of the Moog Synthesizer, happened to be upstairs at Abbey Road Studios leading to collaboration.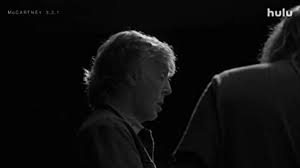 Hearing classic songs you may have forgotten from The Beatles Songbook and Wings may bring back memories of your parents playing them. It's great to be a fly on the wall listening to Rubin and McCartney have a casual conversation exposing nuggets of information on how he, with John, George and Ringo were like "professors in a laboratory." 
This is an absolutely charming course in iconic music history.  And the Beatles influenced so many other artists along the way. And it's just a precursor to another 3-part documentary film series directed by Peter Jackson due around Thanksgiving this year. 
Besides the fact that Paul is still producing and playing, he, with Rick Rubin leading the way, present a unique history of The Beatles songbook. This series is a "Ticket to Ride" down The Beatles "Long and Winding Road" that is not to be missed. 
Hulu
The post McCartney 3, 2, 1 first appeared on Movies and Shakers.
from Movies and Shakers https://ift.tt/3hO9mhm