Roadrunner Movies and Shakers July 16, 2021
The first two thirds of this movie are a delight, but as Anthony Bourdain descends toward his end, the growing darkness makes this film a tough one to watch. As he says from the beginning of the film, "You're probably going to find out about it anyway, so here's a little preemptive truth telling, there's no happy ending." 
Following Anthony Bourdain on his global culinary travels brought smiles to faces. But in this very detailed film, we see a funny, smart, spellbinding storyteller who was hurting inside. He was a tortured soul. Even when he seemed to be enjoying exotic foods while interacting with people of various cultures, this film reveals how difficult and awkward this was for Bourdain and for those who loved and worked with him.
Morgan Neville is already an academy award winning director. His 20 feet from Stardom revealing the frustrating lives of talented background singers is one of our favorite films. His  Won't You Be My Neighbor is a love letter to the life of Mr. Rogers. This is a love letter too, but it details a much more complicated human being. 
Neville is getting some flack for using AI to reproduce Bourdain's voice saying words he wrote but never said out loud himself as voiceover a few times in the film. You don't see him saying the words on camera. One example is words he wrote to a friend shortly before his death, " You are successful, and I am successful, and I'm wondering: Are you Happy?" Granted Bourdain used voiceover narration in Bourdain's own shows. Neville reportedly received permission to use the AI tech process, which has been used for feature films, but we question whether it's ok to use in a documentary.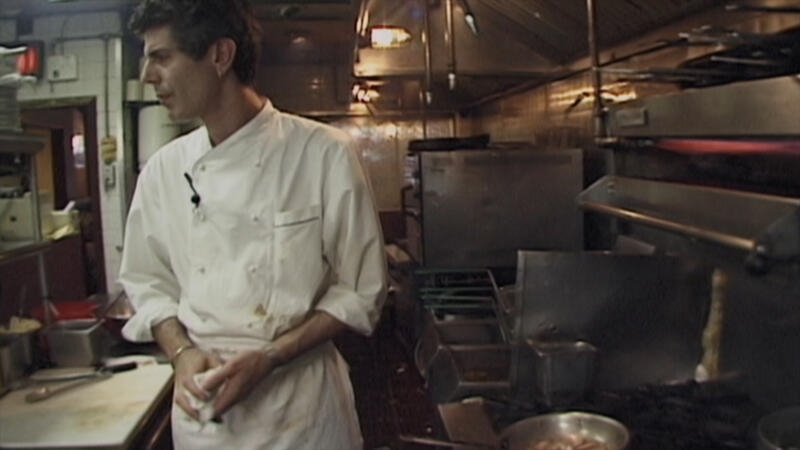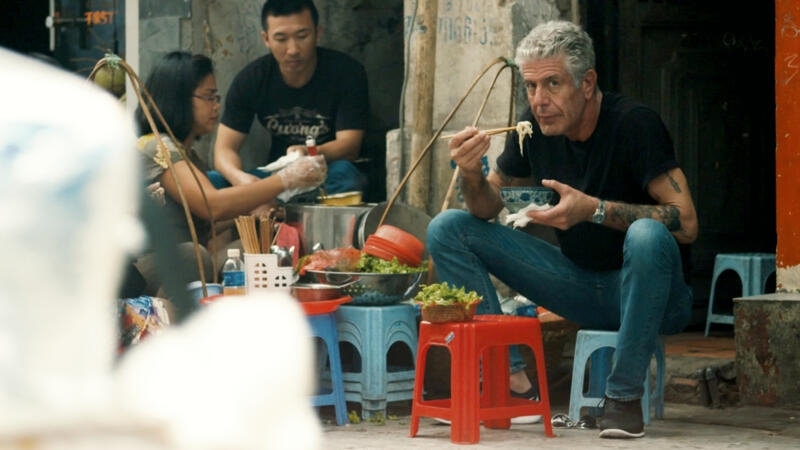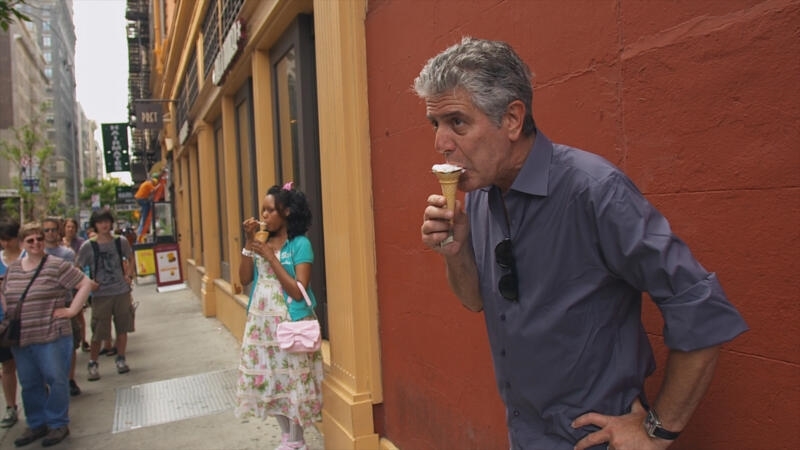 The film shows how Bourdain thought he could bring viewers to exotic places and show them, first hand, customs, cultures and humanity. He experienced having meals he caught and slaughtered by himself, even eating a beating heart in one episode. He was an adventurer who could also share small moments to make the world a smaller place and more relatable for his audience.
Neville does a deep dive into the evolution of this famous chef turned world traveler and storyteller. You get to see him transform from a bus boy to a cook and then a chef at a high end restaurant in New York City. He went from bus boy to esteemed chef at Les Halles and wrote "Kitchen Confidential," exposing the underbelly of the restaurant industry that hurled him into celebrity on television. Unfortunately, that made him extremely uncomfortable. He wasn't ready for the attention It was not something he sought and found it awkward trying to blend it into his life.
The film is constructed with Bourdain's own words, but even more revealing are the interviews with his long time producers Lydia Tenaglia, creative and romantic partner Chris Collins, Helen Cho, Chef Eric Ripert, artist David Chang, cinematographer Zach Zamboni, and second wife, Ottavia Busia with whom he had a daughter. Bourdain idealized family life, and loved his daughter, but it wasn't enough to make him happy. You see him always in a hurry, always rushing to get home and rushing to get back on the road. Neville creates a portrait of a talent who could both charm and infuriate his family and colleagues.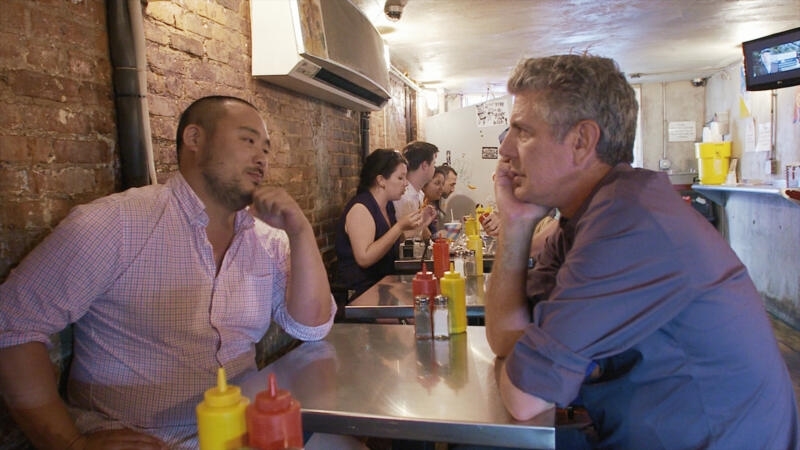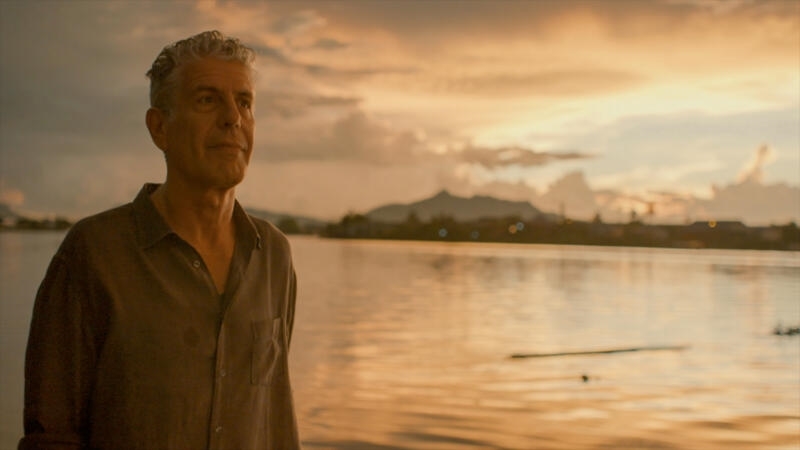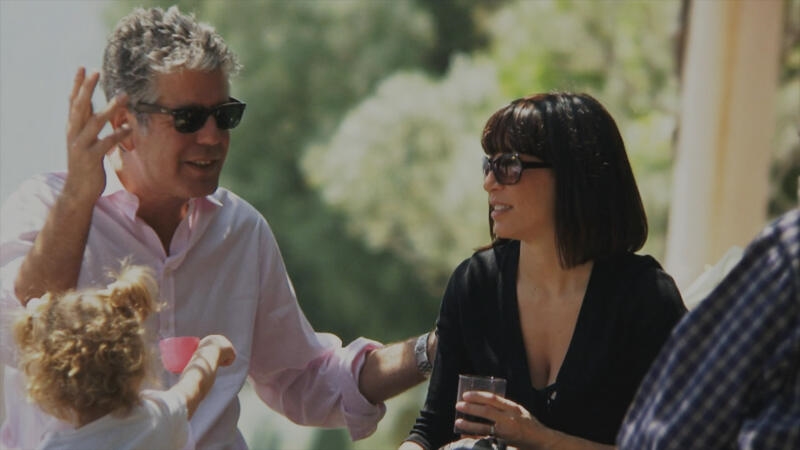 Bourdain had an addictive personality, whether it was drugs, cigarettes, even healthy activities like ju jitzu and exercise. He dreamed big, achieved it, but despite his close relationships and the adulation of his fans,  just could not go on. Bourdain took his own life in a Paris hotel room 3 years ago at the age of 61, seemingly after a break up with Italian actress, Asia Argento. Neville shows the uncomfortable scenes when Bourdain, on impulse, hired Argento to direct a show, leaving his loyal staff out to dry. Interesting that there is no interview with Argento in this documentary. 
Neville details the amazing challenges Bourdain faced, mostly himself. He grew up loving to read about exotic places he'd never been that he actually went to. And he took us with him. Unfortunately, Bourdain could give love but had a hard time accepting it. Watching this very detailed film could leave you with a hollow ache. If so, go back and rewatch "Parts Unknown" to see the Anthony Bourdain you prefer to remember. 
Focus Features      1 hour 59 minutes     Documentary 
In Theaters now    
The post Roadrunner first appeared on Movies and Shakers.
from Movies and Shakers https://ift.tt/3wKaE1o