Werewolves Within Movies and Shakers July 9, 2021
This horror-comedy works as a stand-alone, even though it's a whodunit-thriller inspired by a video game. Writer, humorist and best-selling author, Mishna Wolff puts her own twist on this Ubisoft game which you do not need to know to enjoy this film. Director Josh Ruben's (Scare Me) comes up with fun surprises. Ruben is a young actor/director who has amassed an extensive resume in comedy, including Funny or Die and Spotify's The Last Degree of Kevin Bacon.
We were particularly interested in seeing Milana Vayntrub in a role other than as the congenial TV spokesperson in AT&T commercials. She does more than a credible job as the lead playing postal worker, Cecily, in small rural town, Beaverfield. Vayntrub starts the characterization reminiscent of the good-two-shoes she plays in the commercials, but it's not long before you see her range. She is guiding green, meaning new, Forest Ranger, Finn, (Sam Richardson –The Tomorrow War), who plays totally innocent. He's just a good guy who find himself smack dab in the middle of this crazy conglomeration of townsfolk trying to deal with this threatening mystery.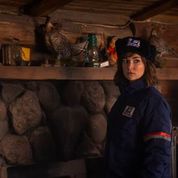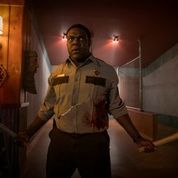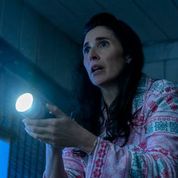 A new pipeline proposal that would cut through town has the residents on edge. Sleazy oil man Sam Parker (Wayne Duvall) likes getting the people riled up, but it becomes even more with animated Inn Keeper Jeanine, (Catherine Curtin) all a twitter because her husband has gone missing. 
Sharp slash marks and other ominous evidence around town inflame their fears that a werewolf may be on the loose. When a snowstorm hits, the residents are trapped inside the Inn with Jeanine, trying to stay safe from whatever is out there. What a group they are! Janine is a trip, always trying to feed somebody and only periodically seems emotional about her husband Dave, (Patrick Walsh) is still missing. 
Trisha Anderton (Michaela Watkins – Sword of Trust) ) is totally consumed with caring for her hyper dog, Cha-Chi and she gets into it with her guy, Marcus (George Basil) over everything. Yoga studio owners, Gwen, (Sarah Burns,) and nervous Charlotte (Anni Krueger), along with Joaquim and Devon (Harvey Guillén and Cheyenne Jackson) round out the group while Emerson (Glenn Fleshler) is a scary son-of-a-gun loner holed up in his cabin with his cache of guns. And then there's Dr. Ellis (Rebecca Henderson), a seriously stoic presence who, like the others, pop up mysteriously out of nowhere.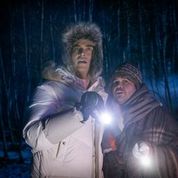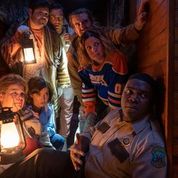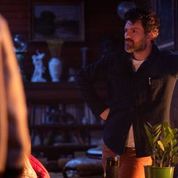 Director Ruben has fun putting them all together at the Inn taking pot shots at each other with some of the funniest repartee. It's his take on the drawing room mystery. The residents use inside jokes about each other while trying to figure out who, or what, is trying to terrorize all of them. Is it an animal? A person? There are incidents and clues around town including  pieces of jagged metal with blood dripping and a threatening neighbor who could be a killer. 
This horror-lite film is unexpected and a welcome departure from some recent repetitive themes we've been seeing. Wolff keeps you guessing throughout. Ruben directs the eccentric collection of townspeople so they play well off each other. And the special effects allow just enough jumpscare moments to create this effective quirky, campy comedy. 
IFC        1 hour 37 minutes       R
In select theaters    On Demand
The post Werewolves Within first appeared on Movies and Shakers.
from Movies and Shakers https://ift.tt/3APSpdV