The Tomorrow War Movies and Shakers July 4, 2021
Time travel is a familiar device in sci fi films along with fighting aliens. This one makes a brave attempt at both to save the world with amiable Chris Pratt at the center. Pratt (Guardian's of the Galaxy, Parks and Recreation) is a likable guy and you stick with it to see if and how he can help make this premise work. 
Director Chris McKay (Lego Batman Movies, TV series Robot Chicken) and Writer Zach Dean put together a more than credible cast including Betty Gilpin (GLOW), J.K. Simmons (Palm Springs, Oscar winner for Whiplash), Sam Richardson (Werewolves Within, VEEP)  Australian actress Yvonne Strahovski (Dexter, The Handmaid's Tale), and Edwin Hodge as a grizzled veteran of the alien war. Lorne Balfe (Black Widow, Lego Batman Movies, Mission Impossible movies) is responsible for the musical score 
This film is a big budget film with a lot of action. It was supposed to be released in theaters before the pandemic, but, like many others, was delayed. With a $200 million budget, and multiple locations, it should be seen on a big screen. There are many big set pieces, with fighting and explosions on land, sea, and air; even underground. It's one battle after another in different settings. Optimally, it should be seen in a theater with booming sound.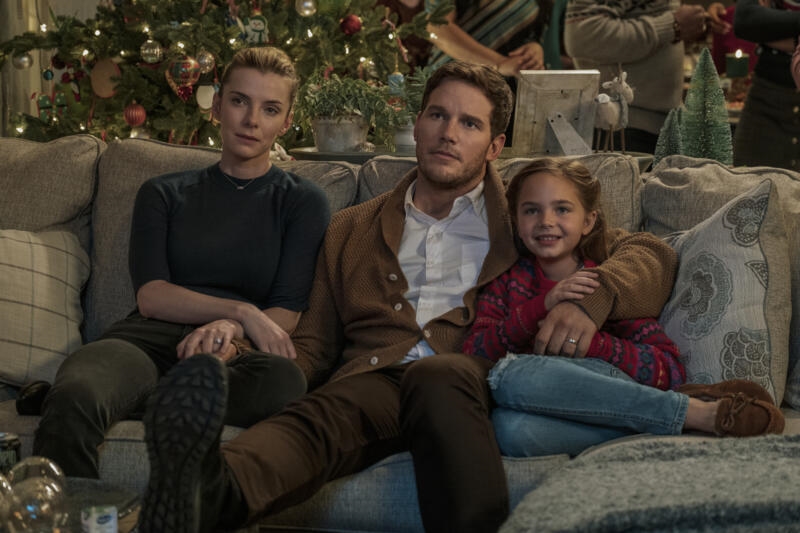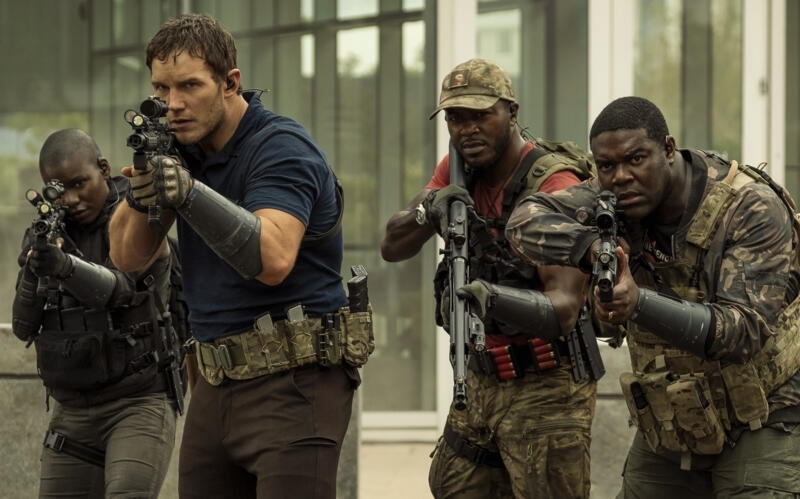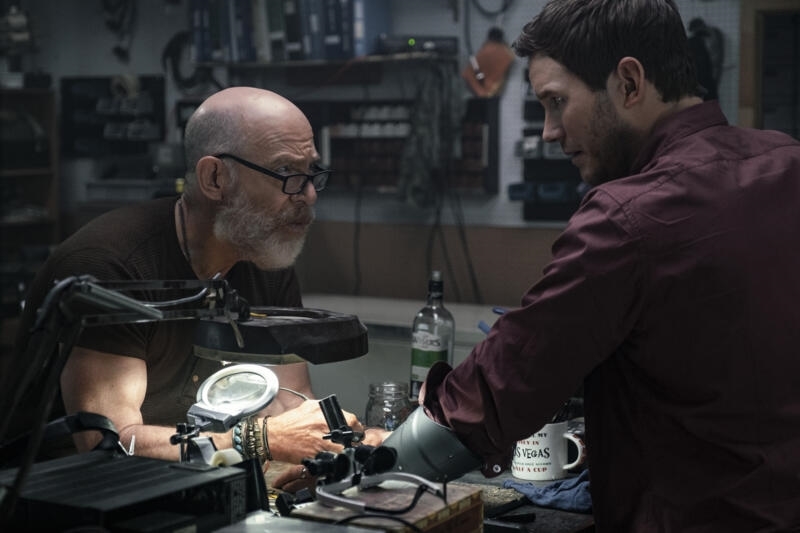 Pratt plays Dan Forester, an Iraq War Vet, now a science teacher who wants to do more meaningful research to make his wife and daughter proud. Depressed after losing his dream job, he is watching a World Cup soccer match on the couch with his wife, (Gilpin) and daughter, Muri, (Ryan Kiera Armstrong) when it is suddenly interrupted. Soldiers from the future emerge from a purple haze onto the field pleading for present day humans to travel 30 years into the future to fight, or humanity will not survive. World leaders agree to draft men and women to time travel for an all out offensive. 
Guess who gets drafted. Dan goes to his estranged father, the crusty James, (Simmons) for help, but their old conflicts get in the way. Dan finally realizes he must fight to give his daughter a chance to live out her life. Dan and his comrades, Charlie and Dorian (Richardson and Hodge) go through all kinds of machinations together as they try to stop the advancing Whitespikes. They are ferocious monsters who look a lot like the aliens from Alien. Their long tentacles trap prey and the big jaws with razor sharp teeth tear them apart. As said in the film. "We're the food and they're hungry." Their presence is forwarded with clicking that made us think of A Quiet Place. 
Following the paths of the enemy, Dan meets the Colonel, a female scientist working on a toxin to eliminate the aliens. She reluctantly lets him work with her in the lab. In process, both discover they have more in common than they first thought. It's 2051 and they are both working furiously with the future of mankind at stake. 
As in many time travel films, keeping the time line in focus is confusing. The aliens are scary enough to make you jump as they pop out of nowhere. But trying to eliminate these aliens with guns is a little ridiculous, even though they have a couple weak spots. And capturing the all-powerful female seems a bit of a stretch. Dan and his squad just keep moving trying to kill these ugly creatures at bay, even ending up on a Russian glacier. That gives the filmmakers a chance to spotlight Issues of the ramifications of climate change affecting survival of humans throughout the film narrative. Fighting the monsters adds another layer of danger to humanity.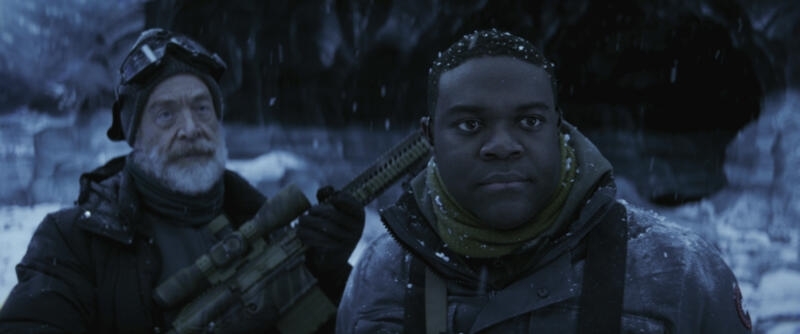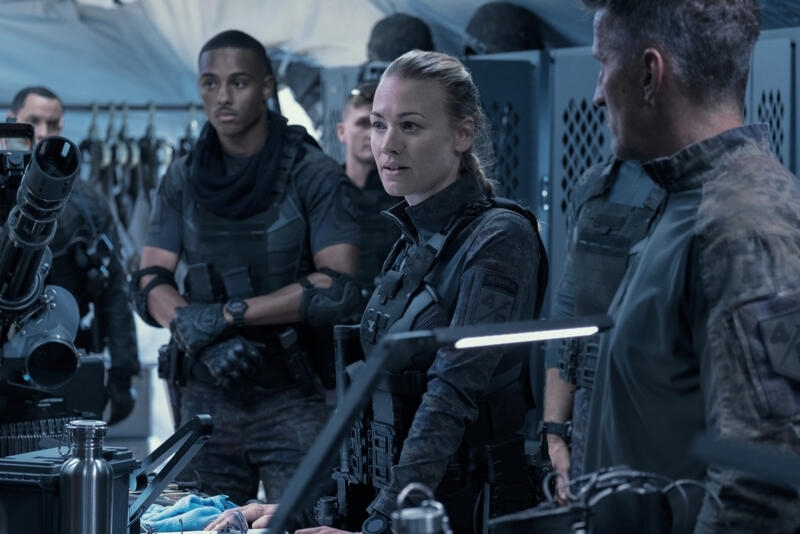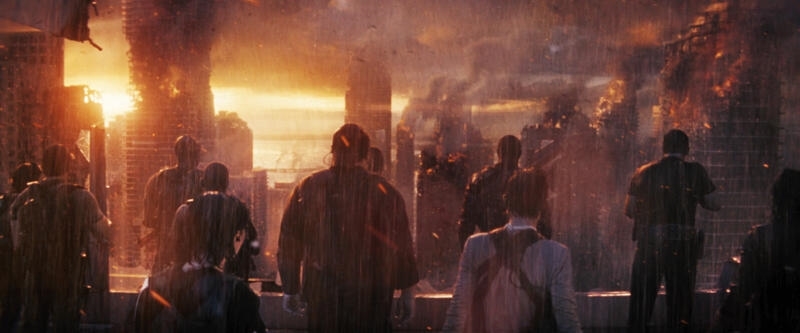 As devoted as Dan is to his wife and daughter, his utter disdain for his father is quickly put aside on that cold ice. That reversal really comes out of nowhere with a quick and easy explanation from earlier in the film. Gilpin as Dan's wife, Emmy, serves as an emotional heart tug, but also provides a more important purpose.
The premise of this film is definitely thought-provoking. Pratt, as Dan, is still a very likable character and we were drawn-in wanting to see where he and this was going. But at well over 2 hours, we wish we could have saved time traveling through this film a little quicker. 
Amazon Studios, Paramount Pictures   2 hours 20 minutes.   PG-13
Amazon Prime Video 
The post The Tomorrow War first appeared on Movies and Shakers.
from Movies and Shakers https://ift.tt/3jNoTj8