Loki Movies and Shakers June 14, 2021
The first episode of Loki is complicated and at times hard to follow, yet Tom Hiddleston's Loki and Owen Wilson's Mobius just might become a legendary buddy-cop team as the season progresses. Their verbal sparring is not only the best reason for staying with this show, but it also evolves into a poignant examination of Loki's past and his motivation for committing evil beyond the fact that he's the Norse God of Mischief. This begins the process of turning Loki from pure villain to an anti-hero we'll probably end up rooting for in the coming weeks. 
The Marvel Cinematic Universe takes a great leap both forwards and back in this time-travel tale that picks up after the events of the Avengers:Endgame movie.Executive Producer Kevin Feige keeps expanding on the storylines introduced on theatre screens for his growing TV Marvel empire (The Falcon and the Winter Soldier, Wandavision).
In this installment writer Michael Waldron and Director Kate Herron tackle Loki's continued existence after his was killed in Avengers: Infinity War. They choose to take a pretty deep dive into time-travel using the blue-box Tesseract he stole in Avengers:Endgame. This manipulation of time brings him to the attention of the TVA (Time Variance Authority) which is charged with apprehending  those who would disrupt Time (Variants) and bring them to justice.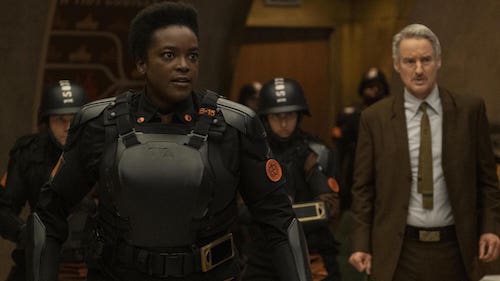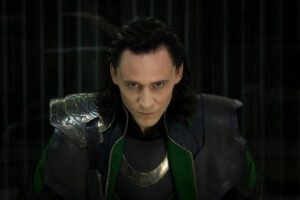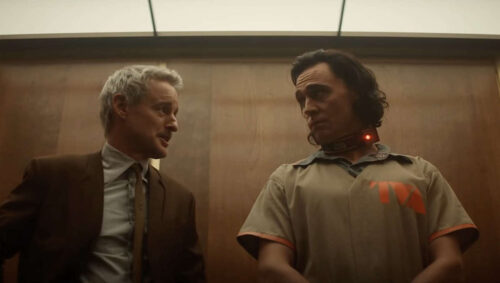 The scenes where Loki finds his powers are no match against the TVA and the floor dropping out from under him as he descends through the TVA bureaucracy show Marvel comedy and wit in full play. Before he's about to be erased for all time, Owen Wilson as the TVA detective fascinated by Loki's story, steps in to begin recruiting him to help solve another Variant crime-spree perhaps perpetrated by other version of Loki himself. 
The set design of the TVA offices are notable in that this all powerful ultimate Time Keeper Authority operates out of offices that look like they were designed by the same people who made Corning Ware in the 1960's. It's an interesting visual touch contrasting to the ultra-futuristic view outside the window.
While Hiddleston and Wilson carry the weight of the exposition, comedy and conflict more than ably on their shoulders, the supporting cast is also noteworthy. Gugu Mbatha-Raw plays Judge Ravonna Renslayer who seems to have some kind of special relationship with Mobius. Are they just friends? It's a nice tease for something sure to come.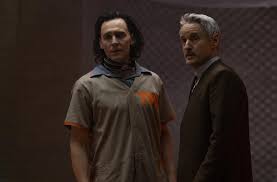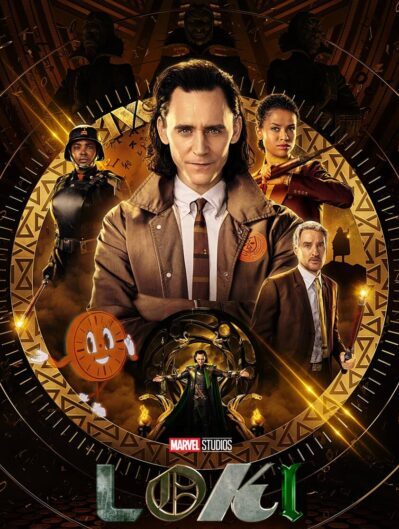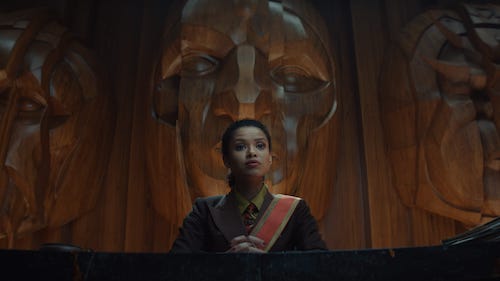 Wunmi Mosaku (Lovecraft Country) is a field officer, Hunter B-15, who only wants to turn Loki into dust. Special acknowledgement to Tara Strong who voices the animated clock in the TVA cartoons that cheerfully inform Variants of their impending doom. Finally, Eugene Cordero (Good Place) is the TVA receptionist Casey who is gleefully clueless to everything from what a fish is, to the fact he has a drawer full of Infinity Stones that are nothing more than colorful paperweights to him.
This multi-layered reintroduction to the Loki saga at times feels like exposition and backstory overload, but we still are anxious to see the Loki/Mobius relationship take root. There's a very weird, entertaining vibe to this series that just begs to come back for more. 
Disney+                                  TV-14
The post Loki first appeared on Movies and Shakers.
from Movies and Shakers https://ift.tt/3iBJBBU