Cruella Movies and Shakers May 28, 2021
This dark origin story of evil fashionista, Cruella de Vil, actually unleashes dueling Emmas in 70's London with a parade of outfits to kill for. Bold and wonderfully anti-Disney in style. The super saturated colors, the vibrant clothes, ornate sets and constant stream of music grab your attention. This is a film rich in sight and sound. It is accompanied by an almost constant stream of pop hits that are as much a part of each scene as the actors.
Director Craig Gillespie (I,Tonya, The Finest Hours, Fright Night) creates a plot where fashion becomes lethal, not just wearable art. Cinematographer Nicolas Karakatsanis (I, Tonya) and Production Designer, Fiona Crombie (The Favourite) capture remarkable detail.
This latest Disney production, is certainly no warm fuzzy fairy tale, or even one like the sarcastic and sardonic Maleficent. But it's definitely more edgy with a capital E, that also stands for eye-candy. Costume Designer Jenny Beavan (Room with a View, Mad Max: Fury Road, Sense and Sensibility) created 47 looks for the film, scouring vintage stores for inspiration. The couture is flawlessly tailored and designed, except for that endless flowing train made to look like garbage. It really is exquisite.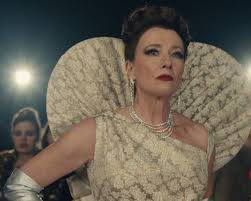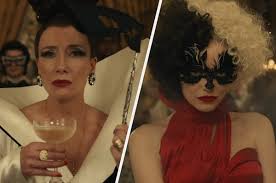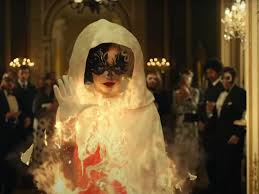 Emma Stone is plucky as Estella/Cruella. Emma Thompson's Baroness is frightening as the demanding, self-centered, power hungry, past her prime fashion designer taking credit for the work of underlings working in fear. One of her mottos she pronounce proudly, "If you have to talk about power, you don't have it." She is relentless giving orders to all around her, including John the valet, (Mark Strong) her right-hand- man, a silent type who knows the score.
Estella is all rebel from the very start, constantly getting in trouble at school and relishing every bit of it. Her kind-hearted mother, Catherine, (Emily Beechman) is a poor laundrywoman trying to send her to the best school. But she understands Estella's feisty spirit and her penchant for creativity, giving her unconditional love. When, as in many Disney movies, Catherine tragically dies in front of her eyes, Estella is left to her own devices, chased by the Baroness' Dalmatians. She teams up with a pair of petty thieves Jasper and Horace (Joel Fry, Paul Walter Hauser). Fry plays Jasper as the more sentimental, caring of the crew. Walter gets to play more broad comedy with more physicality. They become her new family and show her the ropes. What a team. And their little dog Wink even has a pirate-style eye patch which serves them well. The little pup joins in the capers with the team, as in many Disney films.
Estella's dream is to become a fashion forward designer. When she trashes the showroom window of world-renowned fashion designer, Baroness von Hellman, (Emma Thompson), the strident aging Baroness takes notice and hires her. Little did Estella know that her boss would show her how to be as cruel while becoming her nemesis. Their fashion battle ramps up in high gear. Estella designs creations the Baroness resentfully admires. Both show more than ample attitude as they plot their next devilish moves. If looks could kill.
Emma Stone as Cruella sports signature blood red with black and white, even in her hair, always making a splash entrance. Emma Thompson as The Baroness von Hellman is exquisitely tailored in golds, greens and browns with sharp, angular collars to go along with her sharp tongue and glaring stare. The only exception is when she hosts the Black and White Ball wearing Cruella's pallet. And Cruella leaves her mark saying, "Wreaking havoc at galas is my personal specialty." Gillespie uses special effects which surprises here and throughout the film. No spoilers here.
Gillespie uses 48 songs from the 60's and 70's to immerse the audience in the tone and style of the era. Songs from everyone from Nina Simone, Queen, Clash, Super Tramp, Blondie, and even "Car Wash" by Rose Royce. Vintage hit after hit from that time provides music that is as much a part of each scene as the actors. There's an over abundance of stimulation for the ear and the eye. And the signature song, Call Me Cruella" by Florence and the Machine describes this designing villain to "T" or should we say "C."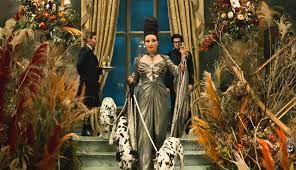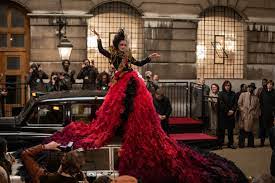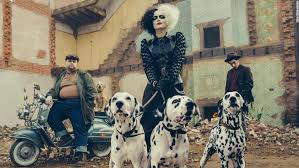 This is a prequel to "One Hundred and One Dalmatians" based on Dodie Smith's book which became Disney's popular 1996 live-action movie starring Glenn Close. The actress is one of the Executive Producers of this film. Cruella does don an outfit with Dalmatian spots, but the credits that no Dalmatians were harmed during the making of this project.
Several writers had a pen in the screenplay, which doesn't always work and there are a few patches that go astray. There's fire and action plus mature material. It's definitely not for little ones, showing some graphic tragedies and cruelty between characters. Plus, it's more than 2 hours long.
These roles were tailor made for Stone and Thompson, even though there are parts of the story that could have used a few alterations. This is not the best Disney movie we've seen, but is an edgy, vibrant, romp that certainly has style.
Walt Disney Pictures/Disney+ 2 hours 14 minutes PG-13
In theaters and on Disney+
The post Cruella first appeared on Movies and Shakers.
from Movies and Shakers https://ift.tt/3oWShE6