In the Heights Movies and Shakers May 25, 2021
This is a film packed with so much music, spice and flavor, theaters might want to make room for you to get up and dance. What a great first movie to see in the theater coming out of the pandemic! Lin Manuel-Miranda and director Jon M. Chu do not disappoint. And it also deals with current racial and immigration issues. 
You see the roots of Hamilton in this, Lin Manuel-Miranda's first Broadway triumph. Just like in Hamilton, all of the musical genres are here, from salsa, merengue,jazz, rap to hip hop, pop, and traditional Broadway. He and Chu stage massive production numbers that honor the styles of everyone from Busby Berkeley to Fred Astaire, Bob Fosse and Latin stars including, Chita Rivera and Rita Moreno (West Side Story). 
Chu and Lin Manuel-Miranda weave stories of so many living in the bareo through songs with hundreds of dancers choreographed with precision by Christopher Scott. Many are set in the streets. Another in a pool with overhead shots of synchronized swimming moves in and under water with incredible detail. Kudos to the sound design team for making it sound like you're submerged with the swimmers.There's salsa at a night club with so many twists and turns, it will make your heart race. Even a gravity-defying romantic ballet (a la Fred Astaire) on the outside of a building set against a magical sunset. 
Lin Manuel-Miranda originally played the lead in the stage version of the show. Here, Anthony Ramos takes the reins as Usnavi. He is charming, with a wide smile, and cares so much for the people in his community. He runs the Washington Heights Bodega that was his late father's. Usnavi is passionate about his dream to go back to the Dominican Republic to re-open his Dad's bar on the beach. He is in scenes spinning his life story to a group of young kids periodically throughout the film, leading us in and out of flashback. You care about him trying to make wish for a new life come true. Usnavi is also looking out for his young cousin, Sonny, (Gregory Diaz IV) who looks up to his mentor working alongside him in the bodega. Diaz  makes an impression with his infectious personality.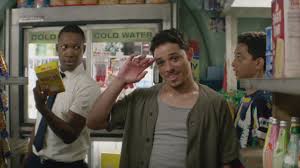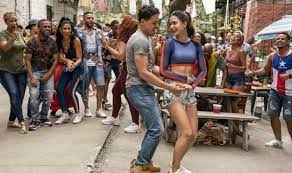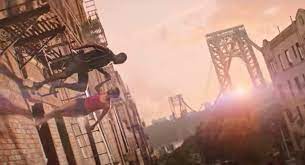 Usnavi's got a crush on childhood friend, Vanessa (Melissa Barrera). Her dream is to become a Downtown fashion designer, but keeps finding cultural and economic roadblocks. Frustration is her name and Usnavi is basically invisible to her. 
Then we meet Nina, (Leslie Grace) singing down the street. She's the bright, beautiful brainchild daughter of Cab Company owner, Kevin Rosario, (Jimmy Smits). Nina's back for the summer from Stanford where she has come ups against challenges of her own. Benny, (Corey Hawkins) works for her Dad as a dispatcher and is still carrying the torch for Nina. Both Barrera and Grace are enormously talented triple threats who act, sing, dance. 
The emotional heart of the film is Usnavi's surrogate grandmother, Abuela Claudia, (Olga Merediz) who also acts as grandmother to the tight knit community. She's reprising the role she was Tony nominated for on Broadway. Her big scene is singing about coming to New York from Cuba with her mother and what they had to do to survive. It is a powerful statement by the accomplished actress. 
Lin Manuel-Miranda has been trying to bring this to the big screen ever since it was on Broadway in 2008. He started writing it in college at Wesleyan and then worked with Pulitzer prize winning playwright, Quiara Alegría Hudes to bring it off Broadway and then to The Great White Way.  Broadway. She also wrote this screenplay.
The film covers more current issues including gentrification in urban America, immigration, DACA and racism against people of color. It was supposed to come out in 2019, but because of the pandemic was pushed back. Lin Manuel Miranda plays the part of the Piragua Guy who pushes his cart around the neighborhood selling fruit flavored shaved ice. His competition is the Mr. Softee ice cream truck driver. Manuel-Miranda cast Chris Jackson to play his competition, who played George Washington in Hamilton. We also noticed another Hamilton reference when Jimmy Smits, as Kevin, is put on hold and you hear the King's funny theme song from Hamilton in the background. Made us smile. 
The running theme is that so many of these residents and shop owners are trying to find a way out of Washington Heights, either with citizenship, a green card, an apartment or a job in a different neighborhood. The showstopper in this film comes from spunky, Daniela, (Daphne Rubin-Vega), who is about to move her beauty salon out of the bareo. A pivotal powerless during the hottest summer. Daniela, calls for a fiesta presenting another upbeat dance number representing the Latin experience to lift their spirits.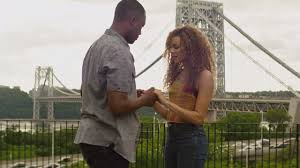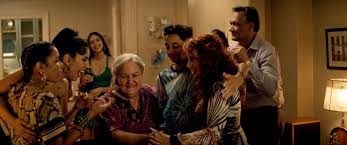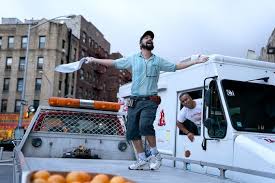 There are many beautiful moments in this film as we follow the characters' journey. Usnavi is the narrator who comes back periodically to tell his story to the kids is very cute with them. This is where the story gets lost in itself, trying to tie up too many threads which we think loses some of its emotional impact. 
The most unsatisfying part of the film is the resolution of the thread using the kids. It doesn't land with the heart tug we expected. It's not as poignant as earlier scenes in the film. Highly anticipated, we were concerned it might not live up to our expectations. But with Lin Manuel-Miranda's genius, Jon Chu's direction, and the fusion of talented cast and crew, this production, filled with exhilarating energy, more than translates from stage to screen. We'll be surprised if you don't sign up for dance lessons when this is over. And be sure to stay all the way to the end of the credits for one last musical bit. In the Heights soars! 
Warner Bros./HBO MAX   2 hours and 23 minutes  PG-13
In theaters and streaming on HBO MAX June 11th
The post In the Heights first appeared on Movies and Shakers.
from Movies and Shakers https://ift.tt/2T9SQym