Those Who Wish Me Dead Movies and Shakers May 13, 2021
Although there are many contrivances in this film, dramatic visuals of a burning forest keep tension hot as Angelina Jolie plays a Smoke Jumper in Montana trying to save a boy from cold-hearted killers.
Jolie plays Hannah, who right out of the box, has flashbacks after she misjudged a fire that changed course that killed 3 boys. The guilt lingers like embers of a flame. But you just know she's going to have another chance to make a last minute decision to become the female action hero of this story. Jolie looks good, almost too well put-together for a firefighter working in a remote forest. Jolie's Hannah is respected by the other firefighters in her crew and she's just as tough and hard drinking as any of them.
Director Taylor Sheridan is best known for his writing (Tom Clancy's Without Remorse and Oscar nominated for Hell or High Water). He wrote this screenplay with Charles Leavitt along with Michael Koryta, the author of the book this film is based on. Sheridan directed 9 episodes of TV's Yellowstone and puts working in nature on that series to good use. 
Cinematographer Ben Richardson uses generous amounts of overhead drone shots to give scale to the size of the forests and the beauty of the landscape about to be consumed by fire. But the soundtrack is the most obvious kind of score. Eyes closed, you know who is on the screen by the immediate change in tone and chords. As soon as the film cuts to the killers the minor key change sneaks in.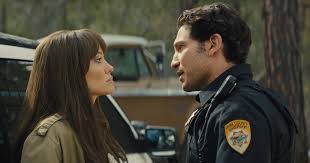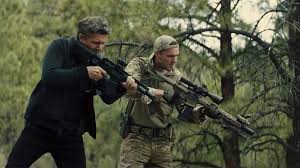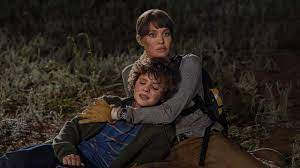 In the meantime, a father (Mr. Casserly) is making breakfast for his son, Connor, (Finn Little) before taking him to school. A news report of a murder grabs Dad's attention. He's a forensic accountant, and, realizing he's the next target, he takes off with Connor. They're being chased by two brothers, Jack and Patrick Blackwell (Aidan Gillen and Nicholas Hoult). They are hitmen loaded with ammunition and no conscience.
The general arc of the plot and wherever it's headed is obvious as soon as the main characters are introduced, especially when Connor and his father hit the road. Finn Little is believable. Even portraying worried or emotional, this young actor doesn't play over-the-top. 
Tyler Perry, as the Blackwell's boss appears in only this one short scene, but looks like he enjoyed playing the sinister puppet master. Rather than risk Arthur's wrath, Jack will go to any length, even starting a calamitous forest fire to flush Connor out.
There are coincidental family ties all over this film. Jon Bernthal is an underused resource in the script. He's an emotional pivot point trying to keep his pregnant wife, Allison (Medina Senghore) out of the killers' sights. Her big moment comes in her fight to survive an encounter with the Blackwells. She's given the best lines in the film. Most notably, when one of the Blackwells says, "I hate this place." She blurts back, "This place hates you!"
Hannah is posted in a fire watch tower. She sees the panicked Connor on the ground trying to find safety. The growing trust between Hannah and Connor is central to giving the audience something to care about besides the pretty forest shots and the impressive visual effects of the fire.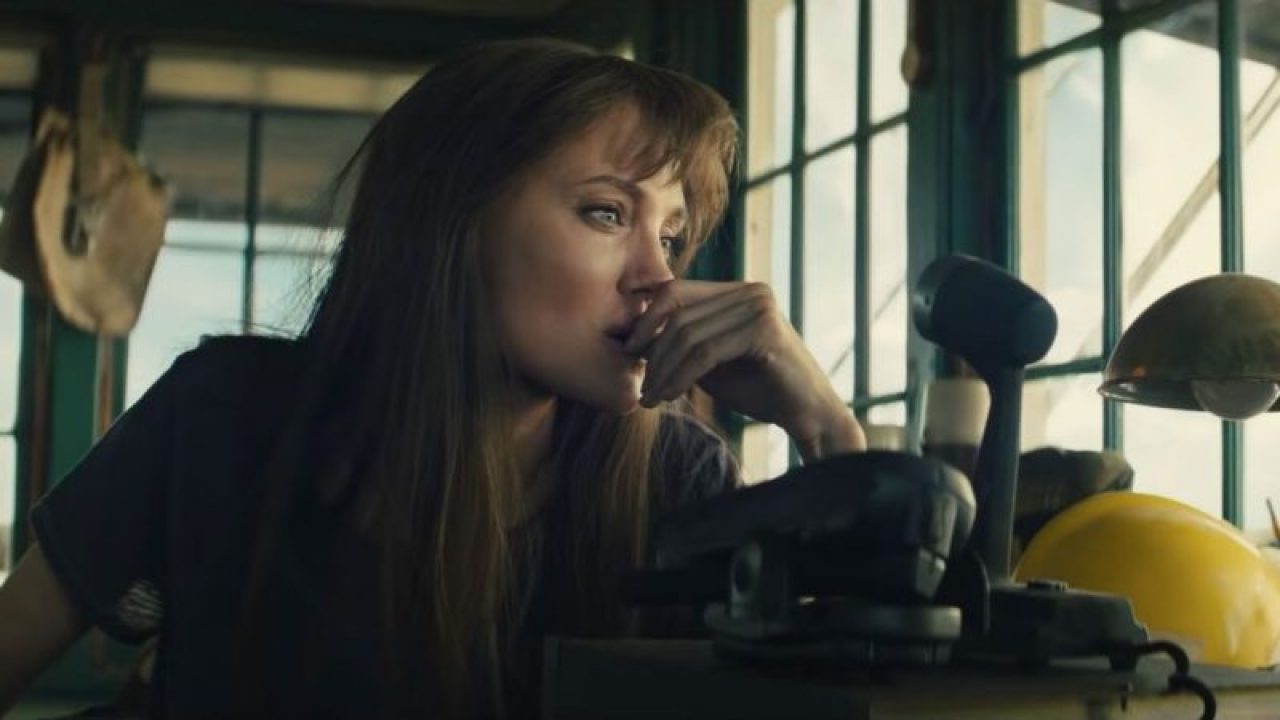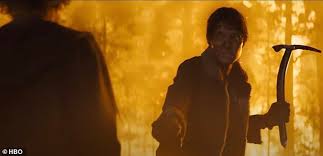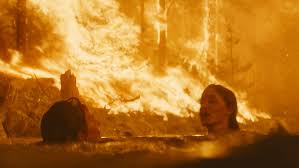 The visualization of the growing flames exploding across the landscape would probably be best viewed on a big theatre screen. Special and visual effects play a huge role in this film, making the wildfire come across as ominously beautiful. But the underwater shot looking up as the fire passes over the creek where Hannah and the boy are hiding just beneath the surface is as memorable a fire moment as any in Backdraft. 
Director Sheridan provides plenty of beautiful scenery to look at, as well as plenty of tension and violence. The climactic moments when Hannah and Connor take on the killer is played against the fast approaching fire. Jolie as Hannah shows she can take quite a pounding without looking like she's been through hell and back. Plus, she's still able to wield a mean axe to keep right on fighting. 
Sheridan gives Jolie the power to handle danger from nature and villains and still look great in this female centric 90's throwback thriller. This may not light your fire, but will hold your attention.
New Line Cinema              1 Hour 40 Minutes             R
In Theatres Now/HBO Max
The post Those Who Wish Me Dead first appeared on Movies and Shakers.
from Movies and Shakers https://ift.tt/3htnj4D