The Boy from Medillín Movies and Shakers May 6, 2021
A week in the life of the Colombian "Prince of Reggaeton" on his home turf. Jose Alvaro Osorio Balvin, better known by fans as J. Balvin and José to his friends, is an international star. He started singing in the city of Medellín (pronounced by South Americans as Meh – Deh – 'SZEEN). He started singing with his family as a youngster, took it to the streets, always dreaming of one day headlining a huge sold out concert back in his home town. 
Matthew Heineman (Cartel Land, City of Ghosts, A Private War) directed this documentary which covers 8 days leading up to the biggest and the most personal concert of his life. Heineman curates archival footage of Balvin's childhood and climb to stardom. 
José forgets about the camera following him around and we get to see how sensitive, insecure, spiritual, and conflicted this music icon really is. He suffers from OCD, anxiety, and depression but does not do drugs or drink alcohol. He's concerned about the political and social unrest producing protests and violent confrontations that are killing the youths in his country, but doesn't think it's his place to take a stand. His fans adore him, but he also gets criticized for not speaking out or taking sides. He feels that his job is to entertain his people with music.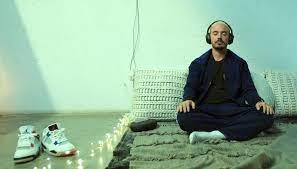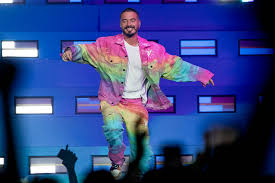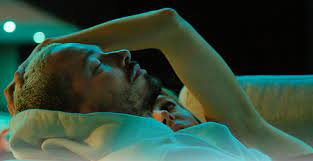 José works hard at trying to become a better person surrounded by a huge entourage of therapists, spiritual leaders and trainers, in addition to his managers, fellow musicians, crew and dancers. As mild-mannered as he is, his appearance is the opposite, loud as can be. He has a style all his own, from baggy neon tie-dyed outfits and hair, plus his body is covered with an array of colorful tattoos. 
Heineman structures the documentary day by day leading up to the big concert. During that time, the protests continue protesting the killing of Dylan Cruz by police. José watches TV coverage, and on the day of the concert, Scooter Braun, who has handled everyone from Ariane Grande, Justin Bieber, Demi Lovato to Taylor Swift, has a heart-to-heart with José about his responsibility. "Great artists are the ones who speak for others. J. Balvin has a platform, he's the one who needs to speak." Will that change his mind? 
We see José's OCD kick in 2 hours before the concert. He meets with his spiritual adviser and meditates. His dream, 15 years in the making, is about to come true and Heineman gets great shots of the concert with fans rockin' to the music which went on for 5 hours. José didn't even realize it went on for so long.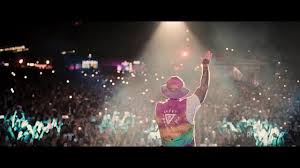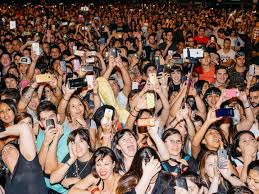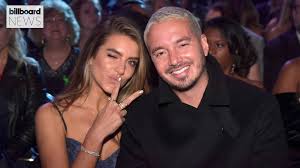 But at one point, he stops the music and decides to finally speak out about the problems that are not being addressed in his country, socially and politically. He tells the crowd "I have the responsibility to leave the country a better place for when I have children." Ironically, just this week, he excitedly announced that he and his girlfriend  Valentina, are expecting a son. 
Director Heineman shows that José is a thinking, feeling human being, and an artist with a platform he's willing to use "to speak for others." With all his insecurity, and flaws, we see this boy from Medillín grow up in just 8 days. 
Amazon Prime Video          95 minutes           R
The post The Boy from Medillín first appeared on Movies and Shakers.
from Movies and Shakers https://ift.tt/3uu6VEF