Nobody Movies and Shakers March 23, 2021
Keeping track of body count in this chase/revenge thriller is a challenge in this movie that elevates Bob Odenkirk as a top tier action star. This role is what was considered the main domain of guys like Bruce Willis or Liam Neeson. Don't let the intentional slow start dissuade you, once the action kicks in, the pace ramps up and it's unrelenting, outrageous and highly entertaining. 
Odenkirk (Better Call Saul, Nebraska) plays Hutch Mansell, an unassuming, seemingly weak and meek family man, working for his father-in-law and his obnoxious brother-in-law. The director  is Ilya Naishuller, who's done many music videos for the Russian band Leningrad. He uses a sped up loop to show Hutch's never ending, soul sucking existence. It's all capped off with a wife (Connie Nielsen) so distant she even puts a physical barrier between them in bed. They barely talk to each other, going through the motions. When confronted by a pair of home invaders, Hutch stands by and tells his son, Blake (Gage Monroe) to stop fighting and let them go. Wait! What's up with that? The son believes his father is a coward.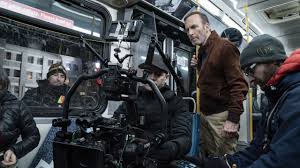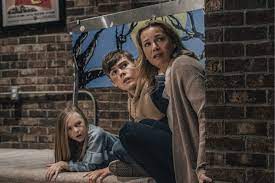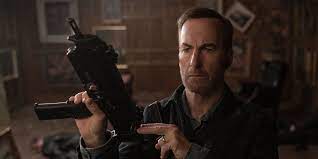 But Hutch's latent instinct for revenge kicks in leading to his taking on a bunch of punks on a bus who don't know who they're dealing with. He's protecting a girl being eyed by the gang. You now get more than eyeful of what he's capable of and what's to come. The choreography of the battle on the bus is bloody, brutal but outstanding and Odenkirk is so straight-faced and smooth that it's amusing. There's so much more to the Nobody than meets the eye. Writer Derek Kolstad (John Wick) keeps the dialogue at minimum throughout, but as with Keanu Reeves, he lets the action, with a wink, do the talking.  
This bus melée puts him in the cross hairs of a powerful Russian mobster, Yulian Kuznetsov (Alexsey Serebraykov) who is a comical character in his own right. Yulian's first entrance is a big one that culminates with him singing poorly with a sexy Russian on a nightclub stage. He's definitely dangerous and he's got an army of lethal henchmen. Once Hutch learns he and his family are targets, he's on a one-man mission. His only two allies are his seemly decrepit father (Christopher Lloyd) in a nursing home, along with his buddy and colleague from his former life, Harry (RZA-actor and Wu-Tang Clan member). Turns out, they're both as lethal as Hutch. As always, Lloyd, with his buggy eyes, is a hoot.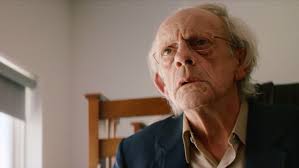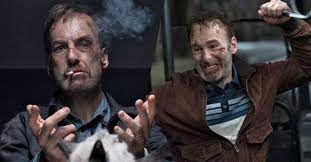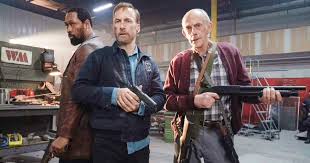 Non-stop action gears up. Hutch takes the wheel with high-speed car chases using classic muscle cars, huge, stunt laden, bloody shoot outs culminating in a smartly, booby-trapped factory of death climax. It's all so violent, but you'll be cheering. David Buckley's music including "They Know, I Know, You Know," "Everyone Dies," and "Nobody," along with Louis Prima's "Just a Gigolo" enhances the action. 
This film is a prime example of a meek, self-described Nobody, who turned his back on his previous life and talent. As Hutch says "I may have overcompensated." Director Naishuller's pacing keeps the beat going while Odenkirk is calm, calculated, and cool as Hutch. We wouldn't mind seeing them at it again. Stay for the post clip for a clue. This Nobody is somebody to watch. 
Universal Pictures        1 Hour 32 Minutes              R
In theaters Friday, March 26th
The post Nobody first appeared on Movies and Shakers.
from Movies and Shakers https://ift.tt/3f5vxig