Genius: Aretha Movies and Shakers March 21, 2021
Genius: Aretha
Cynthia Erivo gives her all singing classic Aretha tunes in this comprehensive study of the Queen of Soul, but the structure of this TV series is confusing. Director Anthony Hemingway bounces between her childhood in black and white to color, trying to maintain the time reference, but playing fast and loose with the continuity.
This 8-part biopic is part of the Genius Series (Einstein, Picasso) for National Geographic helmed by Producers Brian Grazer and Ron Howard. After a first National Geographic airing, the series will be shown on HULU with double-stacked episodes running 4 nights. The last episodes run on Aretha's birthday.
Suzan-Lori Parks (The United States vs Billie Holiday, Native Son) is the writer and show runner who was overseeing the production with fits and starts of production during the COVID pandemic. In a panel discussion at the SXSW Festival, Parks admitted that  they had to shut down several times which resulted in having to toss and rewrite some scenes to make up for days lost.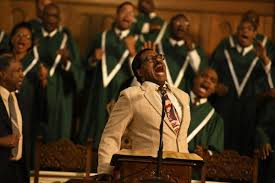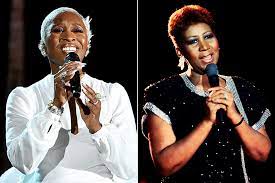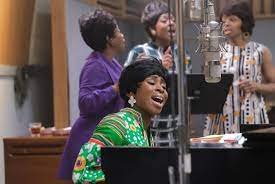 Courtney B. Vance captures well Aretha's charismatic pastor C.L. Franklin as her philandering father. He was not a good guy, but always appreciated and supported his daughter's talent. Shaian Jordan shows she has the acting and singing chops to play young Aretha. And David Cross is perfect as music producer, Jerry Wexler, who knew how to handle her adamant attitude and talent as she transitions from gospel to soul. 
The series also shows how she had a talent for picking the wrong men. The scenes of Aretha with her husband, Ted (Malcolm Barrett), are painful. Barrett plays his mood swings well. One minute he's romantic and sweet, the next, mean as can be. He was mentally and physically abusive whenever she tried to do her music her own way. All she wanted was a little "R-E-S-P-E-C-T." 
Erivo has already proven herself extremely talented as a singer and actress. She got the part after singing "Ain't No Way" on a Red Carpet when asked what her go-to song was. Unbeknownst to her, the video of that encounter was sent sent to Grazer and Clive Davis. That sealed it. 
Erivo belts out Aretha's gospel tinged soul with all she's got, which was sometimes a little more screechy than we remembered. Huge fans in our youth, we followed Aretha going to a number of her concerts in Chicago and Dallas. The last time we saw her on-stage was just after her house in Detroit had burned down. And, yes, she carried her pocketbook on stage as seen in Episode 1, to make sure the cash she collected upfront was safe by her side as she performed.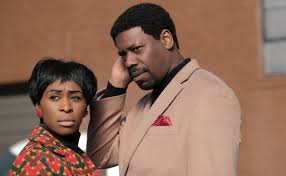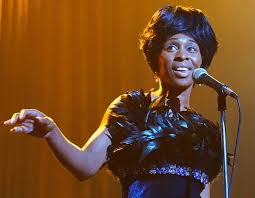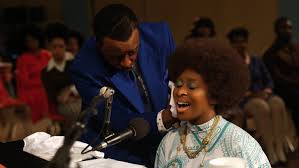 Aretha's involvement in civil rights is addressed. She was surrounded with civil-rights activists, supporting marches and concerts for Dr. Martin Luther King, Jr. Quoting Aretha in the series, "You got to disturb the peace when you can't get no peace." Sounds a lot like "Good Trouble." 
You'll discover the backstory her life that is troubling, but Aretha just kept rockin' steady to make hits and sing them her way. The story doesn't flow as easily as the music which is really the star of this series. Aretha tells it all through her songs from "Chain of Fools," to "I Never Loved a Man (The Way I Love You), "Rock Steady," and on to  "Ain't No Way." Erivo does a credible job in this first production about Aretha to be released this year. Jennifer Hudson's take on Aretha is coming as a feature film. But you can never get enough of Aretha.
National Geographic   8 episodes    TV-14 
National Geographic Sunday, March 21st only.  HULU starting March 22nd
The post Genius: Aretha first appeared on Movies and Shakers.
from Movies and Shakers https://ift.tt/3ca5C7k