Coming 2 America Movies and Shakers March 7, 2021
He's baa-ack. Eddie Murphy is once again Akeem 31 years later in this glitzy, over-produced series of bits filled with a huge collection of old friends from the original film and a new generation. This film just tries too hard to deliver not en0ugh laughs, and the real stars of this $125 million dollar sequel are the elaborate costumes of Oscar award winner Ruth Carter (Black Panther, Dolemite is My Name). There is more gold shown throughout this film than in Mar-a-Lago. 
Murphy and Arsenio Hall show their versatility playing multiple characters in fictional Zamunda and in the barber shop in Queens, New York. Every comedian and actor from the original film appears along with a new beautiful generation included in this who's who of African-American entertainers. 
Murphy is the only character who doesn't constantly go over-the-top as the King of Zamumda, which is pretty much the antithesis of  Black Panther's Wakanda. The worst offender is Wesley Snipes as General Izzi who pops up awkwardly strutting and over-acting. More familiar faces include, Tracy Morgan, Leslie Jones, John Amos, James Earl Jones in an elongated dying scene, Morgan Freeman, Trevor Noah as a crazy Network News anchor, Paul Bates, and so many more in this cast of 170. That's a lot of costumes.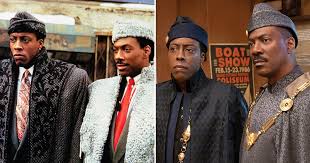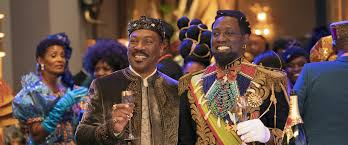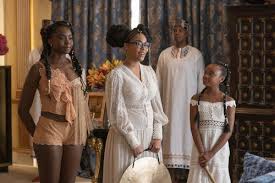 Murphy is devoted to his Queen, Lisa (Shari Headley) and has three smart, strong, stunning daughters. The eldest, Meeka (Kiki Lane) is next in line, but, according to Zamunda law, must find a husband who can become King so she can become Queen. She reluctantly accepts that,a woman cannot rule by herself. 
Surprise! King Akeem finds out he actually does have a male heir who is the result of a wild night 3 decades ago in Queens, New York with Mary Junson,(Leslie Jones). Jones is another loose cannon in this film who obviously had a lot of fun being outrageous. When Mary finds out that she is the mother of would-be heir to the throne, son Lavelle, (Jermaine Fowler), it's no holds barred. Word has it that she didn't exactly stick to the script. 
Mary, Lavelle and Uncle Reem (Tracy Morgan) come back to Zamunda where Lavelle has to prove he's got what it takes to assume the throne. In a scene with Lavelle and a lion, you get to see one of the oddest product placement scenes in recent movie history for Friskies cat food. There are other odd blatant product references in the film as well.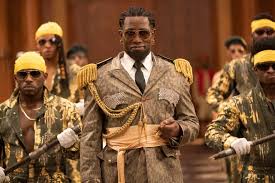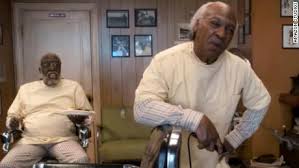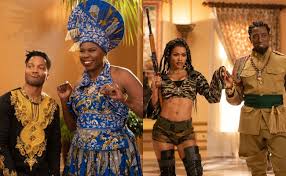 Director Craig Brewer (Dolomite is My Name, Empire TV series)  has random scenes throughout the film which seem to come out of nowhere with music and dance. They are used as transition but, in reality, more to show off  flashy costumes and choreography. Plus there are embarrassing cameos by Gladys Knight, En Vogue and Salt-N-Pepa. During the credits John Legend painfully sings "Your Queen to Be" from the original film and that, too, did not come near to showing off his immense talent. 
It's all predictable, choppy and the comedy is not challenging enough on any level. We expected more snappy repartee from the 7 writers involved in creating this script, including from Murphy, himself.  This film doesn't come near to showing off his engaging personality and sharp comedy. There's plenty of eye-candy, but that's not enough to make a good sequel.  While the original film contained cheeky, spicy, and audacious comedy, there is even a line poking fun at making sequels expressed by General Izzi's daughter, (Tianna Taylor). "If something is good, why ruin it." Coming 2 America should be leaving your playlist. 
Amazon Studios             1Hour 50 Minutes            PG-13
Amazon Prime Video 
The post Coming 2 America first appeared on Movies and Shakers.
from Movies and Shakers https://ift.tt/3sVIS0c