Boogie Movies and Shakers March 5, 2021
Eddie Huang has had a lot of success in his life, and in his directorial debut, he makes a brave attempt at exposing the difficulties of Asian American assimilation of a talented, young basketball player. But it's not a slam dunk. 
Huang is a renowned chef and NYC restauranteur. He's written 2 books, one of which became the hit TV series Fresh Off the Boat. He also wrote this first film about a young Chinese-American high school basketball player who has a burning desire to play in the NBA. 
Alfred "Boogie" Chin is played by Taylor Takahashi in his first role. Boogie knows he has big strikes against him. Not only for being Asian, but his family does not have the money to foot the bill for college and his only chance is a full scholarship to a school with a good basketball team. His mother does not support his dream, only wanting him to excel scholastically. "No one believes in an Asian basketball player," Boogie says. "It's a joke in this country. We can cook, clean, count real good but anything else, we're picked last."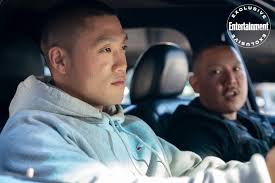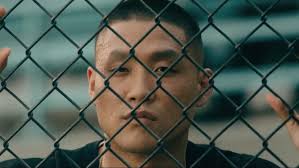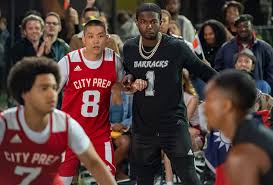 His mother (Pamelyn Chee) is a viper constantly bickering with his father and putting Boogie down. She is obviously a very unhappy woman and takes it out on her husband and son with a vengeance every chance she gets. His Dad, Mr. Chin (Perry Yung – John Wick Chapter 2, The Blacklist)  is a scowling, menacing presence. The cinematography in their house is dismal and dark and the pans from the kitchen to the dining room are so far away from the characters, it's hard to see the actors' expressions and what's going on. 
This is often a painful movie to watch, between the strained and abusive relationships in his family and the problems at school. Boogie just wants and needs to be loved. He's got a chip on his shoulder a mile wide. Boogie is a smart ass who does have a good friend in Richie, (Jorge Lendeborg, Jr.- Critical Thinking, Spider Man movies, Love Simon) who is good at getting Boogie in trouble in class. 
But Boogie doesn't need much help since he's got attitude to burn. He's hot for girl at school, Eleanor, (Taylour Paige, Ma Rainey's Black Bottom) who tries to stay a little under the radar, but is finally smitten. Their interaction is both unnaturally immature and, at the same time, raw. It starts with a disgusting pickup line in the gym. From then on, there is just no chemistry, even thought there is a series of closeups of just their eyes bouncing back and forth that are not very effective. Their relationship seems to serve more as a distraction from Boogies awful home life.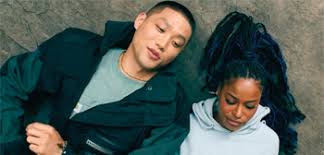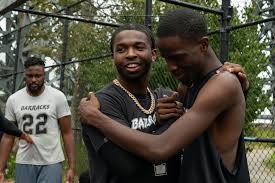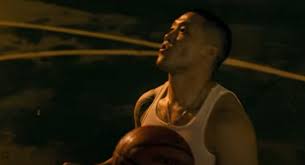 Big problem. She's also been with Boogie's biggest basketball rival, Monk. He is played by the late Pop Smoke, the popular rapper in his first and last film role. The talented rapper was shot and killed in a home invasion in the Hollywood Hills and never got to see the film. But he did do music for it. 
Their rivalry over basketball and the girl plays out after a forfeited high school game. They take it to the streets in a high powered match. Yes, there is a showdown, and there is a lot at stake for Boogie. Huang wraps up the film with family drama, and setbacks, but the simplistic storytelling is  unsatisfying. Credit goes to Huang for making an Asian American high school sports story showing the prejudice. Good that Huang made this film in light off the attacks agains Asian Americans that have become too prevalent during the COVID-19 pandemic. But we think this coming-of-age hoop story could have sunk more shots. 
Focus Features          90 minutes             R
In select theaters 
The post Boogie first appeared on Movies and Shakers.
from Movies and Shakers https://ift.tt/3c1sdS1