Raya and the Last Dragon Movies and Shakers March 4, 2021
Following on the heels of the live action Mulan, this Disney animated film presents another strong Asian female hero. Even the antagonist and the magical creatures are all female-centric characters. The animation in this film is exquisite, using light and vivid colors to create a almost a photo-like quality. Plus, it delivers a message of trust and cooperation that resonates today. 
Kelly Marie Tran, as the voice of Raya, becomes the first Southeast Asian actress in a lead role. She has overcome the hate and bullying she suffered on social media after her big break being the first woman of color as a lead in Star Wars: The Last Jedi Episode VIII. The cast of this film is mostly Asian. 
Tran excels voicing Raya, giving this new Disney princess a "badass" quality, as well as the ability to light up the screen with personality and passion. Tran also delivers just the right amount of comedy and humanity. And there is a supporting cast of fun characters who provide enough action and laughs to keep even the youngest members of the family entertained.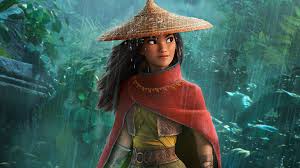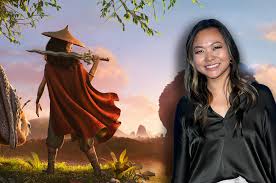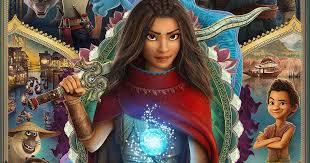 Writers, Qui Nguyen (Vietgone) and Adele Lim (Crazy Rich Asians) along with Tran with an anthropologist consultant explored Laos, Indonesia, Thailand, Vietnam, Cambodia, Singapore and Malaysia. They researched everything from the food, the culture and the clothing, but found that the importance of community, stood out. 
Raya lives in mythical Kumandra where humans and dragons lived in harmony 500 years ago. But that changed when swirling blue monsters  called Druun invaded and turned people to stone. The dragons sacrificed themselves to save the people. This tale follows many of the Disney tropes including missing parents. In this case, it's Raya's father, Benja (Daniel Dad Kim), who is loving, trusting and compassionate. But when Raya's trust is betrayed, pieces of the powerful Dragon Stone are scattered across Kumandra's states, causing the Druun to return to ravage the land and its people again.  
Raya has to find the last dragon to help bring the warring factions with their pieces of the stone back together. The film becomes a road trip with her trusty posse of somewhat shady but fun characters which include Boun kid chef (Isaac Wang), and funny Baby Noi (voiced by Thalia Tran). They roll along on her oversized pill bug sidekick, Tuk Tuk (Alan Tudyk). He's the Rolls Royce of pill bugs.
The animation details the look of each community in Kumandra that Raya visits. They are named for a part of a dragon and are portrayed very differently. When she gets to her last stop, Fang, Raya meets resistance battling 2 more strong females. Virana (Sarah Oh) and her combative daughter, Namaari (Gemma Chan). There is plenty of action with their martial arts fighting and choreography that rivals any live action battle, swords and all.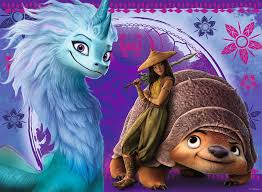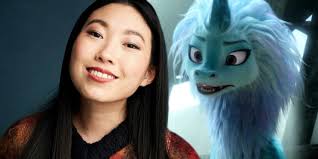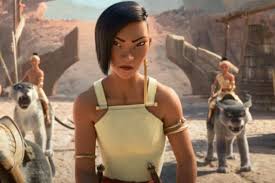 Awkwafina is the voice of the last dragon, Sisu. We expect a broader character from the stand up comic, but not here. As Sisu, she is toned down and more like her character in The Farewell. Here, she is soft-spoken, somewhat meek and sleek with beautifully animated soft, flowing hair. When the dragons appear, their fluid turns and twists create movements of a lovely ballet. The animation is exceptional and mesmerizing. Kelly Marie Tran and Awkwafina play off each other naturally in this well-paced, colorful feature.
Without trying to out Pixar Pixar, this film is one of Disney Animation's better efforts visually, presenting a vividly imagined, action-filled magical story with a message. You'd have to have a heart of stone not to love this one. 
Walt Disney Pictures, Walt Disney Animation Studios  1 hour 48 minutes PG. 
In theaters and Disney+
The post Raya and the Last Dragon first appeared on Movies and Shakers.
from Movies and Shakers https://ift.tt/3bZxcCM