The World to Come Movies and Shakers February 26, 2021
This period female romance, set in rural 1800's upstate New York, is sour and dour, despite the earnest performances of the actors who play two couples with marital problems. Despite the great cast, director Mona Fastvold (The Mustang) creates less than picturesque settings for the uncomfortable lives of these people and for us as an audience. It is based on a short story by Jim Shepard published in 2017. We screened the film at this year's Sundance.  
Dutiful, calm, but bored wife, Abigail (Katherine Waterston- Fantastic Beasts films) finds friendship with the flamboyant Tallie (Vanessa Kirby –Pieces of a Woman). Abigail and her farmer husband, Dyer (Casey Affleck-Manchester by the Sea) ) are trying to recover from the tragedy of losing their young daughter to sickness. Abigail is quiet. Dyer is distant. They have stopped connecting at all levels.  
But once the exuberant Tallie and her abusive, brow beating husband, Finney (Christopher Abbott – Black Bear) come into their lives, the wives find a bond. Tallie is an exciting breath of fresh air in juxtaposition to the placid Abigail. Their growing friendship provides more satisfaction and intimacy than their husbands.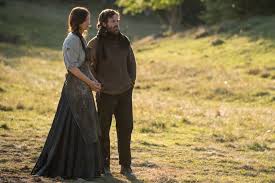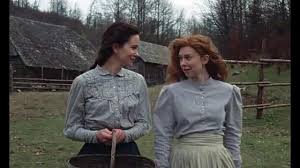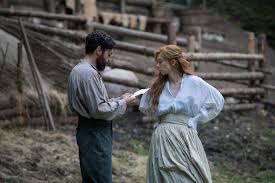 Dyer is sensitive and is trying to be a good husband, but Finney is a brute. He is the husband from Hell. Abbott almost plays the part too well. When on the scene, he is condescending and hateful. You just wish he would go away. 
There are many long, slowly paced scenes with little dialogue and even less action. Closeups hang on faces with little expression. Long wide shots of the less than interesting terrain include Tallie seemingly walking forever up a path to visit Abigail. Kirby, as Tallie, was originally supposed to play a dynamo who would fly through the door and make big entrances in juxtaposition to Abigail's more calm demeanor. 
Fastvold had to change directing Kirby when she broke her ankle on the first day of shooting and had to be "lugged" around along with the equipment. Her movement had to be scaled down significantly which the actress and the director took to advantage, putting Tallie in a position power over Abigail in every scene. Abigail had to revolve around Tallie who remained stationary. In reality, this felt more like a filmed theater performance. While we sympathize with the limitations due to Ms. Kirby's injury, we don't think this technique brought any more power to Tallie's character. We think the development of their relationship could have used more activity.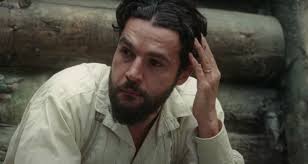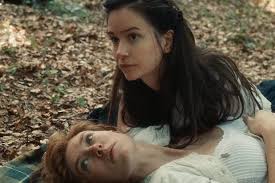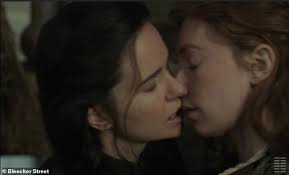 The only exception are the scenes where the two women finally give in to their passion for each other bursting with sexual release. It finally adds some life to the film, and reminds us of the even more graphic scenes in Ammonite, between Kate Winslet and Saoirse Ronan. Both films show women who are pent up and find a common bond after getting to know each other enough to finally unleash their emotions. 
Unfortunately, the story goes from ecstasy to horrible tragedy. It's disturbing, depressing and heartbreaking. This film shows the hardships these couples had to face in 1800's rural America. But with an abundance of talent, this slow-paced film with drawn out scenes creates a world we're glad has passed.
Bleecker Street      1 hour 45 minutes               R 
In select theaters now and On Demand March 6th 
The post The World to Come first appeared on Movies and Shakers.
from Movies and Shakers https://ift.tt/3aVckNB