Originally posted December 3rd, 2020
Frances McDormand proves, once again, that she is the master of stoic characters whose study of life's challenges is subtle, but evident, on her face. This film is a treatise on the economy, aging, family, friendship, health care, and self identity. Chloé Zhao makes the deliberately slow film a sometimes awkward and painful portrait of a widow, Fern, who is forced to make a new life for herself after losing her job after the 2008 recession. 
Zhao does so effectively, incorporating setting and situation using real people, for the most part, instead of professional actors. This is not Chloé Zhao's first film, but builds on the skills she has developed in her previous work. Hard to believe that the writer/director grew up in Beijing, went to boarding school in England by choice, and studied film in New York City when she so aptly portrays the wilds of the Western US in Nevada as if she lived there herself.
Zhao's Director of Photography on this and her previous films (Songs My Brother Taught Me, and The Rider) is her real life partner, Joshua James Richards. Together they portray the reality of the landscape of Nevada as well as the personalities of the people This film could have been positioned in America today, during the COVID pandemic where restaurants and businesses are closing giving owners and employees no safety net.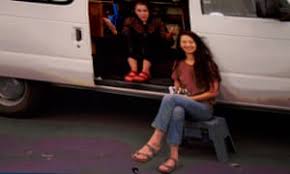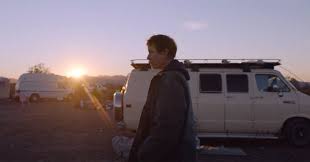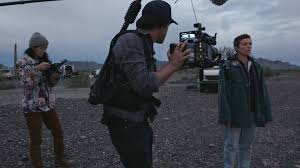 McDormand, as Fern, is a widow who has lost her job in a town where everyone worked at a Gypsum factory in Empire, Nevada. It closed down when the sheetrock business collapsed. The first scenes have her cleaning out her storage shed. Then she gets into her rickety old van which is now her home, freeing her to wander. Fern seems ready, with a bit of trepidation, to get rid of all of the stuff she won't need on the road and start her adventure as a modern day nomad. 
McDormand read the book Nomadland: Surviving America in the Twenty-First Century by Jessica Bruder and brought it to Zhao after seeing the director's acclaimed The Rider, about a bronco buster. She believed the director could capture the reality facing a contemporary nomad in the West. McDormand, also producer, wanted a detailed portrait of a 70-something Baby Boomer who had not achieved the American dream of a secure retirement. The actress gets to explore the role just as Fern had to learning from other Nomads, how to live on the road. 
She takes a job working at an Amazon warehouse which makes her look like an ant in a gigantic room filled like a Rubik's cube of conveyer belts. Not exactly her dream job. On the road, she meets people, who, like her, have found themselves hitting the highway to exist in a life of flea markets, bartering and trading for their needs and wants, and for temporary friendship. That's how she meets Swankie and Linda May, their real names. 
Fern is standoffish and awkward when she meets real nomads.  Zhao studied these characters rewriting dialogue on the fly. Linda is sweet and helpful, Swankie is a crusty one. Zhao handles their developing friendship which changes as they meet, go separate ways and meet up on the road again. The scene where many gather and celebrate together is one of the few uplifting scenes in the film. The most tragic is when tragedy strikes regarding possessions she was keeping aside for sentimental reasons. It's heartbreaking.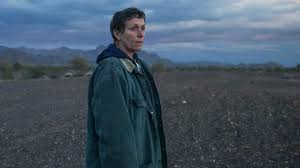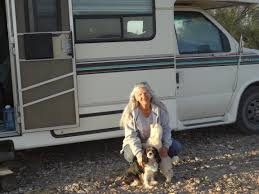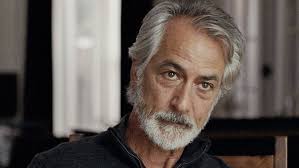 The stark setting is offset by the relationships Fern develops on her journey. Including one with a man named David, (David Straithairn) who takes an interest in her, but is ultimately rebuffed. She had to learn to be resourceful, when to give and take and who she could trust. It's a scary process. In the end, she has to lean on family to survive.
The film moves at a glacier's place, but every line in McDormand's weathered face intimates what's beneath the surface. Much like Fern's life, your patience is not rewarded with a huge satisfying ending. This is the kind of in-depth character study McDormand does so well and her performance is more rewarding than the film. 
Searchlight Pictures 1 hour 48 minutes      R
In Select Theaters       Streaming on HULU, Disney + and ESPN
The post Nomadland first appeared on Movies and Shakers.
from Movies and Shakers https://ift.tt/37yXlpH