This Disney film surprises and mostly delights veering off the well-worn path of simple kid flicks into a furry, funny, squirrelly superhero quest. Flora Buckman, played by Matilda Lawler is at turns cute, yet cynical. Lawler is able to be both precocious and warm-hearted while obsessed with superheroes and the art and stories she reads in the world of comic books. She also possesses eyebrows that might be the envy of any Frida Kahlo fan. 
The star of the tale is Ulysses, the computer animated superhero squirrel who's real job is to teach his human compatriots how to be better people. This original film offering from Disney+ is made for little ones, but has some quick hit jokes and sight gags to keep the older audience engaged as well. If you think driving a stick shift Nissan compact constitutes "sports car," you might not enjoy all the humor.
Director Lena Khan creates a world that still has room for good people and good hearts. Screenwriter Brad Copeland sets a tone that allows for magic powers to exist in close proximity to everyday life.
Based on the novel of the same name by Kate DiCamillo,  we follow 10-year-old Flora living out the fantasies she loves to read about in her favorite comic books. Her eternal optimism is being challenged by real world worries, but she soldiers on always hoping to make things better.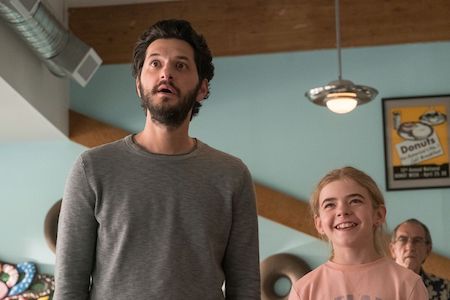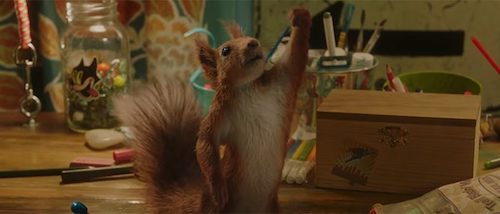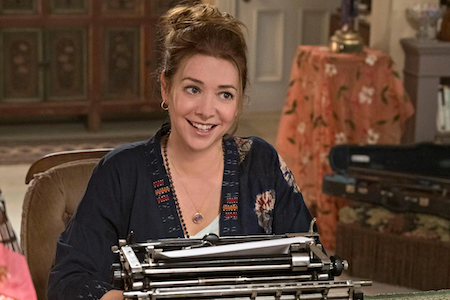 Flora comes by her cynicism rightly. Her parents, both creative types, George (Ben Schwartz) and Phyllis (Alyson Hannigan) feel they are at dead ends both career and marriage-wise. Phyllis, a prolific Romance novelist has writers' block. Her big award statue, the "Jack and Rose" prize (think the lovers from hit movie Titanic) sitting next to her on the desk, only seems to mock her current state of affairs.  George creates comic books (no surprise here), but can't get his work into print and is giving up on his dreams. The toll on the marriage is too great and even though they still love each other, they have separated. Of course Flora is the ultimate victim of this upheaval which explains her caustic attitude.
Ulysses enters the story on the verge of death, having been sucked up by a rogue Roomba- type robot vacuum. Flora's bond with her tiny rodent buddy is immediate and Ulysses begins showing signs of possessing unique powers. Was his near-death vacuum asphyxiation a trigger? The CGI work creating the squirrel is as good as any from the Disney animation department. There are other CGI animal characters, like an evil cat, but none are as real as Ulysses.
Flora's typically vanilla suburban neighborhood conveniently includes a treehouse in her backyard for a hideout. One nice addition, however is new neighbor William (Benjamin Evan Ainsworth) who recently lost his eyesight to "hysterical blindness" and has family issues of his own. 
There's always a villain. In this case it's the mean game warden Miller (Danny Pudi) who can't abide a potentially rabid animal living in close proximity to humans. Even though at times he overplays his part, Miller's motivation is actually understandable.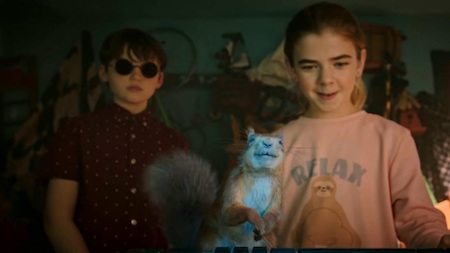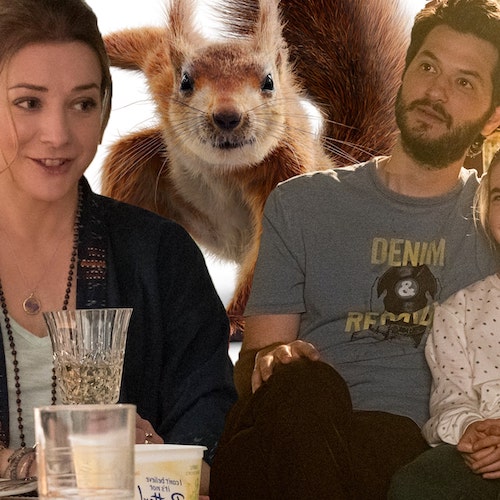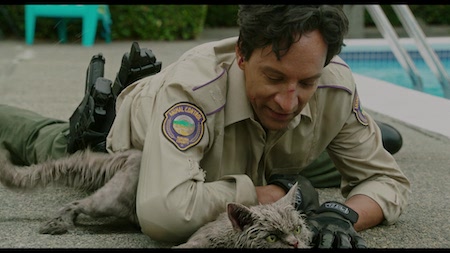 Flora believes everyone is here for a purpose. If you can find it, happiness will surely follow. That includes a squirrel as well, who happens to be able to write poetry, as well as fly! These are the lessons that Copeland's script and Khan's direction lead us on the path to eventual success. 
In contrast to the usual Disney formula, the pain Flora suffers is not from losing one parent, but losing both and her family unit. This script allows Flora to face that prospect and the pain. William and his blindness are more than a device. There are underlying factors that allow him to be more than just the comic sidekick. Flora and her remarkable super squirrel help him heal as well. Besides being a well constructed visually bright piece, Flora & Ulysses takes the superhero story down a more empathetic path. 
Flora found her purpose with the help of a brilliant little rodent, but the film shows the rest of us can find our own magic within. The true power in this movie is not just in the heroes, but in power to reach out to help, to understand and to love. We need to be open to embrace the moment and leave that cynicism at the door.     
Walt Disney Pictures           1 Hour 35 Minutes               PG
Streaming on Disney+
The post Flora and Ulysses first appeared on Movies and Shakers.
from Movies and Shakers https://ift.tt/3seXSWv