Director Shaka King reaps riveting performances from Daniel Kaluuya and LaKeith Stanfield in this film about racial persecution and tension in 1969 that resonates today. Kaluuya is in the zone channeling Black Panther Fred Hampton's ability to energize and unite with his prose. Stanfield gives the story from a different point of view as the conflicted FBI informant William O'Neal whose loyalties are put to the test. He plays a man so torn between his allegiances, you don't know whether to feel sorry for him or hate him.
And in the middle of this urban revolution, King deftly handles the poignant and painful, yet tender love story of Hampton and Deborah Johnson played with such calm and inner strength by Dominique Fishback. She is quietly engaging and Fred is smitten. King shows how Johnson was captivated by Fred and he with her. Deborah was his muse, gently suggesting how he could use his words more effectively.
The scene where she reads her poetry to Fred shows the deep emotion and respect they had for each other. Fishback met with Johnson, now known as Mother Akua Njeri, but personally wrote her own poetry that you see in the film. Johnson was 8 months pregnant with Fred  Jr. when he was assassinated in that bloody FBI raid in the middle of the night. She delivered their son just one month after Fred's assassination. 
Mother Akua and Chairman Fred Jr. are still carrying on Fred's work with the Black Panther Cubs in Chicago and are credited as Cultural Consultants on the film. King was brought the project by Ryan Coogler (Black Panther) and enlisted Will Berson to co-write the screenplay.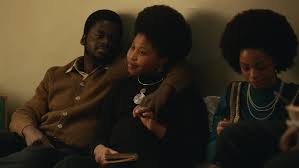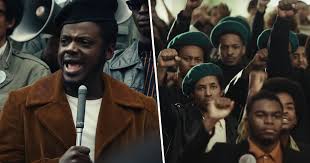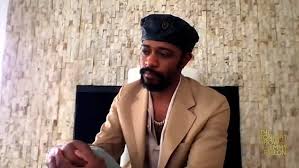 We interviewed Kaluuya, Stanfield and Chairman Fred Jr., now head of Black Panther Cubs, about their meeting at Fred's childhood home in Chicago before making the film. They had been offered books, movies and TV shows for decades, but this is the first project that got the family's approval. Chairman Fred Jr. told us that the family appreciated  the "truth" in the approach to making this film. We actually interviewed Deborah Johnson, (now Mother Akua), in her Chicago apartment and with Chairman Fred Jr. when he was 5 years old for a Chicago newspaper story that also aired on CBS Chicago's WBBM-TV news.
Kaluuya is striking as the charismatic Fred Hampton who was a poetic and powerful leader. Kaluuya, who is British, worked with a dialect coach and even a voice coach to get Hampton's Chicago accent and lyrical cadence for the speeches to flow as Hampton's did. He also bulked up. Kaluuya doesn't have the pronounced dimples the handsome Black Panther leader had, but the actor had definitely captured Fred's charismatic aura. 
The actor praises how King filled the church with energized crowds at the welcome back rally that helped him lose himself in the role.The scene is electric as the camera follows Kaluuya up the stairs after Fred's let out of jail to cheers from a  packed hall of followers. Kaluuya was losing his voice at that point and still doesn't remember how he got through yelling, "I am a Revolutionary" interacting with the crowd, calling for the drum beat in the background and his speech. He deftly reenacts this 20-year-old, misunderstood, intellectual leader who put the People first and was an effective dealmaker crossing boundaries to gain support to work against the establishment alongside Black, Latino, White neighborhood groups and gangs.
Lakeith Stanfield plays the most conflicted character in this historical drama. As William O'Neal he was a thief and a hustler who got in trouble with the law and then was coerced by the FBI to be an informant. This is how he could stay out of jail and make money in the process. Stanfield plays on edge most of the film, and told us in our interview that those emotions were real. He was nervous about creating a character between a rock and a hard place, facing jail time if he didn't help the FBI.
Stanfield's performance is so high intensity, he told us that he became actually physically and mentally ill, especially before shooting the scene leading up to the raid. He also revealed, becoming emotional in our interview, that it was worse because his brother was shot and killed by another brother during the filming.
Hampton was set up by O'Neal under pressure from agent Roy Mitchell (Jesse Plemons) following orders using payoffs and wiretaps ordered by FBI head honcho, J. Edgar Hoover played by Martin Sheen. Hoover was portrayed as the most despicable evil racist who threatened everybody, including Mitchell's family in the most intimidating scene. Sheen's make up doesn't come close to looking like Hoover, but his chilling threats more than make up for it.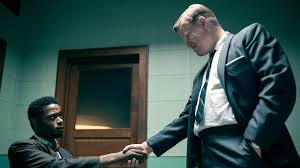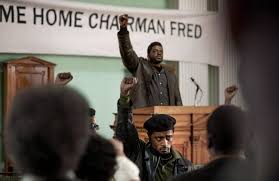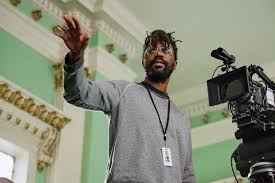 This film is important and enlightening because it depicts the same urban racial injustice in 1969, that still resonates. The movement may have changed from Power to the People to Black Lives Matter, but segregated cities are dealing with the same prejudice and lack of services they were fighting for in 1969. The Black Panther party was considered violent, with guns, and the police, called "the Pigs" at that time, used guns against them as well. 
The soundtrack to the movie is subtitled "The Inspired Album" because of all of the Black artists represented in the cuts. The theme is "Where There's People, There's Power" and there's music from across the spectrum of Black Music including H.E.R, Jay-Z, Hit Boy, Nas, SiR, even Chairman Fred Hampton Jr. 
This film is 50 years in the making. Not only does this finally show what the Black Panthers were really about, but also their community activism to provide programs promised that have still not been implemented by government agencies. It graphically depicts the racism in Chicago that is still relevant and prevalent in American cities today. No better time to release it than now.
Warner Bros.            2 Hours 6 Minutes              R
HBOMAX
The post Judas and the Black Messiah first appeared on Movies and Shakers.
from Movies and Shakers https://ift.tt/376F3wO