I first saw Pieces of a Woman at the Toronto International Film Festival and instantly loved it. The film struck me as a perfect depiction of a grieving woman (played by Vanessa Kirby), who is dismissed and ignored in the aftermath of a very important life event. The woman, whose name is Martha, has a home birth, as planned, but things go badly pretty fast as well. Although the real problem is her inept husband Sean, played by Shia LeBeouf. In addition to botching a call for help, this man-baby punishes Martha for concentrating on her own grief. Martha's mother Elizabeth, played by Ellen Burstyn, is worse. She spends the time dismissing her daughter's pleas to stop pursuing a case against the midwife Eva (played by Molly Parker), instead of helping Martha grieve her loss.
Pieces of a Woman is ultimately a story of loss and how the burden of everyone else's grief tends to fall on the mother at a moment when she needs it the least. The film really creates a space where the grief, loss, and the loss of an infant can be explored. The performances are great and are essential in making this film a bit more than your average grief exploration. Here are 10 thoughts I had while watching the film, which can give the audience an idea of what to expect when viewing.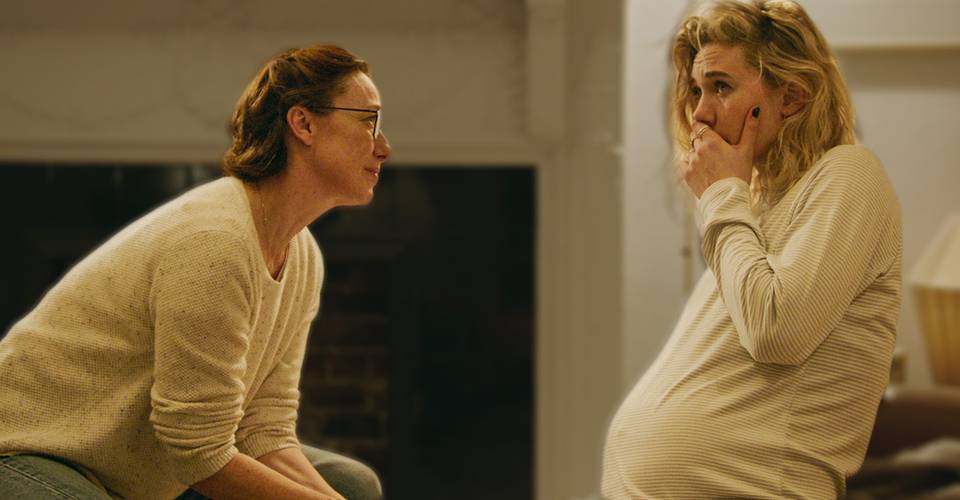 Red is Symbolic in this Film
Although the color red is in most of the scenes in the film, none of the red is as brilliant as Martha's coat during that entire first day of work, after the birth event. Her lipstick is burgundy, the apples a muted type of red, the red hair of the nosey friend of her mother is more purple than red. But, when Martha is steeling herself to go work, she is in that bright red coat. The other instance of brilliant red is when Martha and Sean talk about his sobriety. They get, stopped at a red light and the right red is reflected on both their faces in this tense moment.
Red is the Symbol of Martha's Grief
The color red in theses spaces and similar ones throughout the film, seem to demote moments of high emotional energy. When Martha is struggling to keep herself calm and cool against Sean's frustrating outbursts, or to wade through the nosey coworkers who stare. Meanwhile, we are reminded that Martha was not that long away from the birth. She still wears the signature disposable underwear wear of the postpartum time. The color leaps off the screen like a stop sign to viewers. As if to say, "Take note of this moment." In doing so, we discover a bit more about Martha's character and her resolve.
Sean the Man-Baby
Sean never asks how Martha is doing throughout the film. He is always self-conscious of the many ways that he is being ignored. In one scene, Martha comes home from her first day at work and the first thing she does is to put frozen veggies on her milk engorged breasts. This happens has as Sean is melting down about Martha's decision to give the baby's body up for scientific experimentation. He's also in cahoots with her mother. They both does not want the baby's body being donated for science. Sean cries because he is obsessing about the baby's place in the afterlife. He has a tantrum, as Martha stands there trying to dry up the milk that would never nourish her baby. And, remember, she is still bleeding from the birth of a child who did not live.
The Intimacy is Gone Dude, Move On…And He Did
There is a cringe scene a few months later where Sean tries to make Martha have sex with him. It is sexual assault.  She is obviously does not want it but gives in after weeks of watching the guilt trip performance. Sean is reckless and breaking things while attempting intimacy. Trying to force his kisses on her as he basically attacks. After a while, he gets mad and storms out. Why? Martha wants to stop and take a minute to get undressed. He storms out and goes to cry. This is a hot mess and still, he is not acknowledging her grief.
A Broken Marriage
Their marriage breaks. He is back on drugs and she is trying to grow trees. She is also partying and kissing another man. He is sleeping with the attorney and doing cocaine with the woman. Is this Martha's cousin?
Not Her Fight, But She Does
The case is happening without Martha input from her as it's run by Elizabeth and Sean. Martha has said several times and in different ways that she does not want to prosecute the woman or take her to civil court. However, the two people who are supposed to be protecting her at this time are actually pushing a vendetta she wants no part of it. Martha sees the case on the TV and is updated by mom and Sean. It's as if it is happening in another world that has no effect on her. We see later that she does empathize with Eva, in a twist for the case and the story.
Martha's Thoughts are On Healing and Rebirth
She is trying to heal by gardening, planting seeds. She is also doing something meaningful with her baby's body by giving it up for science. She works, taking her mind off things. However, there is always Sean at home, her mother hounding her. This makes the healing so much harder to accomplish.
A Cold Heart or Just a Broken One
Martha does come off as cold. She seems like a person who is callous with her mother and husband when they needed to lean on someone. If you step back and ask yourself who the true victim is, the answer is clear. Only then does the petty, immaturity, and selfishness of Martha's family come through. The are the evil ones here.
The Family Dinner Hour is Toxic
Finally, at the family dinner, things are revealed. Martha tells about being stopped by mom's friends. Mom, Elizabeth explains that Martha is just not grieving like people feel she should grieve. They think Martha is stuck. In reality, Martha is traversing through the stages of grief while in her own way–that's with a toxic baby-man to deal with who throws regular tantrums. Elizabeth wants justice and Martha does not.
Everyone Brings Baggage to Martha's
Elizabeth finally tells a heart-wrenching story of her own survival as an infant. This story seems to be the backbone of her existence, but it rings like a tale told to a child to cheer them up after disappointment. We now see that Martha's mom has baggage pushing her to pursue the case, and Sean has his addiction and other baggage pursuing him. Their baggage is not her problem, but she looks selfish in trying to preserve and protect her own grief from their destruction.
The Orchard in Spring
Is that her baby? Is this years later? An imagined future perhaps, to give us and her the happy ending we all wanted?
What did you think of the film?
Tell us in the comments.
Pieces of a Woman streams on Netflix.
Rating 3.5 of 5 stars
The post 10 Thoughts I had While Watching 'Pieces of a Woman' on Netflix appeared first on The Black Cape Magazine.
from The Black Cape Magazine https://ift.tt/362y33A
via IFTTT