This is such a departure for Marvel Studios that it may take a few episodes to settle into the excruciatingly slow pace of this unique, funny, weird trip into sitcom TV History. This is not your garden variety super hero show.
Elizabeth Olsen and Paul Bettany return as their MCU characters, Wanda Maximoff/Scarlet Witch and synthezoid Vision inhabiting an off-kilter suburban world. The opening title transforms into a black and white replica of the iconic I Love Lucy logo and head writer Jac Schaeffer and director Matt Shakman (Game of Thrones) set each new episode in a separate historic TV sitcom environment. 
The premiere is set in a black and white 1950's era reminiscent of Lucy, Bewitched, I Dream of Jeannie and even to The Mary Tyler Moore Show. There are indications that there will even be chapter referencing Elizabeth Olsen's sisters own sitcom roots with a tribute to Full House.
Elizabeth Olsen embodies the TV sitcom vibe with delightful aplomb with the cheery disposition and wide eyed innocence of a Lucille Ball or Mary Tyler Moore. Paul Bettany gets to display his comedic chops during the third episode (critics were granted the first three for review purposes) involving a stick of chewing gum that lets him go full on slapstick. The scene when Wanda and Vision host Vision's boss and his wife for dinner is classic. The miscommunication between Wanda and Vision causes her to greet their guests wearing lingerie.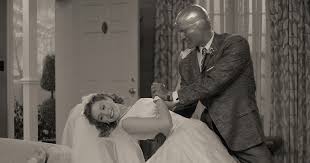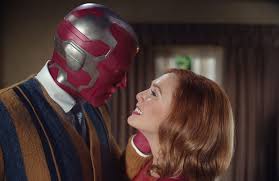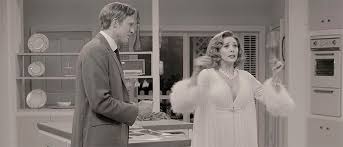 But behind all the canned studio laugh tracks there is a growing sensation that something ominous is working up to the surface. There's also a whiff of The Twilight Zone lurking through the evolving plot. We're looking forward to learning how and why they ended up in this beloved retro TV-based world in the first place. Christophe Beck's perky, upbeat music and stingers opening and ending sections of the story add to the authentic recreation of the shows sitcom homage.
Wanda and Vision hide their powers as they just want to fit in with their neighbors and co-workers. They don't completely understand the world they find themselves in. But the parody and satire inherent in their small-talk and the separate twin beds is just saccharine enough. The best side player so far is their nosy next door neighbor, Agnes,  played with wide gins and snarky asides by quirky comedian Kathryn Hahn. Endearingly obnoxious, she is prying and trying too hard to help Wanda adjust. You know there's got to be more to her than meets the eye. 
No Marvel piece of work is complete without great special effects and that's true here. Wanda's telekinetic superpowers are on full display in the kitchen with every utensil flying into action to make dinner in a flash. And Vision's Artificial Intelligent, vibranium covered form is powered by the Mind Stone, that was ripped from him by Thanos in Avengers:Endgame. He's just trying to understand how humans work. Without knowing why he's doing it, he still out performs his mind-numbing office job.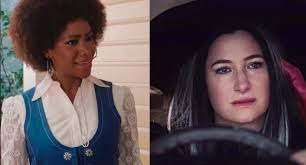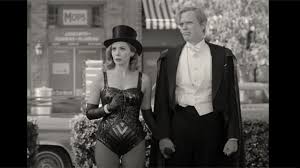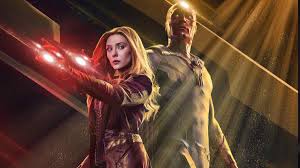 Slowly, Shakman begins to reveal the underlying dread seeping into this idealized community through a little warble in the music or a momentary break in the video. There are other clues that this plot is eventually headed out of sitcom-land, a la The Truman Show. Shakman points out the misogyny of the 50's and 60' and then breaks the ultimate casting rule of that era by making Wanda's newest neighbor and pal a woman of color, Geraldine (Teyonah Parris). She has ominous secrets too.
The Mandalorian, essentially an episodic gun-slinger Western, is well suited for stand alone viewing, but this multi-layered, slow reveal may be too laborious to sustain the casual viewer. It's camp and fun plus much needed escapism for our current times. Marvel fans will enjoy looking for the chestnuts in the script pointing toward the ultimate super hero mission for Wanda and Vision. 
The Disney+ decision to roll out the series with weekly installments instead of dropping the entire season to binge watch may affect whether or not to keep coming back. We think you should, to find what happens next. 
Disney+/Marvel Studios    9 Episodes           TV-PG
The post WandaVision first appeared on Movies and Shakers.
from Movies and Shakers https://ift.tt/38KWswi