Even though this is a fictional account of the night four African American icons actually got together for a celebration in 1964, it is the recreation of an insightful and intense discussion relevant to activism and racial injustice today. This film takes them off the pedestal showing their vulnerability as well as their strength and influence. 
Writer Kemp Powers is flexing his artistry with not one, but two noteworthy films out at the same time. The journalist turned play and screenwriter wrote One Night in Miami and also-wrote Disney/Pixar's Soul. Both being considered for awards this year. 
Director Regina King (Best Supporting Actress Academy Award Winner for If Beale Street Could Talk" and star of Watchmen) now has the distinction of being the first African American female director of a film that premiered at the Venice Film Festival. Powers credits King with taking his theatrical work and he says that adding her touch to this male driven film made it better. King even added scenes, including one with Malcolm X and his daughter showing his softer side.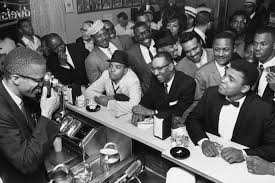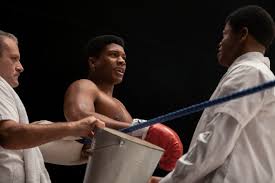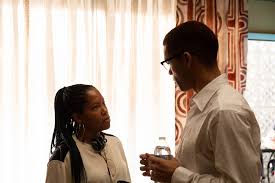 One Night in Miami is based on Powers' 2013 play which he wrote after reading Mike Marqusee's book, "Redemption Song: Muhammad Ali and the Spirit of the Sixties." It crosses civil rights with sports and inspired him to write about what might have been discussed if Cassius Clay (on the cusp of becoming Muhammad Ali) Malcolm X, Football's Jim Brown and popular crooner, Sam Cooke, ended up in a motel room together. They are in Miami for Clay's heavyweight championship fight against the favorited Sonny Liston. Because of Clay's unexpected win, there was no planned celebration. 
Here, the four men end up in a motel room discussing, sometimes heatedly, what their role is in Dr. Martin Luther King's Civil Rights movement. Malcolm X (British actor Kingsley Ben-Adir – Peaky Blinders, The OA, The Comey Rule) is in the midst of re-thinking his role and challenges the other 3 to do the same. This is where Malcolm X is trying to get Clay to join him in the Nation of Islam and is leading the men in serious conversation about themselves, their celebrity and the state of race in America. 
Eli Goree, (Riverdale, Ballers) as Ali, went after the part and shows himself to be as confident, charming, funny and witty as The Champ himself. It didn't hurt that the actor had been boxing for years and had the muscle to back it all up. But his pugilistic style was not to float like a butterfly as Ali did. He had to learn to dance more and he pulls it off. 
Leslie Odom, Jr. (Tony and Grammy winner for Hamilton) plays Sam Cooke, the singer they accuse of tempering his style for White audiences. "You're a monkey dancing for an organ grinder to them." Cooke disagrees and heated arguments continue. Odom was the first choice to play Cooke, but his schedule in Hamilton almost got in the way. Somehow, it all worked out. Two of Cooke's songs, heard in the film, sound like they used original recordings . But Odom actually recorded them himself. Malcolm X did have some influence on Cooke's music. He wrote a song called "A Change is Gonna Come" and when he died, there was a National of Islam newspaper in his car and a copy of the "Muhammad Speaks" book.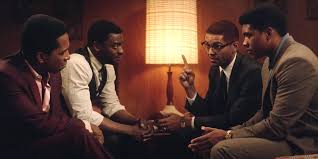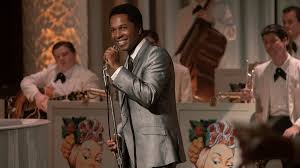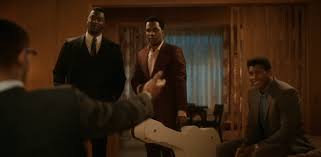 Aldis Hodge plays football great, Jim Brown. He was also in the Malcolm X movie in 1992. For this role, Hodge bulked up and had padding put inside his mouth to fill out his cheeks to look more like Brown. He exudes the intelligence and quiet power of the man who listens intently to the serious discussion with the other men. At one point he takes a break and goes into the bathroom, looking into the mirror to reflect on his own purpose in a dramatic scene. Brown is known to have used his celebrity to help create economic opportunities in Black communities. He also made the transition from athlete to actor opening up opportunities in the 60's and 70's for actors of color. 
With the exception of the championship boxing match, the film is basically a theater piece taking place in that one motel room. Kemp Powers' script, good casting and performances along with King's directing keep your interest in a film that doesn't feel like a period piece at all. Regina King shines a bright light on these super luminaries who struggled with the same issues in 1964 still present today. Even though racial injustice and resistance to activism still exists, it will take more than One Night in Miami to change it.
Amazon Studios         1 hour 46 minutes        R
Amazon Prime
The post One Night in Miami first appeared on Movies and Shakers.
from Movies and Shakers https://ift.tt/3suEUfx