Herself
This is not just another film about domestic abuse. Kudos go to Director Phyllida Lloyd and Actress Clare Dunne for this empowering Irish drama about a woman fighting fervently to keep herself and her children safe. It spotlights the lack of resources for women trying to escape abuse, and the ability for a woman to be able to take charge of her own destiny. 
You may be turned off by the opening scene where Sandra (Clare Dunne) is being brutally beaten by her enraged husband, Gary (Ian Lloyd Anderson) with the children present as she desperately sends one of them to get help. It's a terrifying scene that will rock you to your core. But don't let it keep you from sticking with it.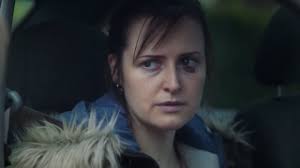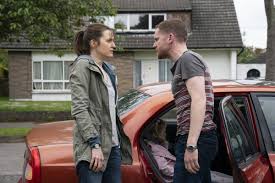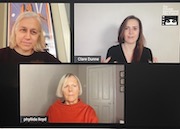 We've all heard stories about women being locked in such relationships because of fear of reprisal and having nowhere to go. In Q & A with Cinema/Chicago, Dunne said she was inspired to write her first screenplay, based on her best friend's story. She co-wrote it with Malcolm Campbell. Director Lloyd is a renowned theater and film director whose hits include "Tina: The Tina Turner Musical," Mamma Mia!" and "The Iron Lady." Dunne and Lloyd collaborated wanting the film to be empowering from the woman's point of view instead of making her a victim.
In this film, Lloyd depicts every legal hoop Sandra has to jump through during the young mother's frustrating journey to keep her ex from trying to gain custody. The scenes of her having to bring her two girls, played by Molly McCann and Ruby Rose O'Hara to her abuser for visitation show her filled with trepidation. She fears violent outbursts from the menacing Gary at the kids and at her. 
Working with a social worker, she has to account for everything she does to keep getting housing aid for the 3 of them. She works 2 jobs, at a bar and cleaning a retired doctor's house, to make ends meet and has to falsify on a form to keep the aid coming. Her frustration, exasperation and physical exhaustion are more than evident. 
Peggy, (Harriet Walter) is the doctor Sandra works for who has infirmities of her own. She is a widow with a daughter who visits, but Sandra is there for her more. When Peggy realizes what Sandra is going through, she offers her a piece of land to build her own house so she can prove in court that she can take care of her kids to get custody away from Gary. It's even more important because the kids are afraid of him too after witnessing his rage.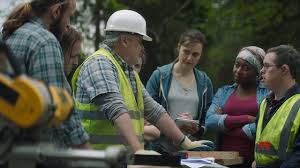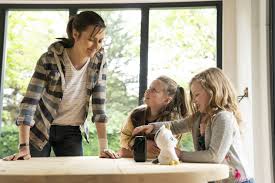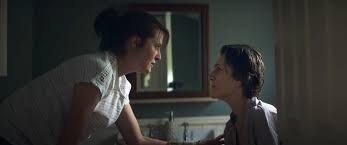 The tenor of the film becomes uplifting as the dream of owning her own house comes to be. There are realistic fits and starts, but Lloyd follows Sandra's progress, not only in building the house but in building relationships with those who help her build it. The film shines in these moments of comraderie and support. But that stops cold when her ex gets wind of what she's doing and hauls her into court.
The scene before the judge where Sandra is put on the spot and made to look guilty is gut wrenching.  But the speech she delivers after Dr. Peggy encouragement to be herself and just tell her truth is so powerful. That scene bares all.
For a first story and screenplay, Dunne accurately zeroes in on the pitfalls this woman has to handle. Lloyd structures the film so you can follow Sandra's journey step-by-step from the brutal beginning through her challenges, building a new life with some striking twists along the way. Dunne and Lloyd make this a movie with a message of empowerment for women like Sandra who may think they have no way out. Dunne's performance is desperate, believable and sincere. But in the process, this victim of domestic abuse regains her self-respect and finds Herself. Well done, Clare Dunne. 
Amazon Studios      1 hour 37 minutes        R
Amazon Prime 
The post Herself first appeared on Movies and Shakers.
from Movies and Shakers https://ift.tt/39ui6UP