Reviewed: Wonder Woman 1984
Top 5: Scenes of 2020
CinemaWAR: Which is the better DC scene- Wonder Woman / No Man's Land, or the opening heist from Dark Knight?
Trivia: Christin Wiig/Gal Gadot Movie Trivia
Sponsored by: Overcast
Finally, we are done with 2020! In advance of awards season, we take one last look back at what was a surprisingly decent year in film as we choose our Top 5 Movie Scenes of 2020.
Joining us is a guy who knows his movies, in fact, Leo is a Movie Guy!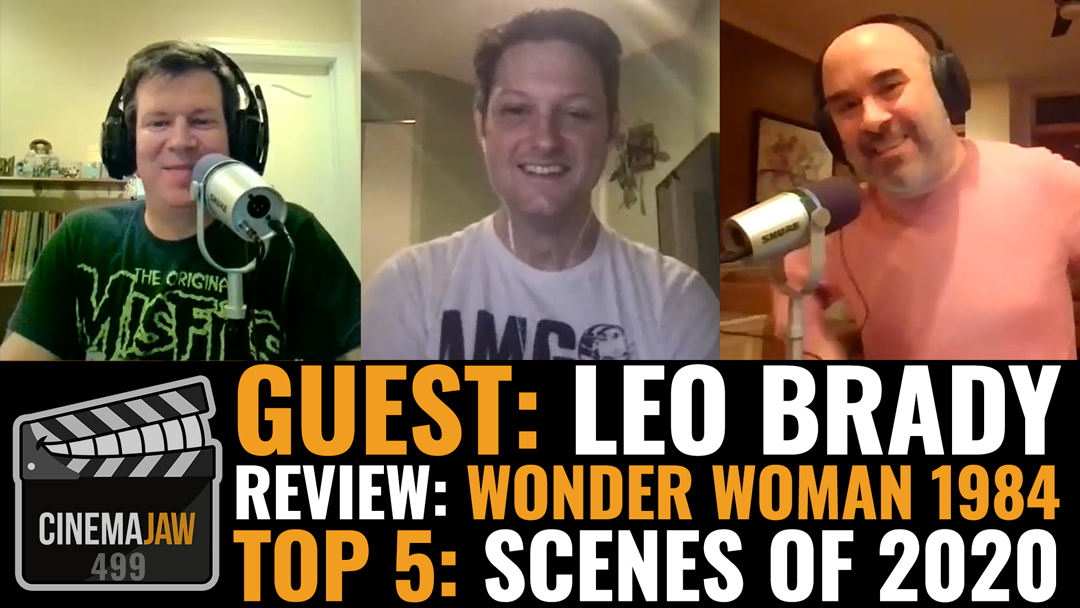 Hot off a brand new website, and branding refresh, Leo started AMovieGuy.com in 2010 as an online home for his film reviews, celebrity interviews, and YouTube videos. Inspired by the great Roger Ebert, Leo reviews a wide range of films at AMovieGuy.com, from big-budget blockbusters to independent films in need of an audience and everything in between. You might catch A Movie Guy haunting the red carpets and screening rooms at Film Festivals like the Chicago International Film Festival, South By Southwest, and Fantastic Fest just to name a few. He also likes to sit down with the Hollywood who's-who including interviews with industry luminaries like Ruby Rose, Michael Fassbender, and Louis Gossett Jr., and more!
In other words the perfect guest, the perfect fellow critic to help us put a cap on 2020, and use our rearview mirrors to pick out the gems.
So dig into your favorite activity to do while listening to podcasts, pop in those earbuds you got for the holidays, and listen in!
Matt:
5.) Following the DJ – Vast of Night
4.) Art Heist – Tenet
3.) The Dinner Scene – I'm Thinking of Ending Things
2.) The Escape – Extraction
1.) Rudy – Borat Subsequent Movie Film
Leo:
5.) Maggots – Collective
4.) Opening Sequence – The Invisible Man
3.) Ending Scene – Babyteeth
2.) The Questionaire – Never Rarely Sometimes Always
1.) Delroy's Monologue – Da 5 Bloods
Ry:
5.) Hell You Talmbout – American Utopia
4.) Songathon – Eurovision Song Contest: The Story of Fire Saga
3.) Tom Hardy in a diaper with a golden machine gun – Capone
2.) Past Experiences Monologue – Ma Rainey's Black Bottom
1.) The Ah-ha Moment – Tenet
Find Leo on all the socials
Facebook: https://ift.tt/3hJ0Z4Y
Twitter: https://twitter.com/LeosAMovieGuy
Isntagram: https://ift.tt/2XajYfy
Website: https://amovieguy.com/
from CinemaJaw https://ift.tt/3hIr4Bb
via IFTTT