Although based on his own personal story, Writer/Director Lee Isaac Chung strikes a universal theme in this poignant family story. A Korean immigrant working hard to provide the American dream for his family brings adversity, but greater understanding, love and respect for each other by the end.
Chung put together a cast to mirror the members of his own family when he was very young in the 1980's growing up on his father's farm in Arkansas. He has structured the film so you can live within each member's journey and understand what they go through.
Jacob, (Steven Yeun), is the head of the family who decided to relocate from California, to own his own land and farm, instead of working for someone else. He picks, of all places, rural Arkansas. Jacob, is played with conviction by Steve Yeun (The Walking Dead). He grew up in Michigan and it's interesting that Yeun started with improve comedy at Second City in Chicago to perform. But he didn't see many South Korean comics and went to Hollywood turning to drama instead. Within weeks, he was hired for The Walking Dead and the rest is history.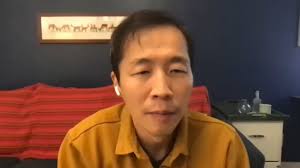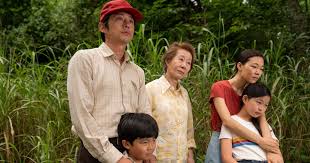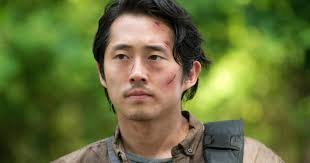 Yeun, as Jacob, is seething underneath, trying to make the right decisions for himself and his family. Honor is important to him. He is a proud man looking to find independence and success growing vegetables to sell to the growing Korean market in the South. Little did he know what that would take, including convincing his family to accept and acclimate to their new living situation. Their home now is a trailer up on blocks.
Jacob's wife, Monica, (Year Han) is quiet and stoic, completely confused why he would choose this life for them. Han plays reserved and restrained, trying to hold her frustration in. She is without her friends and family in the middle of nowhere. Their daughter, Anne, (Noel Cho) and the youngest, a son, David, (Alan Kim) both seem puzzled by the move but go along. Anne is there to help her Mom, but David, cute with dimples and cowboy boots, shows a lot of personality along with his growing pains. He's the spitfire of the group, always asking questions and testing limits.
When Jacob realizes how miserably lost his wife is without friends or family, he brings her mother to stay with them. She is really something. You hate her at first. But Grandma Soonja, (Youn Yuh-Jung), owns the screen from the first time you see her. Yuh-Jung is a standout. She imparts jewels of wisdom and seems to know Jacob's family better than he does. She is wise, but has no filter. Chung's dialogue lets her say whatever is on her mind, which is very refreshing. And the kids in the family love it! David is not sure of her at first, unhappy he has to share his bedroom with this old lady. They bicker like two children, but come to find they're more like bookends. Both are childlike and kind of on the same wave length.
Grandma brings fun and lightness to this tense household. She and David bond and she shows him how to plant Minari seeds she brought from Korea. Minari is a smelly Korean herb. Yuh-Jung disputes that people say it's a weed just because it can grow anywhere. She explains that it dies and then comes back even stronger which is prophetic, as it becomes an allegory to this family's struggle.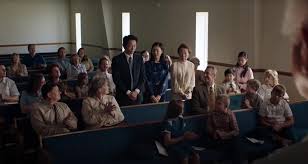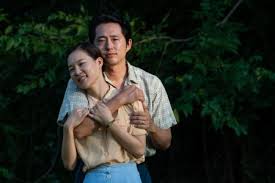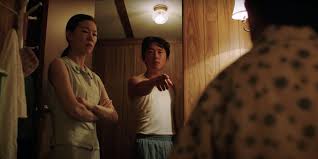 Jacob seeks help to find water and in the process meets religious zealot, Paul (Will Patton). He's an endearing character, in a very strange way. Monica was involved with her church in California and Paul suggests the whole family, Grandma included, attend the local church on Sunday. They're nervous, but the pastor and congregation are mostly welcoming. What's really awkward is seeing Paul re-enacting Jesus carrying a huge cross down the road every Sunday. He's weird, talks in tongues, but is a friendly presence who just wants to help.
There are multiple setbacks that test the marriage, the relationship with the grandmother and with all of the family members. Just when they think they are on the brink of success, Chung creates the most devastating, horrifying scene of survival. The director only had one shot at it and miraculously, it was done in one take.
Chung creates a film that draws us into this family's drama. They face big challenges, but the biggest one of all is to face the truth regarding their familial roles and relationships performed magnificently by this talented ensemble. It's a touching tale that spotlights more than the plight of an immigrant trying to achieve the American Dream. Chung's story follows the difficult journey of a family whose love is dying, but given the chance to bring it back stronger, just like the plant, Minari.
A24 1 hour 55 minutes PG-13
Limited release December, 2020. Wide release – February, 2021.
The post Minari first appeared on Movies and Shakers.
from Movies and Shakers https://ift.tt/3hEGINW