He's afraid of death. She's afraid of life. That's a lot for a kid to digest in an animated film, but kids and adults alike can find it with great jazz in Disney/Pixar's Soul.  Live life to the max, enjoying every moment, knowing it might end some day. That's the message told through a regular Joe, voiced by Jaime Foxx.
Writer/director, Pete Docter, explored the brain of a 9-year-old in Inside Out. Here, he and co-writer/director Kemp Powers and writer Mike Jones explore the soul, which is a bit more complicated. Adults should plan to go along for this ride. It's sure to prompt some good discussion. Know that the visuals are not as colorful as Inside Out or Coco. This film has a look all its own, but it's not as striking nor emotionally compelling. 
The film opens with the Disney logo and you expect a familiar theme song. Instead you get a school band with its share of cute clunkers making it totally relatable. You soon find out there's more to this story. 
African-American Powers started out as consultant on the project but Docter soon added him as co-writer and director for his input. They made the lead a middle class Black guy, Joe Gardner,  who lives to make music. Race is not an important factor in telling this story. Powers' influence is seen in the fact that Joe lives a regular middle class life. He's stuck teaching middle school band part-time to mostly disinterested students when all he really wants to do is play jazz piano.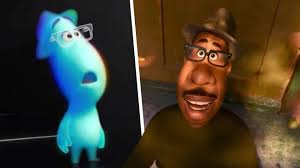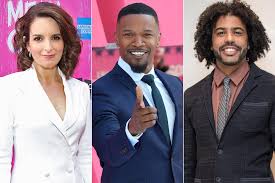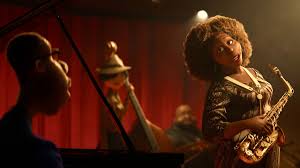 Joe's told to go full-time and give up on performing when his past student, Curly (Questlove) gets him a chance to audition for his idol, famous Jazz singer, Dorothea Williams (Angela Bassett voices). She is looking to replace the piano player for her group. She hires him on the spot to play that night! It's his big break, but it's cut short when he falls down a manhole! Next thing he knows, he's on the conveyor belt to the Great Beyond where he turns into a little blue animated figure, literally on his way out. But he's got to get to back to Earth, and fast! 
Joe rebels by jumping out of line, ending up in The Great Before. Jerry is the cubist stick-figure boss who thinks Joe is there to mentor new sparks. By helping them discover their passions and personalities they'll begin new lives on Earth. Joe needs to hitch a ride back there, where he came from, to get his body back so he can play his new gig! Then he meets 22 (Tina Fey) who has no interest in going to Earth to go through life's experiences because she thinks it's futile. You just die anyway.
She and Joe are on different wave lengths. Joe does his job as mentor and takes her to Earth to shows her why she needs an attitude adjustment. That's where the fun begins. 22 goes with Joe on a series of adventures that show her life can be worth living and it reminds him of the same. There are a lot of cute lines Tina Fey wrote for herself that enhance their adventure. 22 learns there's more to living than she thought.
The two emotional anchors for Joe are the barber shop where his regular barber is his sounding board/psycoanalyst. The scenes there show the close relationship they have. And the animation in the scene where Joe enters his Mom's tailor shop lets you know this is his special place. His Mom understands his relationship to music and where it all began. These two scenes are the most soul-stirring in the film.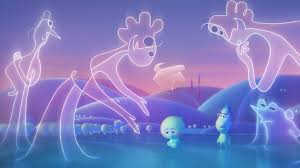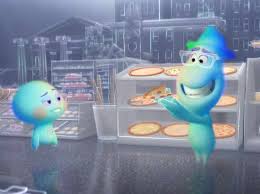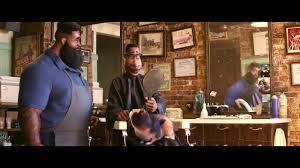 The music for the film is written, composed and performed by jazz stalwarts. The animation where the musicians are playing their instruments,  especially Joe playing the piano, is so synchronized, you can follow his fingers playing each and every note. Jon Batiste was responsible for all of the jazz composition and arrangements when Joe's on Earth. That includes Batiste's own arrangement and performance of Curtis Mayfield's "It's All Right." Trent Reznor and Atticus Ross created the score for the more ethereal scenes in The Great Before. But the soundtrack contains more songs and influence from Erika Badu, Herbie Hancock, Daveed Diggs and more.   
This film may contain the heftiest life lesson in a Disney/Pixar film that targets adults more than children. Even though this doesn't rank among the best of the studios' work, this still meets Pixar's high standards for storytelling, plucking those emotional heartstrings. Soul has plenty.
Disney + TV 1 hour 40 minutes    PG
On Disney+ December 25th
The post Soul first appeared on Movies and Shakers.
from Movies and Shakers https://ift.tt/37NkN3V