This dystopian vision of space in the near future, 2049, never quite connects. By the time Clooney's emotionless, world-weary character has his awakening, all the audience is left with is futile hollow emptiness. George Clooney's performance as this sick, sad, defeated genius is eminently watchable. George Clooney's 7th directorial effort presents an existential race to see who will die first, Clooney's character, a famous scientist Augustine Lofthouse, or Earth itself.
It was written by Mark L. Smith(Revenant) based on the 2016 book Good Morning Midnight by Lily Brooks-Dalton. As an actor, Clooney is no stranger to space thrillers having worked with Steven Soderbergh on Solaris and Alfonso Cuaron on Gravity. In this $100 million budget film, Clooney's Augustine is alone in the Arctic waiting for the end of the planet as the cataclysmic "event" that released the toxins killing all human life moves ever closer. Augustine is dying of cancer anyway, so he decided to stay behind and continue his chemo rather than evacuate. He's just done with it all.
Meanwhile a spaceship that is retuning to Earth after years of exploration around Jupiter has lost all contact with Mission Control. There are five crew members aboard the Aether. Pregnant Mission Specialist Sully, (Felicity Jones who really was pregnant), the baby's father and captain Adewhol (David Oyelowo). Jones wasn't pregnant when she was cast but when that changed, Clooney used it, adapting the story for her reality. He even had his set designers make an futuristic ultra-sound machine in one day to shoot the scenes in the film.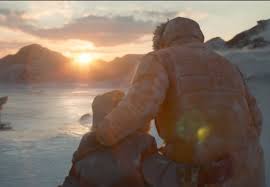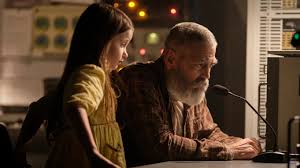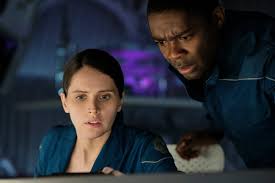 The ship's pilot is veteran space traveler and devoted family man Tom (Kyle Chandler). The  navigator is Tom's buddy Sanchez (Demián Bichir). They bring more personality and life to the story, especially Bichir. And there's young engineer Maya (Tiffany Boone) on her very first flight. When Augustine makes radio contact he has his mission: warn them to stay off Earth and head back to the habitable Jupiter moon. 
One of the better special effects Clooney includes in scenes aboard Aether are the holographic video messages and flashbacks of crew members with their family members at home. The crew members can sit among their friends and family reliving the messages over and over. 
Clooney took a 6-month crash course (no pun intended) on special effects to prepare for directing this film. They didn't all work to perfection. Especially the barrage of meteors that strike the ship. The animated meteors looked just like…cartoon meteors. The impact of the rocks with the ship's exterior sent shards of slo-mo glass into space that, frankly, look better in any number of video games you can see on a mobile phone. The special effects team redeems itself, however, in the death scene of one of the crew. it's a beautifully macabre scene seeing a human bleeding out  droplets in zero gravity.
Augustine assumes he's alone in his environment until he discovers a second cereal bowl, and the little girl (played by Caoilinn Springall) it belongs to. She doesn't speak, but she draws a picture of her name: Iris. She isn't interested in the dour, long grey-bearded Augustine, but she slowly warms, and so does he. Clooney's beard almost becomes a character itself and it's all his. 
The old man and the young girl really bond when they set out on a trip across the frozen terrain to get to a location with a stronger antenna so he can communicate with the spaceship. There are harrowing scenes in a wind-whipped blizzard, which actually happened as they were shooting in Iceland, a stalking wolf pack, and a plunge through the ice into frigid water. Any one of these events should have killed a healthy young man, yet an elderly cancer patient just deals with the chills. 
Another aspect of Clooney direction that left us a bit bewildered were the flashbacks to him as a young man, played by Ethan Peck (famous actor, Gregory's grandson) lip synching Clooney's voice and actual words. Clooney thought they had similar eyebrows. The younger Augustine's lifeless persona and his relationship with a woman who clearly loved him (played by Sophie Rundle) could never replace his dedication and passion for science. Those flashback scenes were boring and laborious telegraphing a predictable outcome.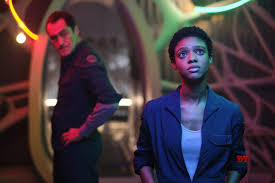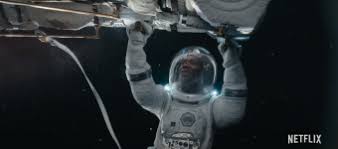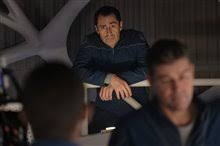 But the biggest disparity we see in this film is the disconnect between the earth-bound story and the events unfolding in space. There are long stretches when Clooney concentrates on one or the other and seemingly forgets he has another story to tell. Much of this film is quiet. Augustine's isolation and the silence of space are given their due, but Alexandre Desplat did compose music with the emotional punch the story was sorely missing.
George Clooney's performance as this sick, sad, defeated genius is eminently watchable. As the director, he gets good moments from each of his supporting cast, especially from young Caoilinn Springall, but ultimately it's the story and the effects that don't seem to carry this film. It just doesn't meld or flow. While it's not a bad movie, The Midnight Sky  doesn't quite light up the screen. As scary as being isolated in space can be, we don't have to wait for 2049 when reality today on Earth is even scarier.
Netflix             1 Hour 58 Minutes              PG-13
In Select Theaters now. On Netflix, December 23rd.
The post The Midnight Sky first appeared on Movies and Shakers.
from Movies and Shakers https://ift.tt/38J4g0r