Viola Davis is once again tapped to bring August Wilson's words to life as the gold-toothed Ma Rainey. Don't let her sad eyes fool you. Behind those eyes Davis imbues her Ma Rainey with a fierce resolve that takes command of every space she inhabits. All the more remarkable given this was the Jim Crow Era of the 1920's when racism and oppression were still codified in this country. And Chadwick Boseman gives his all in, sadly, his final stunning performance, going head to head with Davis in this film.
Melding theatre stagecraft and moviemaking is rarely as successful as this adaptation of August Wilson's 1982 play set on a night club stage or the Chicago recording studio where the story plays out. Director George C. Wolfe lets Wilson's words soar along with the Blues Ma Rainey belted out. 
Viola Davis is transformed sporting colorful but garish makeup, and prosthetics around her body to give her Ma's hefty stature. She literally throws her weight around to get exactly what she wants. There's no negotiation with Ma. When she wants a Coca Cola, you better run to get it and quick. Davis impressively downed the whole bottle in the first take.
Set in the bare rehearsal room and the recording space, Writer Ruben Santiago-Hudson introduces us to the band before Ma Rainey comes on the scene to lay down tracks for the record that will immortalize her voice. He lets each character deliver the monologues Wilson wrote for the stage play. Listening to Wilson's word craft offsets any hint at belabored or stilted delivery. It flows but takes a little effort to get into the rhythm of the language.
Chadwick Boseman plays cornet player, Levee, with all the passion and energy of his earlier portrayal of James Brown in Get On Up. Watching this movie you'll question, "Who is the real lead actor in this film?" Is it Chadwick Boseman or Viola Davis? He's in the spotlight along with Davis and is given more screen time and a fuller backstory than every other character. His Levee is both a sunny ray of sunshine and, at the same time, a tragic, damaged soul. What makes this even more poignant, is that this was Boseman's last performance before losing his secret battle with colon cancer way too soon at the age of 46.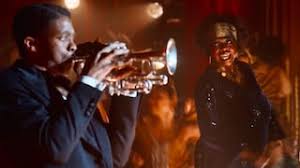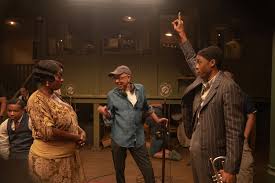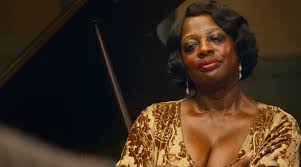 The band is supposed to rehearse the songs so the session will go quickly saving money for white producers. Sturdyvant and Irvin of the recording studio.  They know Ma Rainey's voice is a valuable commodity and will nervously do anything to placate her many demands. The studio musicians are anything but bit players. There's Cutler (Colman Domingo), the steady trombonist who just wants to make Ma happy. Pianist Toledo (Glynn Turman) is the eldest player who keep his whiskey flask close and bassist Slow Drag (Michel Potts) just wants to get the job done and collect a payday. 
But it's the flashy, brash young coronet player, Levee (Chadwick Boseman) who keeps everyone on edge and threatens to derail the whole session. Levee contends the record's white producer has promised to use his updated, more youthful arrangements. The rest of the band knows Ma Rainey will only sing Ma Rainey's version…period. Jazz and Blues aficionado, Branford Marsalis, is the music director who handles the music for the film so well.
The band fills the time waiting for Ma telling stories and doing some fun bickering back and forth. As time goes by, the accusations and stories lose levity and an air of dread begins to creep into the room after Levee reveals horrific details of his background that make him so driven.
This is where Wolfe's experience as a stage director is put to good use. The power of these scenes is how he allows the camera to linger on the actors as they speak the meaningful words. He uses deeply saturated hues, even in the mostly bare, well worn rehearsal room. This brings the audience closer to the characters, and more invested in who they are and what they know about working with Ma Rainey.
Vocalist Maxayn Lewis supplies the voice for all but one of Ma's numbers. Viola sings just one herself, but she definitely owns the character completely with her posturing and delivery. The splotchy makeup and the colorful costumes created by Ann Roth, add to Davis' combative attitude as she lumbers around the studio. She likes being naughty, authoritative and can be petty and vindictive. She knows she only has power as long as the White men need her voice on a recording and will use that power as long as she can.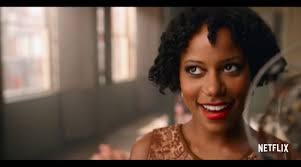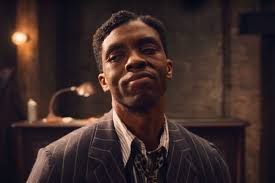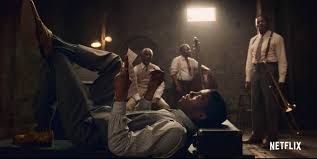 Santiago-Hudson's script also points out how these talented Black musicians, like the fictional Levee, and artists had their work co-opted or outright stolen by white performers who profited by just copying the original work.
Ma Rainey's personal life further complicated achieving widespread acceptance. By most accounts, including here, she is queer which gave Viola Davis even more emotional ammunition for her interpretation of a woman both loved for her music and hated for her lifestyle choices. Ma brings her sexy young girlfriend, Dussie May (Taylour Paige) with her to the session. There is a definite physical attraction. But Levee also has his sights on Dussie and she in him as well, which makes for another scene showing a steamy distraction.  
Director Wolfe uses Davis and Boseman to create characters you might otherwise dislike, but he interprets August Wilson's work so well, you understand where they're coming from in that racial climate. These are two heavy weight actors slugging it out at the top of their game in a performance that can never be repeated . And we're richer for it. 
Netflix                 1 Hour 34 Minutes                R
The post Ma Rainey's Black Bottom first appeared on Movies and Shakers.
from Movies and Shakers https://ift.tt/2WtHu72