Looking for a charming romantic fairy tale? Emily Blunt, Jamie Dornan and Jon Hamm provide one that is is not going to become a classic, but is beautifully visualized. John Patrick Shanley, the writer/director known for the award winning, fun romance, Moonstruck, as well as the intense Doubt, wrote and directed this light romance. 
Rosemary (Emily Blunt) in flaming red hair, lives next door to Anthony (Jamie Dornan) and his unruly character of a Dad (Christopher Walken) is threatening to pass the  farm to Adam, Anthony's rich cousin from New York. Why? Because Anthony is such a dork he will probably not marry nor ever have a family. 
There's criticism of lack of a genuine Irish accent from Blunt, Dornan and particularly from Walken. Often hard to understand, but they give earnest effort trying to spin this simple love story.
Hanley adapted the script from his play Outside Mullingar set in Ireland and his cinematographer Stephen Goldblatt focuses well on the green in the exquisite Irish countryside in around Cork. It makes you want to go there.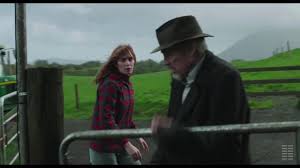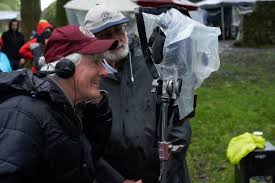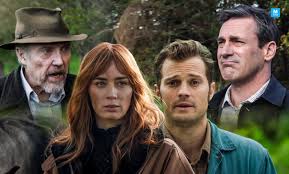 There's a lot of symbolism about bees and a swan. It's subtly couched in self identity about a young boy who looks silly caught with pollen on his nose while smelling a flower. That embarrassingly turns off the little girl he thinks he loves. There are bee sounds and references throughout the film. The little girl who was looking on is who really loves him. She thinks she is the White Swan in the tragic story of Swan Lake. They're both wrong even though there are references to the ballet as well. But this film is more about the birds and the bees when childhood friends grow up and are reticent about their true feelings. They continue to skirt around each other which is frustrating to watch but sometimes fun.
One of the bones of contention is a patch of land between the two family farms that make it necessary for Anthony and his Dad to open and close two gates to get on their own farm. Rosemary is not interested in selling it, and happy that she has something to hold over Anthony. Blunt, as Rosemary, is a plucky, pretty gal and headstrong, but she's always carried a torch for Anthony. But he's got a problem. 
His Dad, Tony, is constantly putting him down, it's no wonder Anthony doesn't have the confidence to go after Rosemary., even after he realizes that she's the girl from his childhood that he was always really in love with. . He thinks she hates him. He thinks that everybody hates him. So they are constantly doing a sort of a ridiculous, elusive mating dance. It's cute, in a way, but Shanley has it go on too long.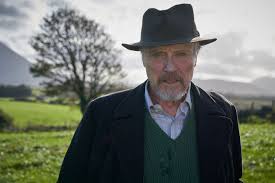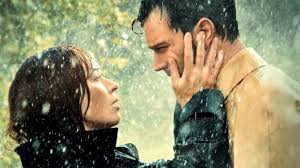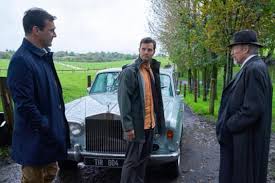 There are strained relationships and awkward moments in the film. Some are funny. Some unnecessary. Jon Hamm is Anthony's competition for the farm and for Rosemary. He plays a super confident narcicist, but not a bad guy. And he doesn't have to talk with an Irish accent. 
The last scenes are very contrived. Shanley gives the film a typical fairy tale ending with a fun Irish singalong in the local pub as a toast to Anthony's Dad. If you've even wanted to frolic on the Irish countryside, this film is as frothy as the head on a Guinness and as a romantic travelogue, will do. 
Bleecker Street          1 hour 42 minutes      PG-13             Video On Demand
The post Wild Mountain Thyme first appeared on Movies and Shakers.
from Movies and Shakers https://ift.tt/3a7xp7Q