It's hard to take your eyes off this female-centric exploration of love, loss and grief. Writer/Director Tata Miele has taken elements of her own life- experience that's reflected in the intense performances by Sienna Miller and Diego Luna in a complicated relationship.
Miele (Meet a Muslim, Starving in Suburbia) starts the mind bending, time warping story at what appears to be the end of the relationship. Adrienne and Matteo are new parents, but as yet, unwed. Despite their apparent discomfort with each other, they go on their ritual weekly "date night" to take a break from the baby. On the way home, their contentious conversation escalates toward a conclusion neither wants to hear and then, BAM! 
Eight minutes into the film, a catastrophic car crash sets the rest of the film in motion in the most unexpected (and by Miele's design) confusing directions. Miele revealed in a Zoom interview that she and her husband were actually involved in a serious car crash which inspired this script. Recreating that and subsequent scenes in Los Angeles were a challenge for the director and for Miller. They were forced to shoot in a busy intersection and get what they needed with traffic stopped for only :45 at a time.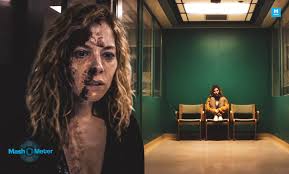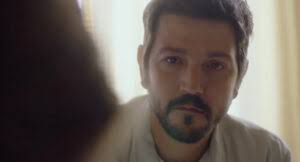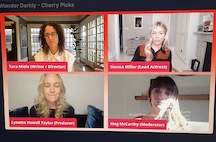 After the accident, Adrienne wakes up in an ethereal state, looking at her apparently deceased body, seeing her sobbing parents and even attending her own funeral. Editors Tamara Meem and Alex O'Flinn stitch and fade these scenes together in a whirl of sight and sound that confounds the audiences' senses along with Adrienne. Then Matteo calmly steps into the frame. He's the only one who can see her and talk to his frantic partner. To try and comprehend the situation, Matteo suggests they go back and revisit their important moments together.
Wander Darkly demands a lot from its main characters. Sienna Miller even said in a Zoom interview that she had to dig deep inside herself for this role more than in any other she's played to date. Miller is given the task of being the most multi-layered character in the story. She's a loving mother who feels the guilt of being tied down to her child. She loves Matteo, but is also suspicious and resentful of his life away from her. She's an insecure woman who needs support mentally as well as physically.
Miller and Diego Luna deliver intensely emotional, moving performances ranging from the giddy time first getting to know each other, to a spectacular scene of their first sexual encounter. Her lovemaking with Matteo almost turns into disaster when the candle lit room catches fire. Just when her terror reaches a crescendo and Matteo is no where to be found, he returns, naked, with a fire extinguisher!
There are high points where they beam at each other as well as low points when their life together becomes so combative and oppressive. Through Adrienne, we are shown her history, and the film takes on an It's a Wonderful Life or Ghost veneer. Matteo acts as her conductor though this twisting re-visit of their life together. He is a woodworking, furniture builder who struggles to provide both monetary and emotional support, which doesn't seem to be enough, no matter how hard he tries. 
Diego Luna is a huge star in Mexico and his Latin heritage is incorporated in this story. Matteo takes Adrienne to his favorite get-away, on the Mexican coast, in a small boat to watch the frolicking dolphins swim alongside. It becomes their favorite happy time together. This is just one of the beautiful, touching moments of her life. There are other instances of sheer terror for Adrienne, as when she attends Day of the Dead festivities and comes face-to-face, quite literally, with Death himself. She isn't completely sure whether she's alive or dead.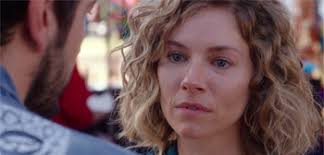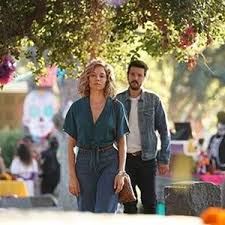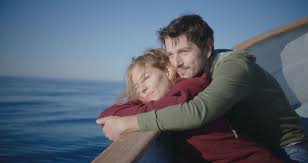 The confusing interpretations of what's real and not, is well directed by Miele. And the music composed by Alex Weston helps transition from one mood to another. In this nether world between life and death, the time frames, scenes and attitudes bend almost to the breaking point, but Matteo keeps hoping that their relationship can somehow be salvaged. Miele continually injects the film with positive exchanges in between the rough patches.
One of the sidebar plot lines that didn't work was Matteo's dalliance with infidelity. The Latin Lover finds a willing paramour in the conveniently flirty daughter (Aimee Carrero) of a hotel owner who can give him work. Relationships don't always need  having "the other woman" to fall apart.
But Wander Darkly works on so many other levels we can dismiss the few minor detours. This psychological romantic-drama keeps tossing in so many misdirections and twists that the guessing, "Is she really?" or "What about him?" never lets up. The female touch Miele brings to this work makes Sienna Miller a very sexual, but not sexualized character. On camera, Luna and Miller have sizzling moments of both ecstasy, joy and misery to remind us that relationships are organic. Miele shows that the memories we make live on, and so will this film.  
Lionsgate                1 Hour 37 Minutes                R
The post Wander Darkly first appeared on Movies and Shakers.
from Movies and Shakers https://ift.tt/3777mM1