This is one celebrity-driven, glitzy and overproduced film we admit is a breath of fresh air during the pandemic. Even with amazing A-listers Meryl Streep, Nicole Kidman, Keegan-Michael Kee, Kerry Washington, and James Corden, it's entertaining, but does not flow as well as the live production we saw on Broadway. That one was loaded with talented singers and dancers. Relative unknown, Jo Ellen Pellman, who plays Emma, the gay high schooler who just wants to take her girlfriend to the prom, sings rings around them all.
Director Ryan Murphy, who directed the TV show, makes it "Glee" filled, but lets the cast go too far over-the-top. And he over- edits the musical numbers so that you can't make any sense of the choreography. Very frustrating to watch. Seeing individual parts of a dancer's body for one instant isn't a cutaway, it's a disruption. We were impressed with Meryl Streep and Kerry Washington's ability to sing. 
Washington, the Helicopter Mom and PTA President protests allowing a gay couple to attend prom in her small Indiana town, not knowing her daughter is the girlfriend. She succeeds in cancelling the event. It becomes a news item. Streep, and Corden, just off a big Broadway flop decide to latch on to this as their cause "celebre" to bring attend to themselves for good publicity. This is where they decide to take a stand on LGBTQ identity. In the process they encounter the cultural divide between Indiana and New York.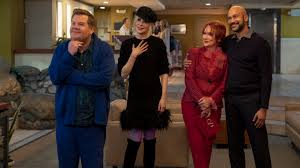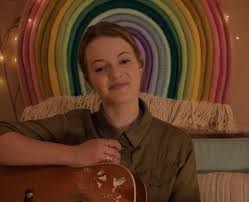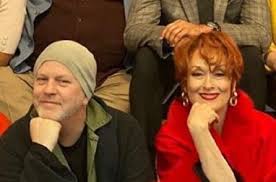 These are a funny group of performers who understand the pitfalls of showbiz and make it clear in their patter, as well as demands. They also get to strut their stuff in a musical number poking fun at their own persona. Streep looks like she's having the time of her life as the self-acclaimed super star, Dee Dee, who even carries her awards in her purse to try to get a better rooms and services at the hotel. James Corden is her gay best bud and supporter. Corden has been criticized for going over the top gay in this film, but we found his performance to be on the money. He's always on stage. 
Kidman plays Angie, the ditzy chorus girl with long "antelope" legs who tries to school Emma into using All That Jazz  in the "Zazz" song to have the courage to get what she wants. Andrew Rannelis' performance excels as Trent, the Broadway performer who is constantly trying to justify his right to be on Broadway by telling anyone who'll listen that he went to Juilliard. His upbeat musical number "Love Thy Neighbor," comically challenging Indiana teen's values dancing up and down escalators, in and around a fountain in a shopping mall is one of the more well-staged numbers. It's a toe tapper and he does a great job with it. 
And who knew that Keegan-Michael Kee could sing? He gets his own spotlight as the progressive principal who sings and wins over Dee Dee which includes a romantic scene with Streep. Even Streep commented she was charmed by his performance. James Corden has been criticized for playing it too gay, but we found his performance to be right on although a little sappy and teary by the end.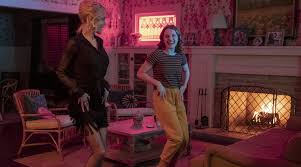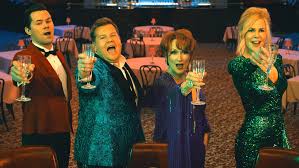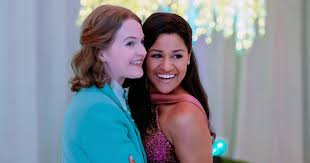 Jo Ellen Pellman, in this film, is Murphy's find. This multi- talented musical theater performer was plucked not long out of the University of Michigan and has been performing since she was 4. The song "Dance With You" is a stand out sung as a duet with prospective Prom date played by Ariana Ambrose, blends their voices well. Good casting. 
The film overall could have been paced better. Some scenes felt too long, others not long enough with awkward transitions. And the dance scenes could have been better shot and edited to show off the choreography. The songs are Broadway, the talent is all there and, as in other tough times, this glitzy musical entertainment is a great escape. 
Netflix              2 hours and 10 minutes              PG-13
The post The Prom first appeared on Movies and Shakers.
from Movies and Shakers https://ift.tt/37Xegm4