Riz Ahmed goes deep into character in this extraordinary film to make you understand what it's like for a musician to suddenly lose his hearing. Ahmed gives a riveting performance as Ruben, a heavy metal drummer who is desperately trying to get his hearing, his love and his life back. 
Ahmed has bulked up since his roles in Nighcrawler and Venom. He accepted the challenges presented for this role, including taking 4 months of drum lessons and learning sign language. It didn't hurt that he already goes by rapper name Riz MC and is part of a musical duo Set Shop Boys. 
Director Darius Marder wrote the film with his brother Abraham based on a story by Derek Cianfrance. The Marder Brothers dedicated the film to their grandmother who progressively lost her hearing.
Ahmed plays hard-core rock drummer Ruben, who backs his singer, or should we say, screamer, girlfriend, Lou (Olivia Cooke) in their band, Blackgammon. The film opens with them playing their outrageously high decibel set. Ruben is pounding so hard on the drums it hurts us, as well as him.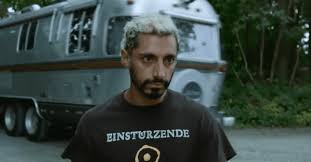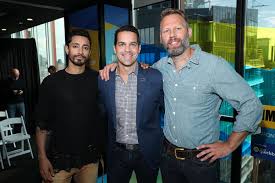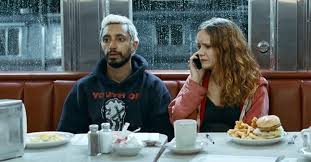 He starts to realize something's wrong with his hearing. Ruben and Lou are on tour in an Airstream doing one-offs, or one night stands. Lou is loving, concerned and sympathetic, but Ruben is having trouble understanding this debilitating change. Ahmed shows Ruben's anger, rebellion, depression, confusion, and every other negative emotion trying to deal with his situation. 
Lou tries to help him, but he's too freaked out and proud. He takes hearing tests and is told that it's only going to get worse if he keeps playing. He tries to keep going with Lou, but even the simplest tasks cause more frustration. Ahmed has big brown eyes that reflect every emotion. It's his most prominent feature, but not the only key to his sensitive acting. His furrowed brow, along with his rebellious attitude as Ruben show he's not ready to give in or give up. But you know he's lost. 
We had a special interest in seeing this film because we have a relative who was a professional musician who lost his hearing and we have another close relative who is a sound designer. 
At a press conference about making the film, Darius explained how the sound had to be built in collaboration with Sound Designer, Nicolas Becker and Editor, Mikkel Nielsen and the rest of the sound department. They wanted to hear the story, as well as tell it, chronologically from Ruben's point of view. Darius was trying to create an "empathy machine" with actual sounds that Ahmed could react to.
It was all brand new. They ended up building an elaborate tool box of devices, including mics to pick up and layer sounds and vibrations from around, on and inside Ahmed's body, including his mouth! They also had custom ear pieces made to emit abnormal sounds including white noise to replicate the agonizing tinnitus that the actor and the audience can hear. They used multidirectional mics to create the cacophony of sounds that would normally be heard on the street or in crowded spaces. Editor Mikkel Nielsen worked for 22 weeks, just on layering the sound design. 
The use of music was also affected.  Abraham Marder says once they started putting in music they kept taking it away. Darius admits that the sounds of everyday life in the beginning of the film and at the end are the loudest and the rest of the film is quiet or silent to play off what Ruben is experiencing. The only time you hear music, per se, is when Ruben sees a class of deaf children reacting with joy as they feel the vibration of strings being played on a piano.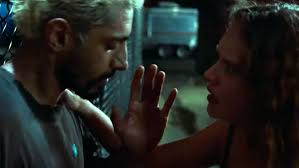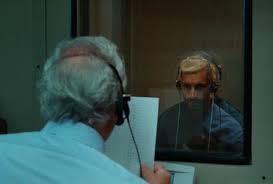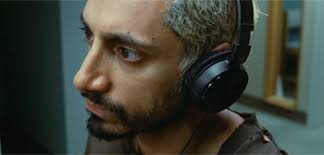 Lou, afraid Reuben might slip back into his heroin addiction after being clean for  4 years, gets him to go to a special camp where he may be able to learn how to live with his condition. It's run by Joe, (Paul Raci)  another former addict, whose hearing was compromised by a bomb when he served in Viet Nam. Joe is a hard nose who is trying to get Ruben to face that he may never get his hearing back and wants him to calm down. Reuben gets impatient and takes matters into his own hands to have cochlear implant surgery. Here again, the filmmakers used all the tools in that sound box so we can understand what acclimating to that technology is about. 
The story continues with Ruben trying to get his life back together by following Lou to France where she's living with her father (Mathieu Amalric).  Can he pick up the pieces, resume their romance, become a musician again?
Everything he tries to do to retrieve his hearing forces him to make even more adjustments. Darius and Abraham Marder have succeeded using new sound design tools to make us hear for ourselves what Ruben is going through. Riz Ahmed is excellent exhibiting exceptional sensitivity in this role that literally lets us live inside his head.
Amazon Studios              2 hours           R
Amazon Prime
The post Sound of Metal first appeared on Movies and Shakers.
from Movies and Shakers https://ift.tt/3qvcsJC