Crustaceans bring a crusty fossil hunter and a lovely, but unhappy English lady together for an unlikely and unexpected relationship. Francis Lee's film moves at a snail's pace, reminiscent of Portrait of a Lady on Fire, but it is without the same vibrance. Kate Winslet and Saoirse Ronan clash well as opposites thrown together in this dismal, gloomy setting on the rough Lyme Coast. It is captured well in detail by Cinematographer Stéphane Fontaine (Jackie, Captain Fantastic.)
Kate Winslet plays Mary Anning, a reclusive paleontologist who unearthed a noteworthy 6 foot long sea lizard fossil when she was just 11 years old. The definition of Ammonite is an extinct mollusk-like creature with spiral chambers. Lee has based the film on Mary Anning, a real female paleontologist who lived in the mid 1800's, but this story is not about her real life. It's Writer/Director Lee's fictionalized account using her character. 
Anning's find ended up in the British Museum, but she neither got the credit, nor the notoriety she deserved because of her gender. Instead, she's left to scrounge for fossils she calls "Cheap tourist fodder" to sell in order to support herself and her sickly mother, Molly (Gemma Jones).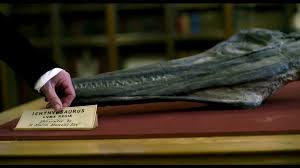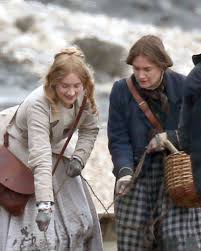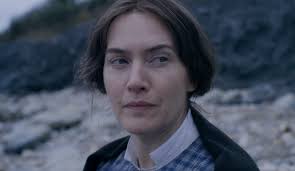 Anning doesn't want to have anything to do with anyone. Winslet's facial expressions show her character's complete disdain for all around her. Her stare is ice cold. Winslet admits going "method" for the role. The actress got completely into character living alone in a cold cottage by the sea while the rest of the cast stayed in a cushy hotel. Lee gave her sparse dialogue, and Winslet uses her scowls and silence to advantage in portraying the cantankerous spinster. 
Her existence is presented doing daily drudgery, trudging through mud against waves crashing the shoreline. Nobleman and fellow paleontologist, Roderick Murchison (James MacArdle) shows up at her shop with his sweet, young wife,Charlotte, in tow. She is the complete opposite of Anning. He talks shop until he finally reveals why he has come. He wants to pay Anning to look after his wife who is suffering from "melancholia." No wonder, the way he treats her. He completely dominates her life, telling her what to do, where to stand and even what to eat. 
Saoirse Ronan is lovely and timid as the frail Charlotte, now under the tutelage of the rigid Anning. Little by little the two women observe each other and start to communicate, using few words. When Charlotte becomes ill, Anning calls for a doctor, who instructs her to take good care of her new charge. The doctor is so impressed by how well Anning nurses her back to health, he invites Anning to a house party and concert. She insists on bringing Charlotte who makes her jealous by sitting with a charming neighbor, Elizabeth (Flora Shaw) who is so animated compared to Anning, who walks out.
As Charlotte gets better, she takes an interest in Anning's work, asking to help search for fossils on the beach. Charlotte spots something and the two women work together to unearth a huge fossil. It's truly a rare find. This brings the women closer and passion takes over. The sex scenes that follow are explicit lesbian lust. Credit to both actresses for baring all with such raw, uninhibited emotion. The scene seemed prolonged and unnecessarily over-the-top.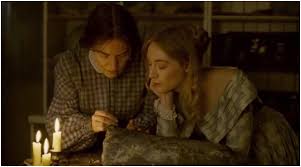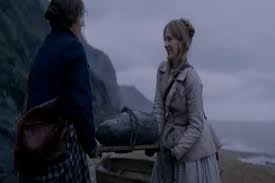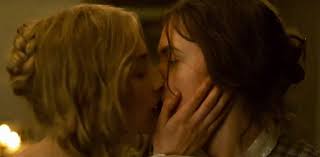 Nevertheless, their connection is made, but takes a dismal turn when Charlotte's husband writes for her to come back to him and resume in the city. It is devastating for both women, especially for Anning when shortly after, Annings' mother suddenly dies. Elizabeth comes to pay a condolence call and that's when we get backstory which explains why Anning is the way she is.  
The last scene has both women looking at each other over Anning's childhood find encased in the British Museum. Credit goes to Winslet and Ronan who gave their all going through this slow, muddy slog that ends ambiguously. 
NEON                        2 hours                       R
On Demand
The post Ammonite first appeared on Movies and Shakers.
from Movies and Shakers https://ift.tt/36CncxO