What if Peter Pan and Alice in Wonderland were brother and sister? Director Brenda Chapman, created this fairy tale mashup, starring David Oyelowo and Angelina Jolie. The stunning cinematography and production design is rich in detail, but the story is very dark and confusing. Chapman is known for directing animated films, Pixar's Brave and The Prince of Egypt. This is her first live action film. 
Angelina Jolie and David Oyelowo star as John and Rose Littleton, the parents of three children with grand imaginations. Here, the children are the stars, particularly Jordan Nash as Peter, Keira Chansa as Alice. Reece Yates plays the youngest son.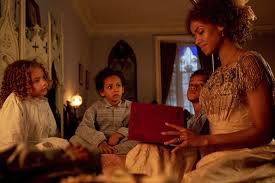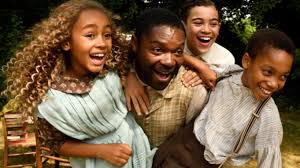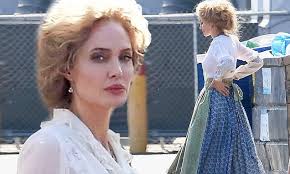 Chapman has added more A-listers with Michael Caine and Derek Jacobi, and Gugu MBatha Raw as Alice, the adult. It seemed unusual for the family to be multi-racial in a period piece. But it does show that actors of color can play any roles in any combination. 
Chapman has them all going between real and dream worlds until those worlds collide and tragedy strikes. This is the origin story of Peter and Alice's journeys, but as their situations toggle back and forth between real time and fantasy, it's hard to follow. Oyelowo is exuberant as the father, an artist who builds intricate ships inside bottles. He is not a great breadwinner, but has a commission that he desperately hopes will keep the family going.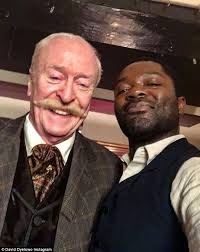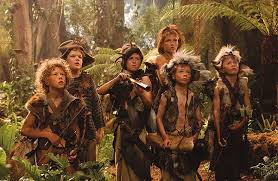 Oyelowo's exuberance is juxtaposed with Jolie's characterization of Rose, which is calm, but too slow and deliberate. She, too, inspires the children, but has her own mysterious agenda. She is trying to hold on to the family without interference from her childless, rich sister, Eleanor, who wants to take Alice away and teach her how to be a lady. Anna Chancellor plays her as a real baddy, like the controlling Red Queen in Alice's story. 
This is supposed to fill in the pre-Neverland and Wonderland story for Peter and Alice. It drags in places and seems longer than it is. There are some whimsical fun  scenes on the pirate ship with the lost boys and with Alice and the rabbit hole, but like most fairy tales, it gets very dark.. Family friendly? We think it is too scary for little ones. Our recommendation is not to come away with this origin story but to stick to the original. 
Relativity Media.     1 hour 34 minutes.     PG
The post Come Away first appeared on Movies and Shakers.
from Movies and Shakers https://ift.tt/3kFFVMG