Sophia Loren is still captivating at 86, playing less than glamorous as a downtrodden retired prostitute in her first feature film in a decade. The relationship between tough, but weary old Madame Rosa and the difficult 12-year-old Muslim immigrant Momo (Ibrahima Gueye) is contentious, complicated and filled with a range of emotion. Loren actually had to be aged up for the role and you will not recognize her. This Cinematic icon plays Madame Rosa, who takes care of sex worker friend's kids in Italy.
The whole film is a flashback, opening with Momo being frantically chased by Rosa's loyal friend down into the basement of an old building. Your Curiosity is peaked from the get go. Post chase, the story goes back 6 months to when Madame Rosa's doctor shows up on her door with Momo and what he stole from her. The doctor pleads with Madame Rosa to take him in, agreeing to pay her well if she'll just look after him for awhile. She's still angry at the boy, using every excuse, but finally relents. The film continues from Momo's point of view.
Loren, who is aged up with gray matted hair and dour facial lines in the film, took on the role because it reminded her of her mother. The film is written and directed by Loren's son, Edoardo Ponti, and co-written by Ugo Chiti. It is actually based on Romain Gary's The Life Before Us, which was made into the Oscar-winning French film, Madame Rosa, in 1977. The acting is precise and the subtitles are clear and not distracting at all. This adaptation is set in the Italian coastal city of Bari. Scenes of the city taken overhead via drone give a picture of an inner city where everyone knows everything.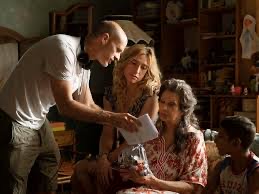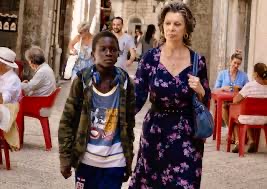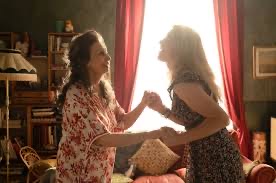 One of the children Madame Rosa takes care of is Babu, the very cute daughter of flamboyant transgender Lola (Abril Zamora). Lola is a former boxer turned trans-prostitute who seems to be one of the few who can lift Madame Rosa's spirits. She  can get the old woman up dancing and laughing in the middle the afternoon. They have a lot of history. 
Momo suddenly has two other kids to live with, all under Madame Rosa's rules. Ponti unlocks smidgens of backstory slowly on both Rosa and the defiant Momo who is an orphan from Senegal. He's got a big chip on his shoulder but Rosa is no easy mark. She demands respect. 
Ponti shows in scenes with the other young boy in her care that it's her way or no way. The scene of her teaching the boy Hebrew to prep for a Bar Mitzvah he doesn't want, but makes it clear, "My house, my rules." That's the first inkling of backstory which is supported later when Momo sees the numbers on Rosa's arm. She is a Holocaust survivor. He says nothing at first, but she later lets him know without the graphic details, that the Nazis performed experiments on her. 
Wanting to keep Momo away and out of trouble, she gets old friend, Muslim storekeeper, Mr. Hamil (Babak Karimi) to hire Momo as an assistant. Karimi is excellent as the man wary of his new employee. Karimi is excellent being careful, congenial, but very open and honest with this kid. When Momo tries to play matchmaker for Mr. Hamil and Rosa, he explains to Momo that because he is Muslim and Madame Rosa is Jewish, that's just not going to happen. 
Momo's an orphan who longs for his Mother's love. He has dreams that include a lioness who is gentle and playful with him. Ponti's use of the CG lion seems to symbolize affection and protection. Momo draws pictures of her over and over again for comfort. Even having him repairing the image of a lion on a rug in Mr. Hamil's store.
Ibrahima Gueye as Momo is capable of a spectrum of emotion for a young actor. His facial expressions can bubble up rapturous joy or explode into rage in an instant. He's a natural actor without one awkward moment or movement. As Momo gets a secret life outside of Madame Rosa's home when he becomes a drug dealer for the local drug lord. He makes so much money for this guy that he's invited to celebrate and the scene of him dancing for drug boss and honchos shows complete reckless abandon.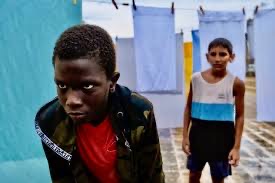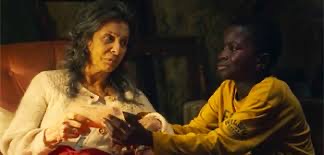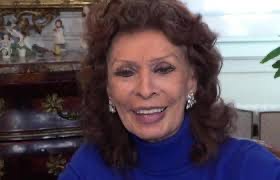 His euphoria doesn't last long, as Madame Rosa puts him on the straight and narrow. But she's mysterious. Momo discovers her hiding place when he was desperately chasing her at the beginning of the film. That scene and that room is pivotal to their bonding. They finally talk more like adults than an adult to a child. Just as the lioness is Momo's refuge, this is hers. It's her respite from her own dark memories of the Holocaust. As they get to know each other, she tells him, "When you give up on hope, that's when good things happen." The close up of them intertwining hands of different colors shows compassion and understanding. 
Hip hop and upbeat jazz (Basement Jaxx is one of our favorites)pump through Momo's headphones when he finds success and happiness. But that all changes when Madame Rosa becomes ill and suddenly unresponsive. By this point she has become fond of the curious Momo and they have won each other over. She begs him to keep her out of the hospital, for reasons relating to her past. She makes him care for someone other than himself and he becomes her caretaker. It's a beautiful twist. 
This is a very complicated plot line dealing with inner city life, immigration, religious differences, family and loss. The pace of the film is slow but sure, unwrapping the trust they have for each other. Ponti makes every closeup of Loren and Gueye count. By the end, the story becomes highly melodramatic, but you can't help but feel the bond formed by the unlikely friendship of Madame Rosa and Momo. And even through her unkept, stringy hair and craggy face, Sophia Loren's inner beauty, once again, shines.
Netflix       1 hour 34 minutes      PG-13
The post The Life Ahead first appeared on Movies and Shakers.
from Movies and Shakers https://ift.tt/3psqtHE